AngularJS is a popular open-source JavaScript framework. It was originally developed by Google. AngularJS development services are widely popular globally and Ukraine is no exception from the trend.
In 2021, it was the 4th most used framework worldwide. There are hundreds of thousands of websites that use this technology. Some of them are:
Udemy;
PayPal;
Netflix;
Gmail;
Amazon;
Snapchat.
Why Angular JS developers are in such high demand in Ukraine and globally? The answer lies in the many benefits this framework offers. The key ones are:
It is easy to learn and to start with, especially if you already know CSS, JavaScript, and HTML;
It has two-way binding functionality that synchronizes the view and the model. It means a simplified presentation layer and better UI;
It offers SPA features that allow building faster and better performing web applications;
It is a scalable, declarative, and intuitive technology;
It offers fast and robust web development with real-time testing.
As for Angular JS Ukraine, there are many companies and agencies offering web and mobile application development with the use of this framework. Both Angular consultants and Angular development teams keep up with the global trends and implement the best features of this technology: MVC architecture, client-side work, coding modality, and security.
Why Companies Trust Ukrainian Angular JS Development Projects
It is not a secret that Ukraine is one of the popularly outsourcing destinations when it comes to IT. The country has a well-developed infrastructure and a wide talent pool of professionals, from Ukraine new tech startups to excellent Lavarel consulting services.
International businesses of all sizes choose Ukraine for Angular.JS consulting and development because local professionals are known for deep expertise and quality of services. They can find the right providers for projects of all sizes with ease.
Other benefits of Ukraine as an Angular consulting and development destination include:
Similar business ethics and culture for the European partners;
Convenient location and time-zone (GMT+2) that make cooperation seamless;
Highly-educated, skilled, and experienced workforce with good command of English;
Presence of many industry leaders with offices and R&D centers here.
And, of course, one of the major reasons is the profitability of outsourcing to Ukraine. Salary rates here are significantly lower than in the EU, the UK, and the US, which makes high-quality services accessible even for startups and small companies. For example, an Angular JS developer's monthly salary in the US is $8,655 but in Ukraine, the same specialist earns $1,958 for similar work.
How to Find the Right Angular JS Development Agency in Ukraine
Finding the right vendor for an IT project might seem challenging. But it doesn't have to be. There are several logical and simple steps to take, namely:
Step 1. Scope of the Project.
Start with lining up what kind of project you are planning. Think of the functionality, platforms, frameworks, and tech stack you are looking for. If there are similar applications or solutions out there, think about why you like them or not.
It is important to know what you are looking for so that the vendor can fully satisfy those demands and expectations.
Step 2. Create a List of Candidates
With the project scope in mind, it is time to find available companies that specialize in this particular field. There are many ways to do that. Start with asking for recommendations or referrals. Check out websites like Clutch or GoodFirms to find the top providers in Ukraine.
You can also into industry leaders according to conferences, international awards, or famous projects.
Step 3. Look at Portfolios
After that, one needs to narrow the list down. There are might be plenty of agencies offering full-cycle custom software development with Angular JS. But it doesn't mean that all of them are suitable for this particular project. Evaluate the reputation, services, and portfolios of prospective vendors. Consider the following factors:
Depth of expertise and experience;
Industry focus – it is always great if an agency has worked in your industry before;
Overall reputation, client reviews, and testimonials;
Portfolio of released solutions and case studies. If you like those in terms of performance, realization, and approach, it is probably the right fit.
Step 4. Contact Short-Listers
It is time to speak directly to the vendors, learn about their communication style, offer, transparency, and prices. If you can come to a compromise beneficial for both, the project is on.
15 Best AngularJS Development Companies in Ukraine
1. DeepInspire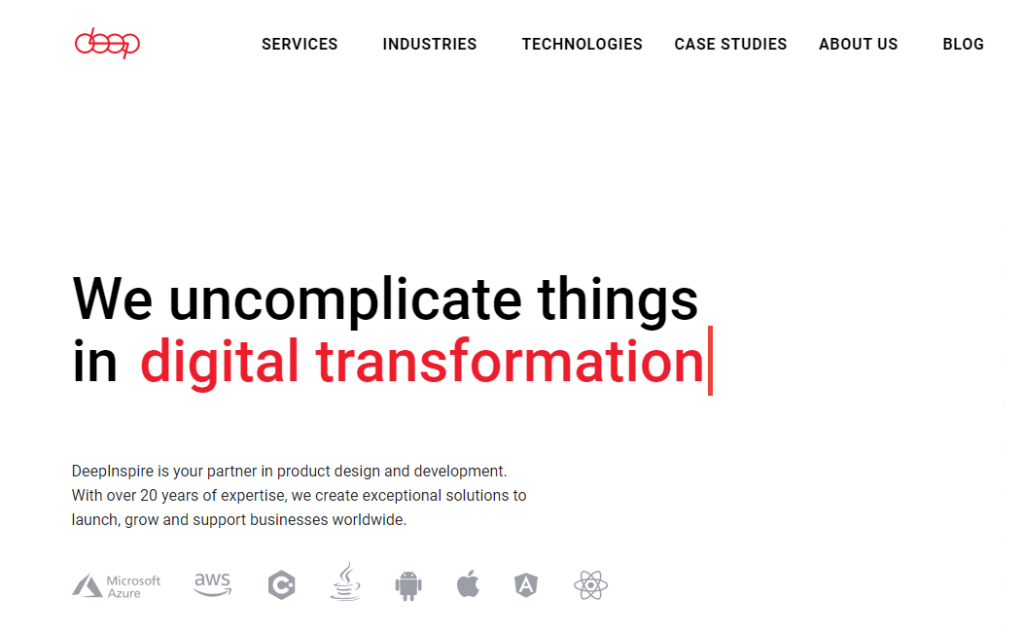 DeepInspire is an excellent custom software development agency based in Lviv. It was founded in 2000 and has a lot of experience when it comes to working with international and local businesses. The team has expertise in FinTech custom solutions. It offers such services as front-end, back-end, and full-cycle custom software development, solution architecture, UI/UX consulting, cloud engineering and DevOps services, business analysis, and QA. DeepInspire focuses on financial services and has competencies in digital banking, payment getaways, lending, personal finance, Blockchain, and online trading.
2. Active Bridge, LLC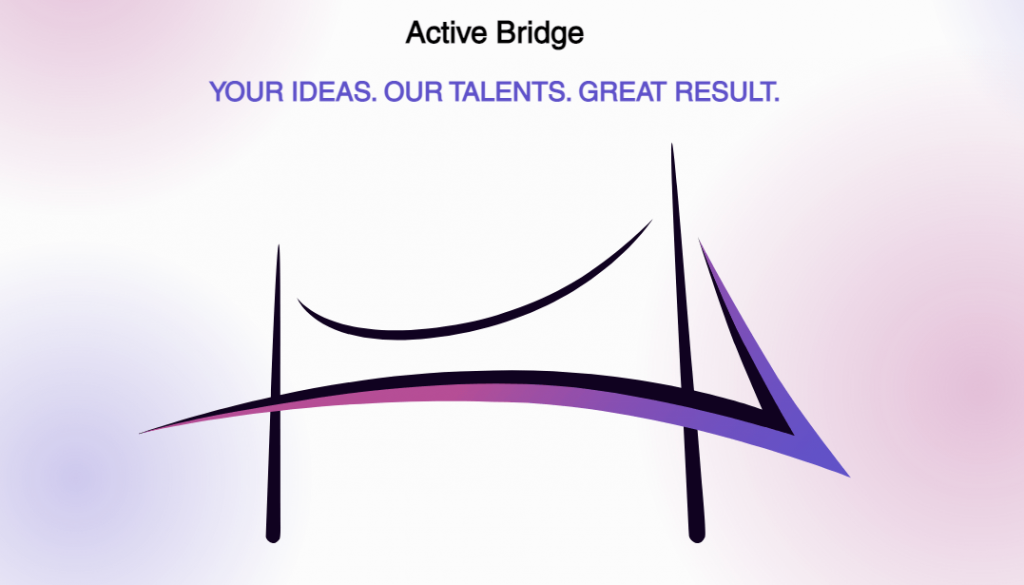 This agency has two offices, one in Cherkasy and the other one in Fenix, Arizona. It delivers full-stack custom software development on demand. Since 2013, the team specializes in web and mobile application development, eCommerce solutions, as well as provision of unique software. The tech stack includes Ruby on Rails, Angular JS, React, React Native, and IONIC. As for the industry expertise, Active Bridge worked with companies in Business Services, Financial Services, Medical, Education, GPS & Navigation, and Retail.
3. Innovation Feel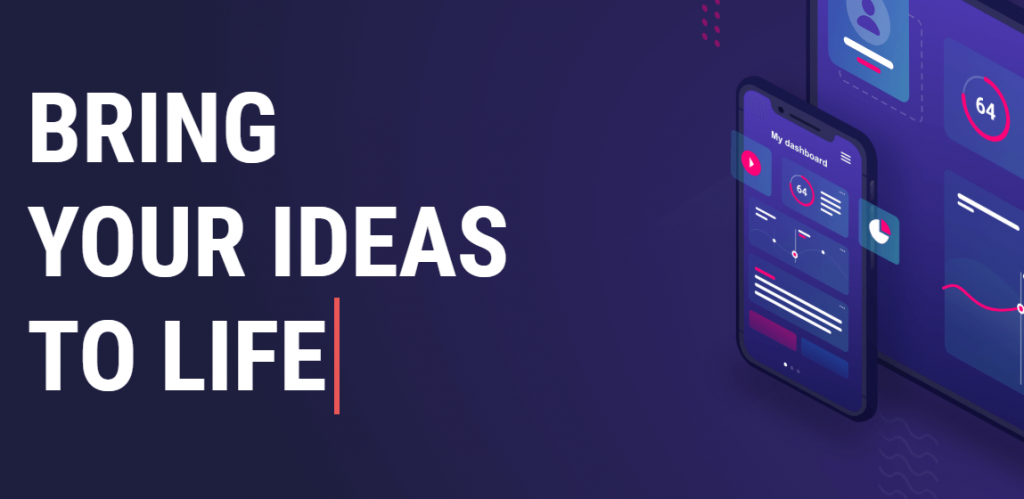 It is another outstanding mobile and app development team from Cherkasy. It was established in 2016. The agency offers full-cycle custom software development with the use of such technologies as Ruby on Rails, Angular.JS, React.JS, Ruby, React Native, iOS, and Android. The team partnered with clients from FinTech, Healthcare, Logistics, Real Estate, and eCommerce industries. Among their customers, there are SYMPTOMME, Carmap.ua, and Tether Technology Ltd.
4. Teplin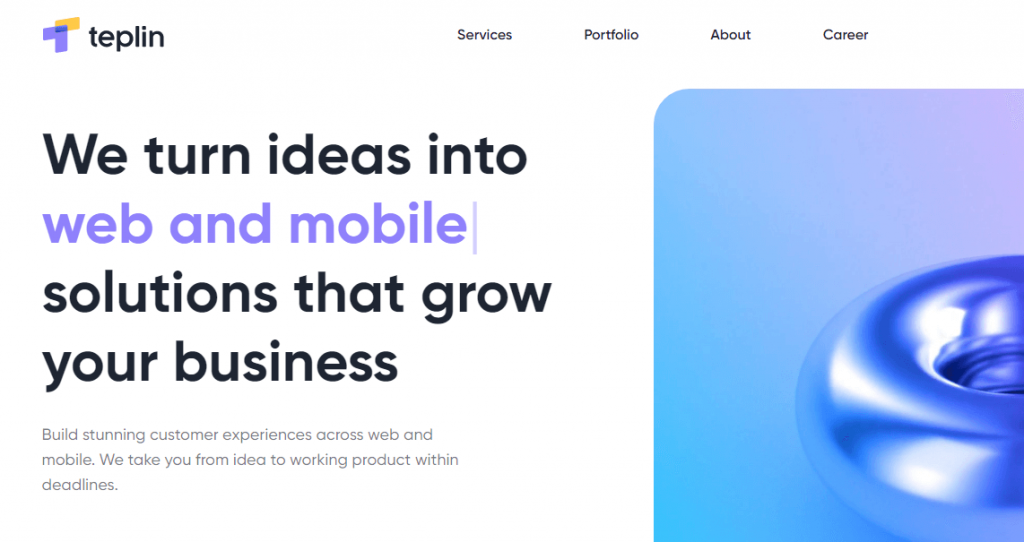 Teplin has 5 stars on Clutch because it is one of the top mobile, web, and eCommerce application development agencies. The team offers innovative custom software development with the use of trusted and relevant tech stack (PHP, JavaScript, Angular.JS, Vue.JS, React.JS, HTML5, GitHub, Lavarel, MySQL, ZEplin, etc). Teplin experts have finished more than 200 projects including enterprise-sized solutions. Its industry expertise covers eCommerce, Business Services, Consumer Products & Services, Education, Medical, and Retail.
5. Mobindustry Corp.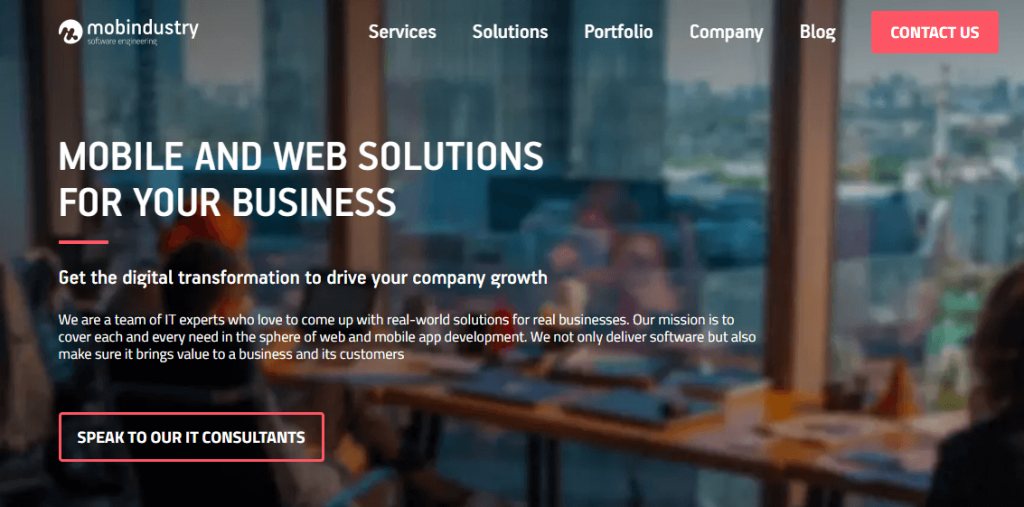 This is an experienced (established in 2010) team of mobile and web application development team from Dnipro. It delivers advanced iOS, Android, and cross-platform apps, as well as custom websites and portals. The agency works primarily with mid-sized and large businesses in such industries as Supply Chain, Logistics & Transportation, Retail, eCommerce, Education, Financial Services, and Hospitality & Leisure. Triposo, Nashville Music Guide, and Menubis are among its clients.
6. Clever Tuna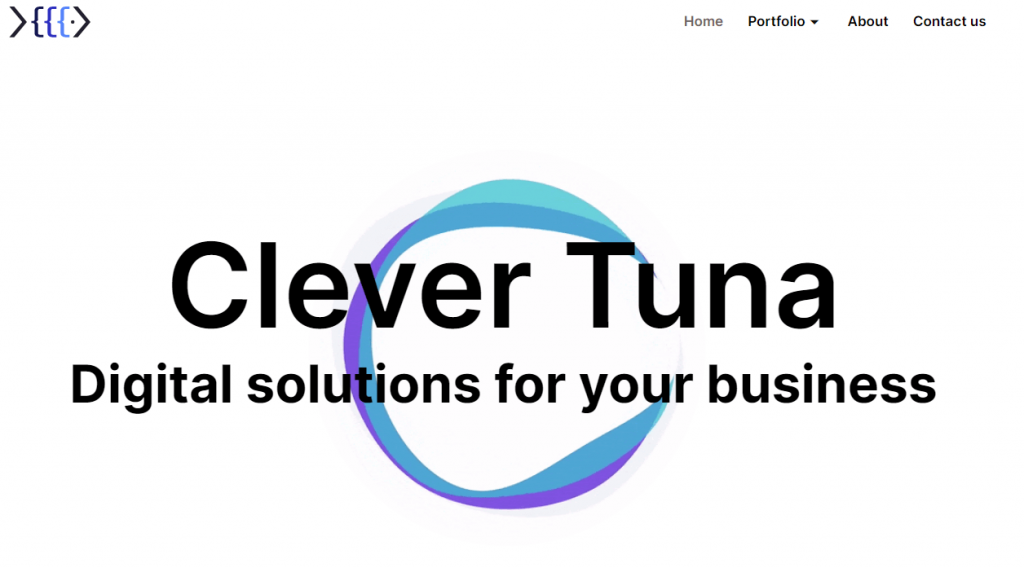 Clever Tuna is a comparatively small yet powerful software development agency based in Kyiv. It delivers high-quality mobile and web custom software applications for local and international partners. And it also offers IT strategy consulting. The majority of the customers are small and mid-sized companies. As for the tech stack, the team is experienced in JavaScript, Angular. JS, Kotlin, PHP, TypeScript, etc. It delivers iOS, Android, and cross-platform tailor-made apps.
7. Perpetio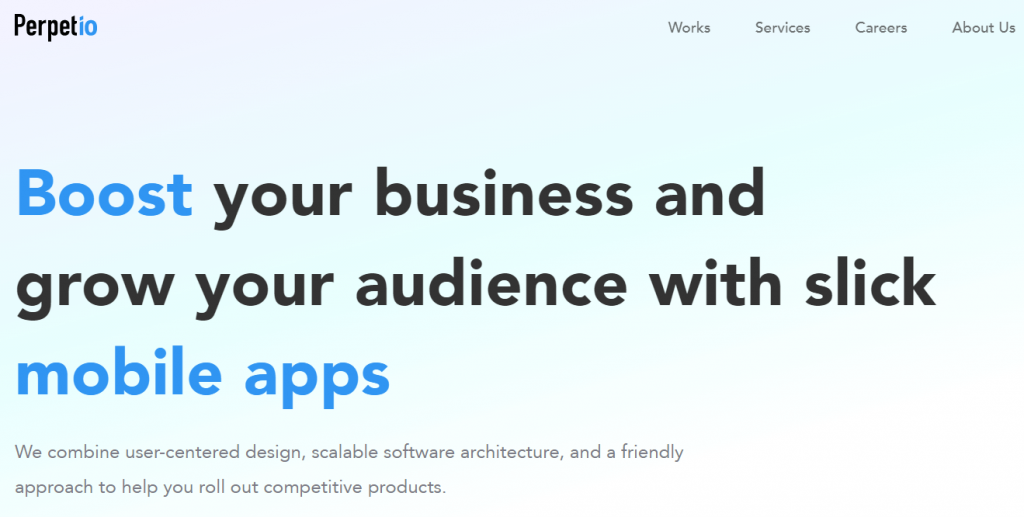 Perpetio was established in Lviv in 2014. It is an outstanding mobile application design and development company. The team delivers native, Android, iOS, and cross-platform apps with the use of a secure and relevant tech stack. It ensures a full cycle of development from planning and UI/UX design to deployment and support. Perpetio worked with clients from the following industries: Arts, Entertainment & Music, Education, Financial Services, Medical, Real Estate, and eCommerce.
8. AVA.codes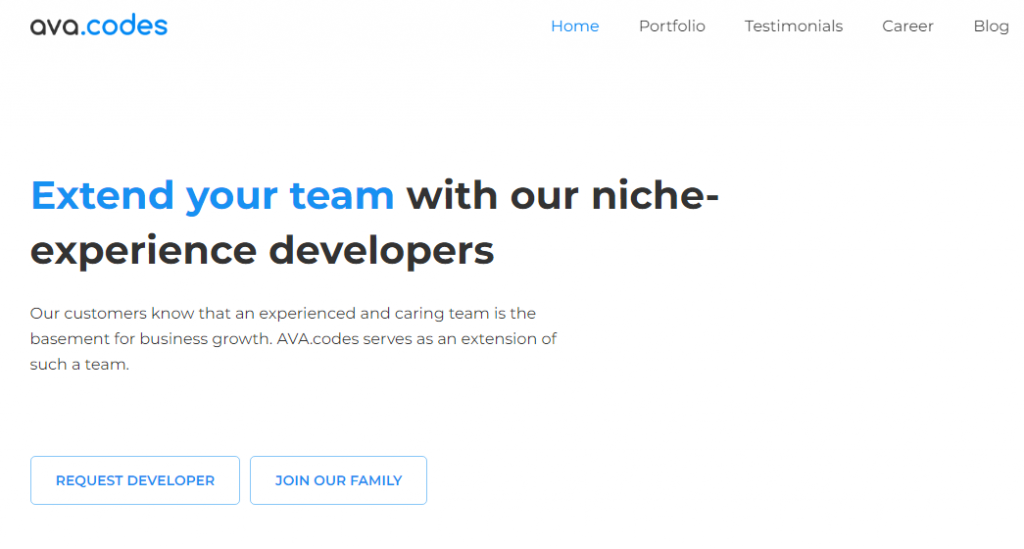 It is one of the top web development teams with expertise and a focus on such technologies as Angular, React and React Native. The team offers also full-cycle custom web application development for projects of all sizes. The industry focus covers Financial Services, Advertising & Marketing, IT, and Medical. Some of the key customers of AVA.codes are TraceSafe, Deloitte, Upido, Media Group, and Shopify.
9. 2muchcoffee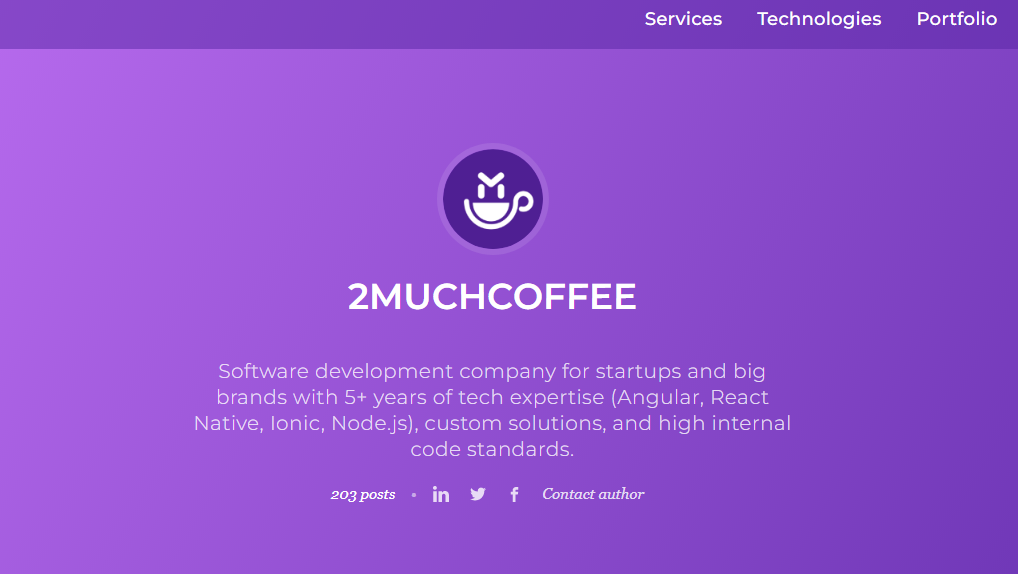 It is another Kyiv-based product development company with a focus on custom mobile and web application development. It delivers full-stack services in cross-platform apps, hybrid development, web, mobile, and NFT development as well as UI/UX design and support. The industry expertise covers FinTech, AdTech, EdTech, Healthcare, and Financial Services. Some of the key clients are Stepler, Normative, and Rewala.
10. Got It Agency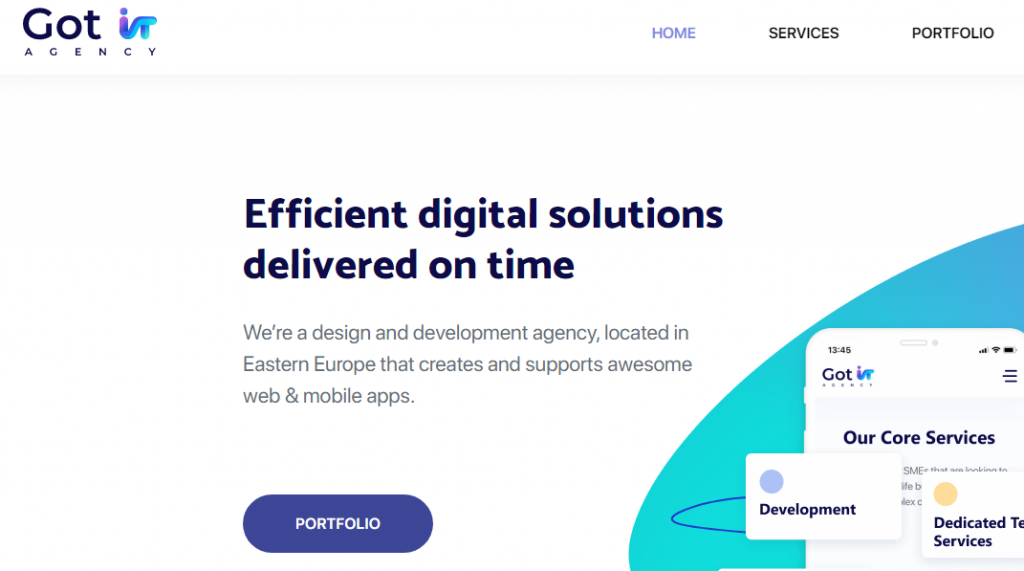 This is a powerful UI/UX design and software development agency with an office in Lviv. It specializes mostly in custom web development with the use of AngularJS. The majority of the customers are small businesses in Advertising & Marketing, Business Services, Education, Financial Services, and Medical. The team is also knowledgeable in cloud platforms such as AWS and Azure.
11. JazzServe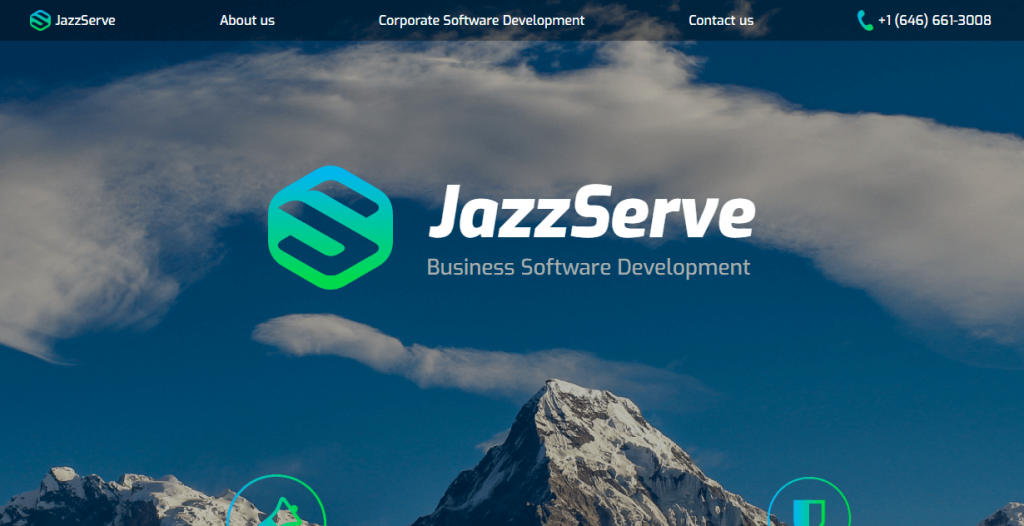 JazzServe specializes in custom software development in Angular.JS and Flutter frameworks. The team is based in Kyiv and delivers business software development, product engineering, IT infrastructure management, and cloud engineering. It also created powerful mobile and web applications for companies in the IT, Medical, Advertising & Marketing, Education, Financial Services, and Utility industries. Its key customers are Axpara, Percona, and Alpen Pharma.
12. Alty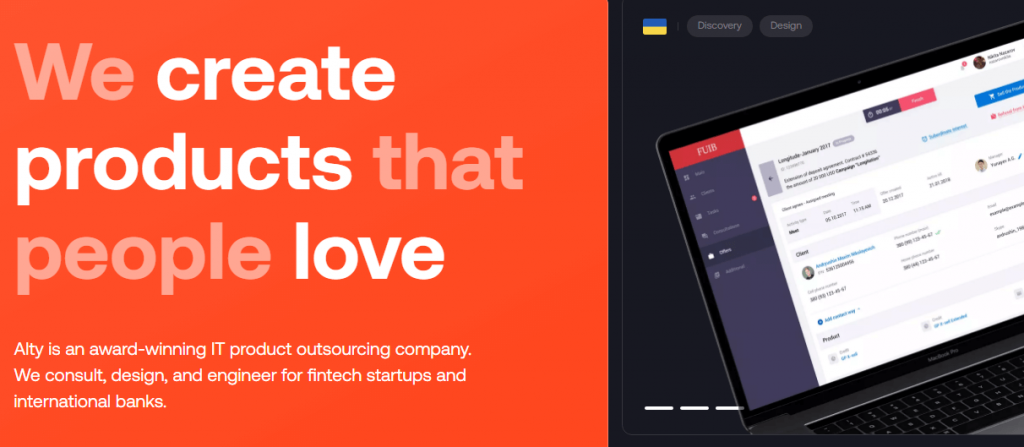 Alty is a web and mobile application design and development agency that has been working since 2009. It provides UI/UX design, mobile and web custom software development for iOS and Android, web design, and software products delivery. The team specializes exclusively in the FinTech industry and has deep expertise in all things financial services. Among the clients of Alty, there are CBH Bank, Raiffeisen, Monobank, PrivatBank, and VISA.
13. ByteAnt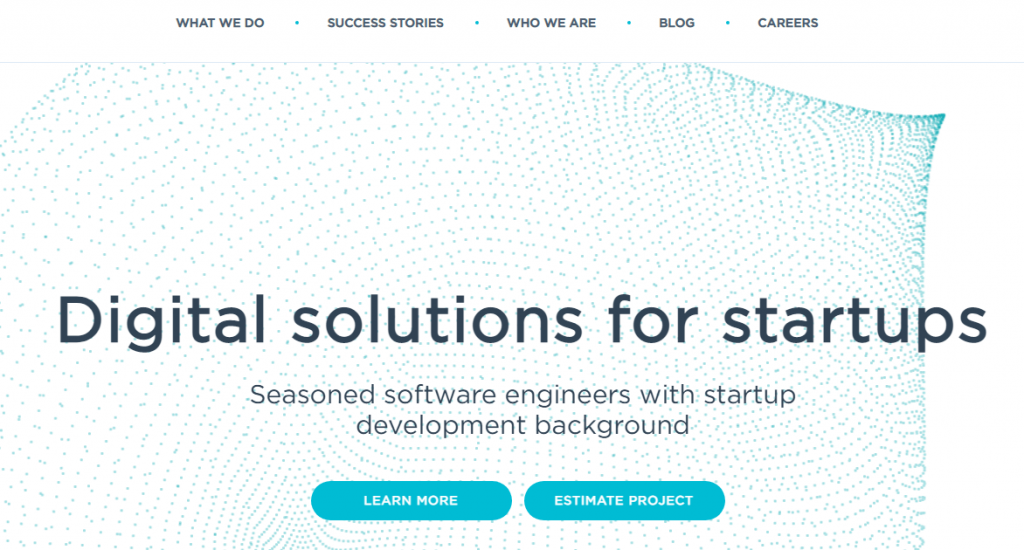 This is a Lviv-headquartered web, mobile, and IoT custom application development agency. It is all about cutting-edge technology and innovative solutions. Since 2006, the team has released a multitude of projects for local and international partners. It also ensures technology consulting, business analysis, SaaS, and QA. ByteAnt works with companies of all sizes in the Real Estate and Medical industries. Topsoft, Troyalty Corp, and CondoBlackBook are their satisfied clients.
14. AimTraction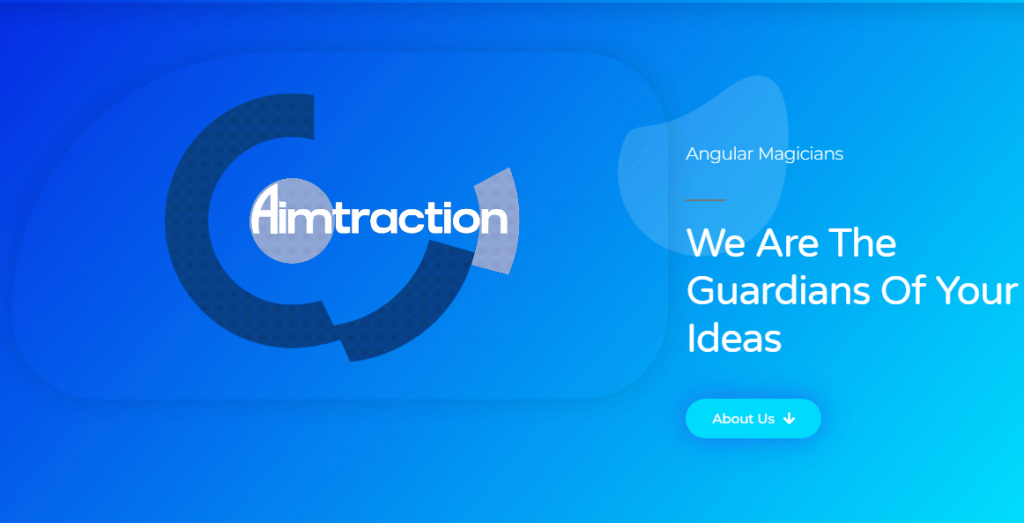 This is another powerful agency from Lviv. It provides web and custom software development. The tech stack includes Angular, Angular CLI, Typescript, RxJs, Webpack, and NgRx. It partners with mid-market and small businesses in Business Services, eCommerce, Advertising & Marketing, Education, and Real Estate. It is a boutique agency with a primary focus on Angular with a 4.9-star rating on Clutch.
15. Zanzarra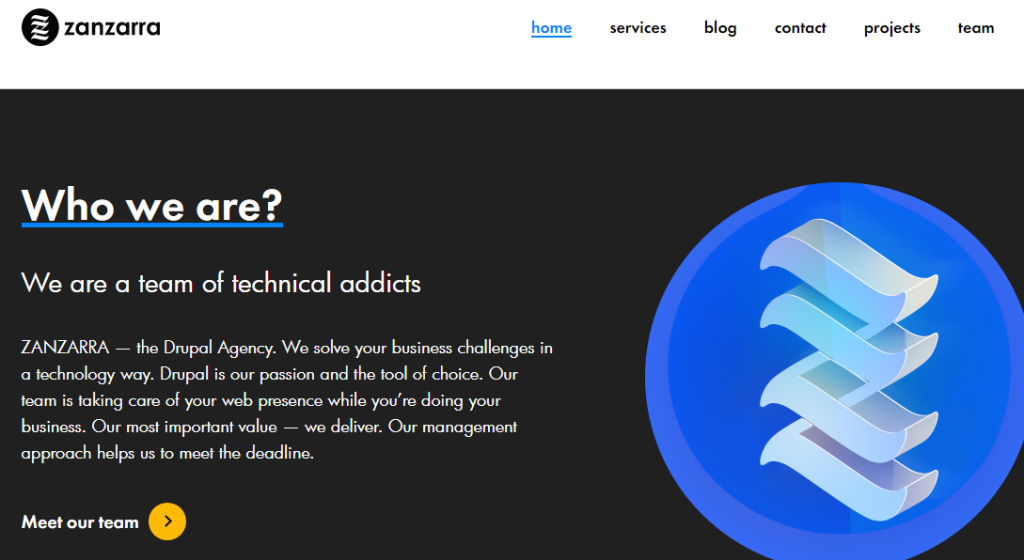 It is a Lviv-based drupal agency with a great reputation and 5 stars on Clutch. The team offers full-cycle development in web and mobile applications, eCommerce solutions, UI/UX design, and content management solutions. The industry expertise includes Education, eCommerce, Advertising & Marketing, and Manufacturing. Zanzarra helps clients from ideating and panning to post-release support.
In Summary
These 15 companies are among the top Angular JS specialist in Ukraine. They offer a wide range of services with an individual approach, fast delivery, and affordable pricing.
Contact Ukrainian providers to access excellent Angular consultancy and development for your project!