CTO stands for Chief Technical Officer, a C-level executive in a company. CTO as a service allows hiring such experts on a part-time or fractional basis.
Remote or Virtual CTO delivers all the responsibilities while offering flexible cooperation and cutting the budget. Many startups and growing companies need a suitable technology expert on their side. Yet finding an in-house and full-time CTO is a long, convoluted, and expensive process.
In such cases, businesses might prefer CTO consulting to achieve their goals. A virtual or interim CTO will lead R&D and technical teams, make crucial technical decisions, and create software development roadmaps and quality measures.
When virtual CTO services are useful for businesses? Here are the most common situations:
You have an idea of an app or software solution but no tech expertise to execute it;
You need a development roadmap with a business plan, budget, and deadlines;
A company needs a tech leader for a remote or outsourced team;
A company wants to upgrade existing products and scale up;
You need to advance cybersecurity systems and measures.
Why Look for CTO partners in Ukraine?
Ukraine is one of the major outsourcing destinations in Europe when it comes to IT services. It has developed infrastructure with many R&D centers, international enterprises, and Ukraine new tech startups. Local experts offer CTO services, custom software development, IT managed services, cybersecurity solutions, and many more.
One of the main reasons why one should consider hiring a CTO consultant here is that it is cost-effective. For instance, an average annual salary for such a level of expertise in the US is $166,752. In Ukraine, the same expert has an average salary of $38,550 per year. And if you find part-time CTO partners, the budget might be even smaller.
This allows accessing a high level of expertise without breaking the banks, which is particularly important for small and mid-market companies.
Also, Ukraine has a huge talent pool of more than 200,000 IT professionals. The majority of them have a good command of English and experience in international projects. The vendors here have qualifications in almost any major technology and can help internet of things solution companies or InsuTech startups.
Ukraine is located in Europe, which makes it a comfortable partnership, especially for EU companies. So if a company cannot find a suitable CTO partner locally Ukraine is an advantageous destination.
Key Benefits of CTO as a Service
The main benefits a remote CTO consulting group or firm can deliver are:
Cost efficiency. You pay only for the services needed when they are needed;
Perfect fit. With a wider talent pool one has a better choice of candidates to review;
Access to a high level of expertise for new business projects or solutions;
Increased productivity of R&D and technical teams;
Comprehensive and continuous technology strategy;
Opportunity to create and control remote dedicated teams led by CTO;
Ability to create and release new apps or products faster, with better UI/UX, and a competitive edge.
CTO services bring the technological side of any business to a new level.
Responsibilities of a Virtual CTO
The exact responsibilities depend on the company and agreements, but the most common duties of a virtual CTO are as follows
Definition of technological strategy for the company;
Hiring and/or management of R&D and development teams;
Project Management from architecture design to post-release support;
Definition of tech stack and best practices for a particular solution;
Infrastructure analysis, upgrades, and management;
Evaluation of technology integration, suggestions on the implementation of better solutions;
Establishment of quality measures, procedures, and development standards.
Creation of technology roadmaps.
List of the Best 15 CTO Services in Ukraine
1. Cyberlands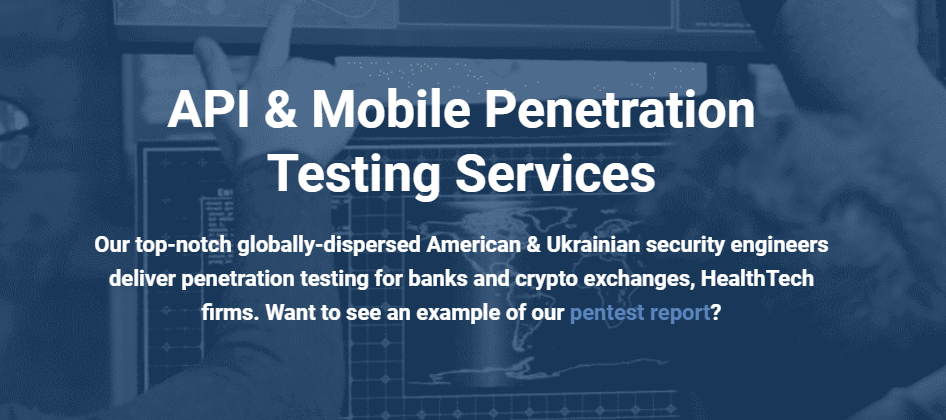 This is a highly-skilled team that ensures IT consulting and managed services with an emphasis on white-label API, Kubernetes, mobile and cloud penetration testing, and cybersecurity as a whole. Cyberlands has offices in Kyiv and Rotterdam as well as many international partners, mostly from the midmarket and small businesses. The industry expertise includes Financial Services, IT, Healthcare, and Telecommunications. Some of the clients are SPSoft, Softprom, and Amaiz.
2. Alpacked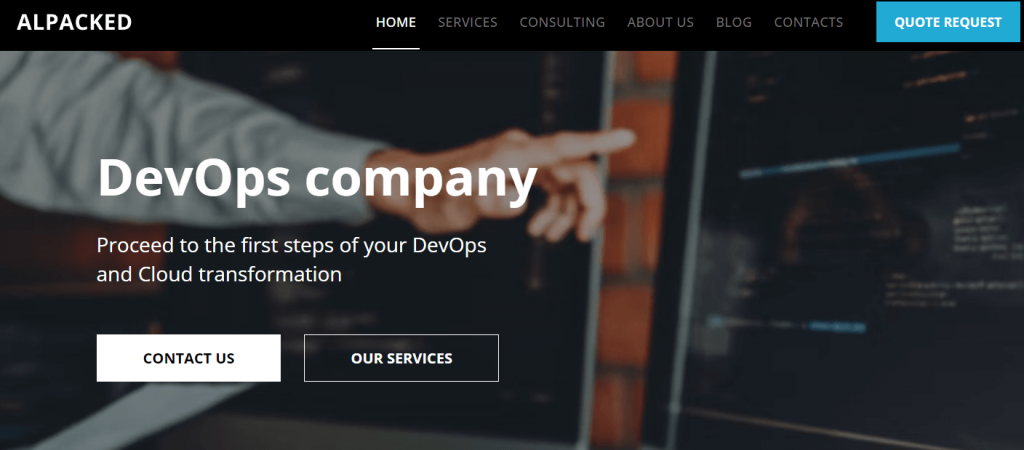 This is a powerful DevOps company that offers a range of end-to-end services. They deliver consulting, managed services, application management and support, and IT strategy consulting. The team is experienced in DevOps practices, optimization, and boosting productivity. It partners with companies of all sizes from all over the world. The industry expertise covers Business Services, IT, eCommerce, Media, and Healthcare. Among clients, there are Alisa, Credit Karma, and ByteStand.
3. Attract Group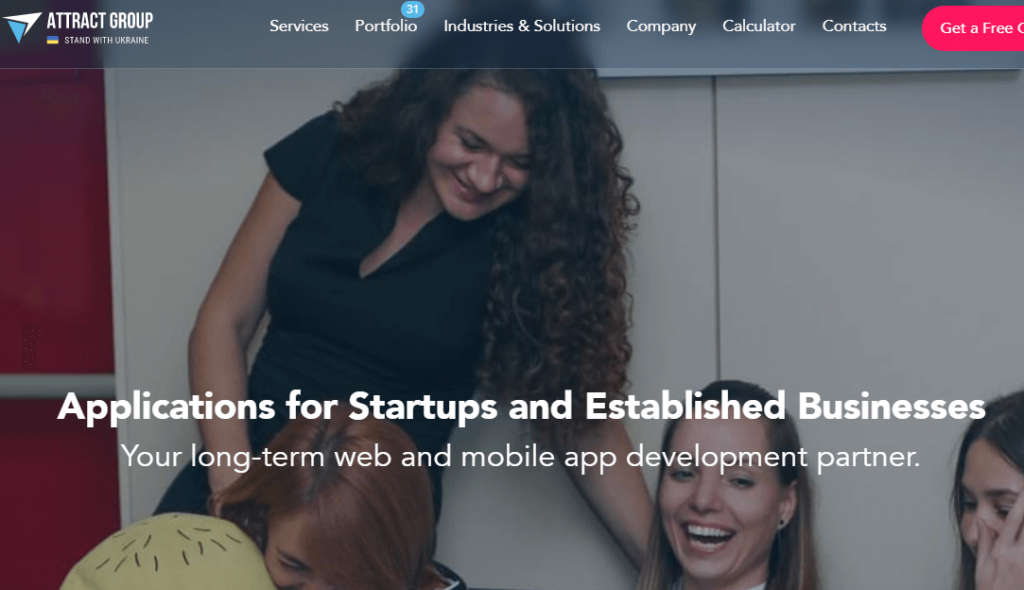 This is an experienced (founded in 2011) outsourcing company based in Odesa. The team offers IT services and consulting, including mobile and web application development, custom software development, and IT strategy consulting. The clients come from such industries as Finance, Healthcare, Retail, Education, and Supply Chain and Logistics. The majority of them are small or mid-sized businesses. Lingua Airlines, MedCo Media LLC, Modern Trade Ltd, and Headhunter are among its partners.
4. Sekurno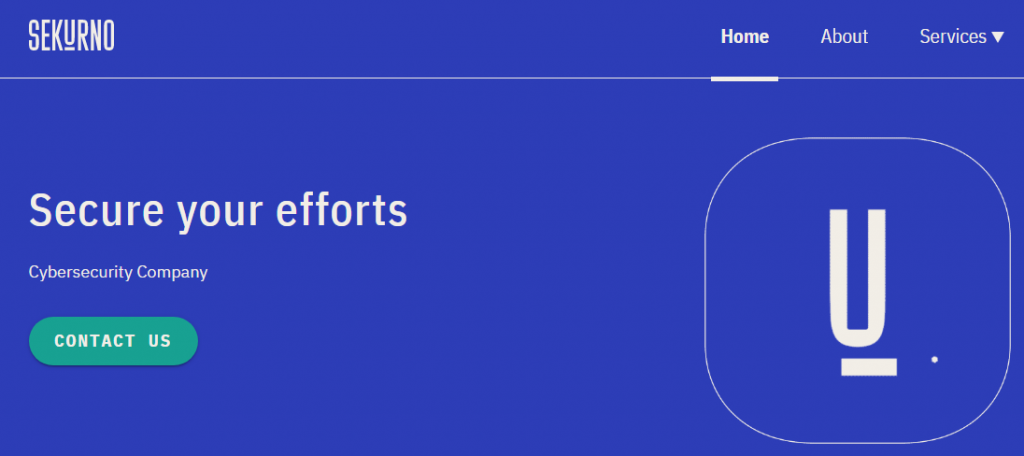 It is a boutique company that provides high-quality IT consulting and services. The main focus is on cybersecurity and compliance. Also, the team delivers IT managed services for companies in such industries as IT, Automotive, Finance, Government, Legal, Healthcare, and eCommerce. The key clients of Sekurno are Appflame and RAKwireless.
5. Matoffo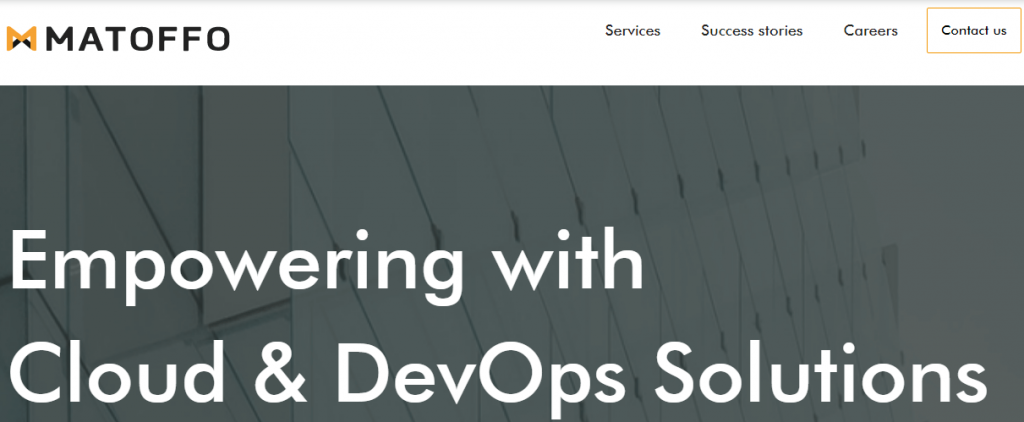 Matoffo is a Kyiv-based company that provides IT services and consulting with a focus on cloud solutions and DevOps. It is a cloud-native team with expertise in AWS (an authorized AWS partner in Ukraine) Matoffo also delivers custom software development. The vast majority of its clients are small businesses in Business Services, IT, Financial Services, and eCommerce.
6. Mighty Digital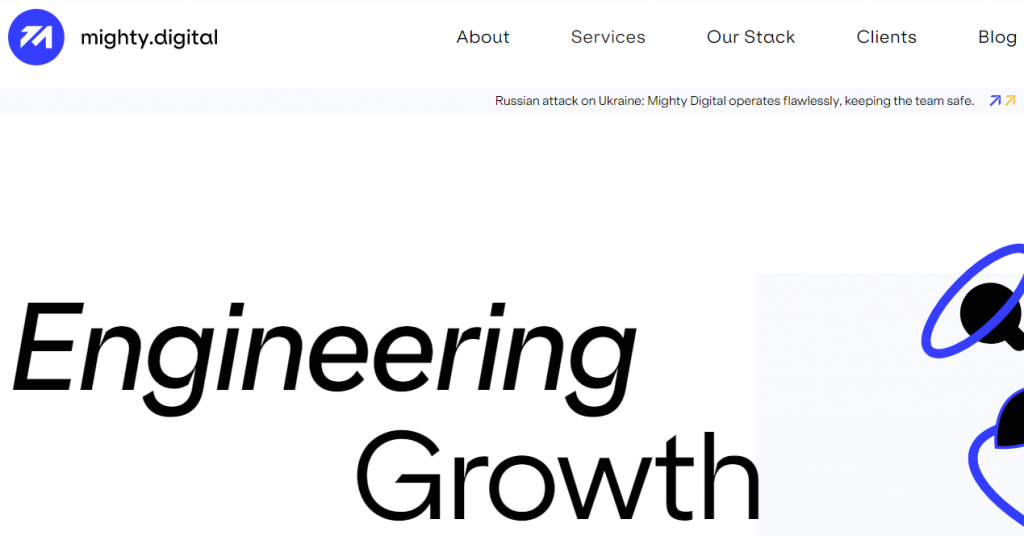 Mighty Digital delivers expertise in data infrastructure and analytics, BI, data engineering, growth marketing, IT staff augmentation, and strategy consulting. The team is knowledgeable in Big Data, AI, and conversion optimization. The agency partners with mid-sized and small businesses in such spheres as Supply Chain and Logistics, Automotive, Arts and Entertainment, Consumer Products and Services, and Gaming. Among the clients, there are Betbull, Uproad, Spin, and Feastly.
7. DataRoot Labs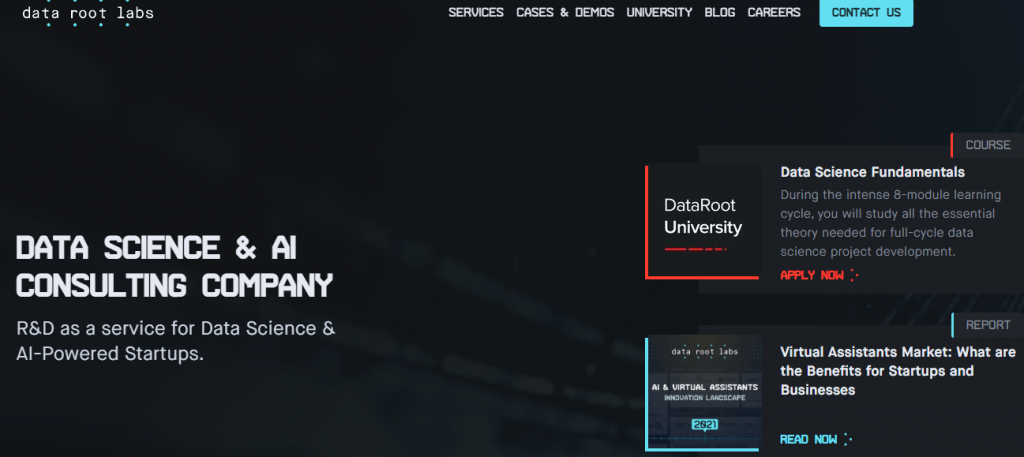 It is an excellent agency for AI-powered startups and small businesses to partner with. It has offices in Kyiv and Wilmington, Delaware. The company offers a full cycle of services in Data Science, AI, and strategy consulting. It also offers R&D teams of experienced professionals for international partners in such industries as Automotive, Education, Energy and Natural Resources, IT, GPS and Navigation, Gaming, and Real Estate. The team has worked with clients of all sizes, from startups to corporations. Some of the customers are OLX, Bookimed, ABM Cloud, and Embodied.
8. EXB Soft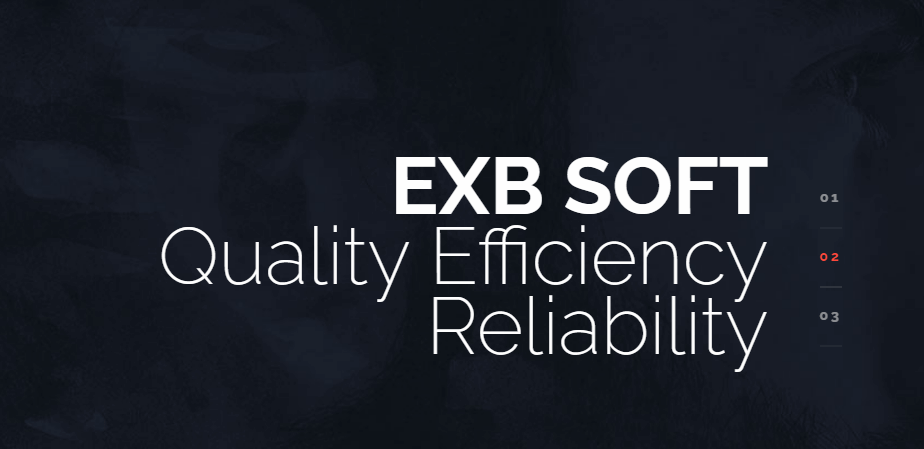 It is a B2B software development company that partners with businesses and enterprises all over the world. The main technologies of the team are .NET, C#, SQL, and Xamarin for the delivery of web and application development. The agency delivers testing and QA, cloud and SI consulting, IT strategy consulting, and eCommerce development services. The industry expertise includes Finance, IT, Telecommunications, Utilities, and eCommerce.
9. Molfar.io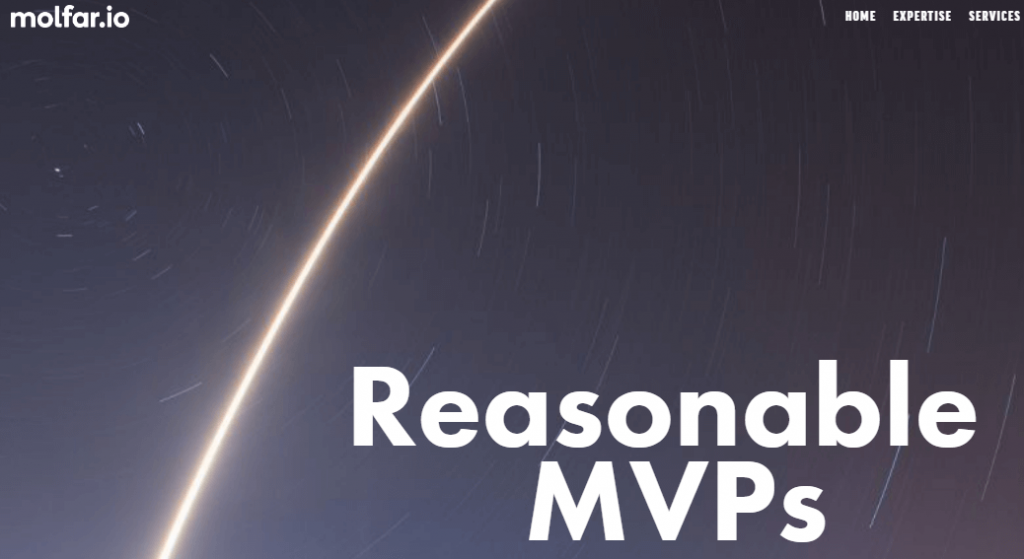 This agency specializes in the provision of MVPs for startups and small businesses. It was founded in 2016 and has released a multitude of projects in mobile application development, UI/UX design, wearable application development, marketing strategy creation, and market research. The team offers high-quality consultancy as well. The industry expertise includes IT, Arts and Entertainment, Consumer Products and Services, Education, GPS and Navigation, and Hospitality.
10. Hacken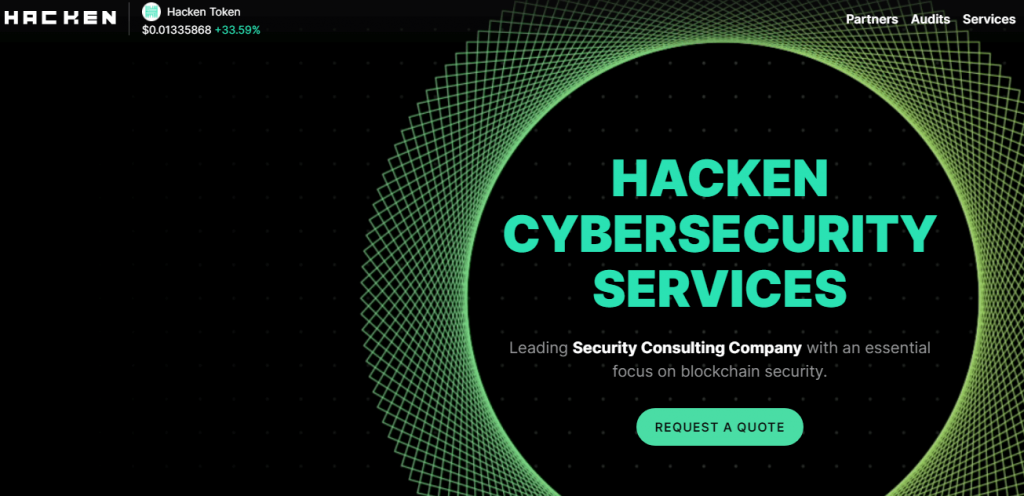 It is an experienced agency when it comes to cybersecurity and Blockchain. Hacken has offices in Kyiv and Tallinn and works mostly with small and mid-market businesses. The team delivers consulting, development, testing, and managed IT services. The industry focus covers Finance, eCommerce, IT, and Healthcare. Hacken mostly works with small businesses, but it has partners of all sizes among clients. Some of them are AirAsia, DAO Maker, UFO Gaming, and VeChain.
11. IT Outposts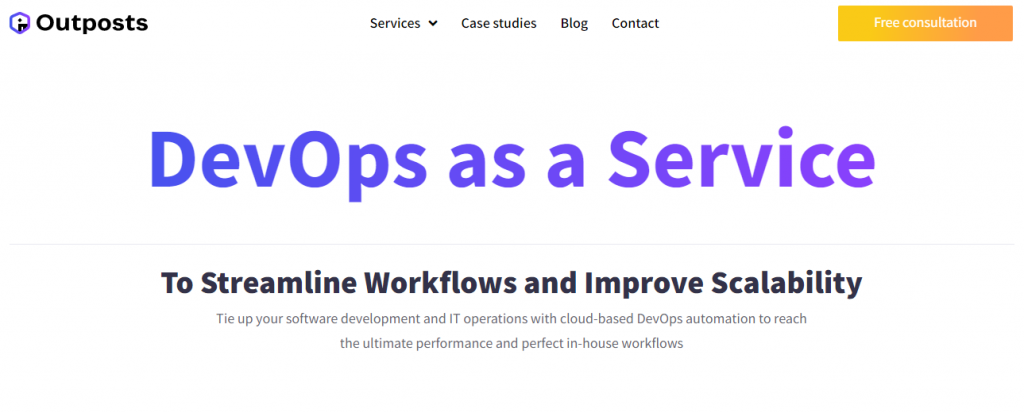 This is a young but highly-skilled team that provides cloud consulting, SI, and IT staff augmentation. It is knowledgeable in DevOps, cloud solutions, optimization of IT operations, and infrastructure and architecture design. The team also helps startups to build and finalize MVPs. Industry expertise includes Financial Services, IT, eCommerce, and Business Services.
12. Dysnix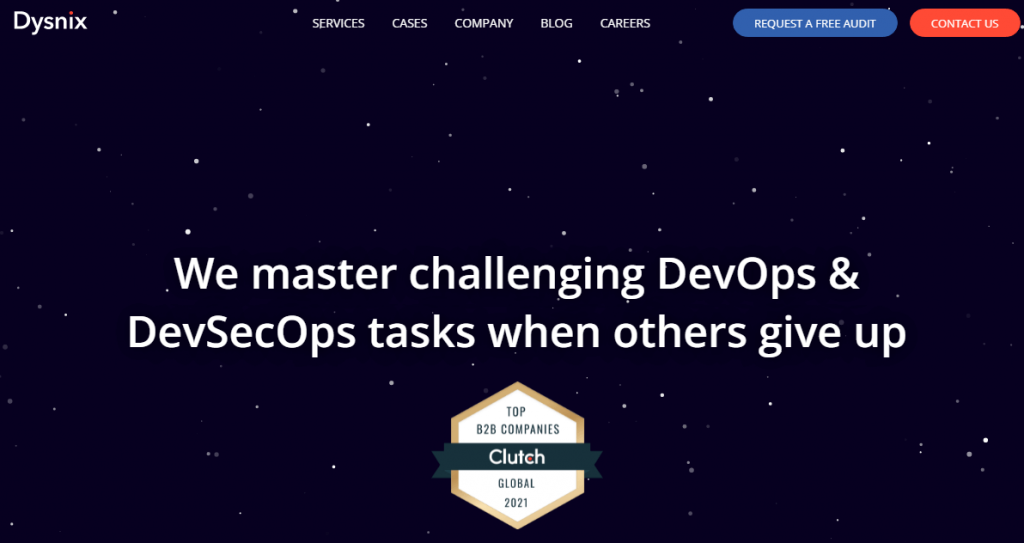 Dysnix delivers a wide range of IT services and technology consulting. The team is knowledgeable in DevOps and DevSecOps as well as cloud solutions, AI, cybersecurity, and Blockchain. It helps businesses to scale up, and optimize infrastructure and architecture. The agency has completed more than 60 projects in industries like FinTech, eCommerce, Gambling, Healthcare, and Insurance. Some of the clients are Kuna Exchange, Blockchain ETL, and ExplORer Surgical.
13. Triangu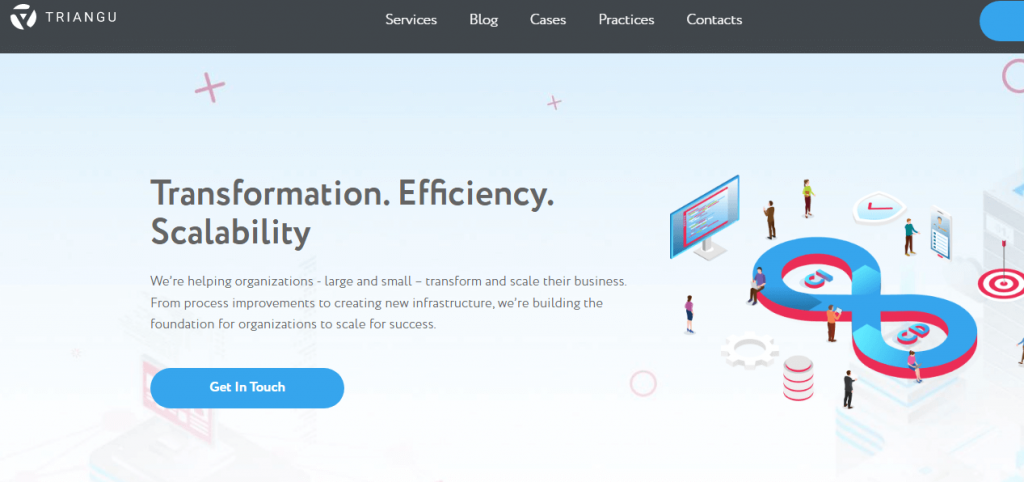 This is another skilled DevOps team, which offers consultancy, IT managed services, IoT development, and IT staff augmentation. The agency focuses on cloud solutions, cybersecurity, IaaC services, and infrastructure audits. It is an authorized partner of AWS, Atlassian, and Red Hat with offices in Kyiv and Chicago. As for the industries, the agency worked in FinTech, eCommerce, Media, Telecommunications, and Logistics.
14. Rozdoum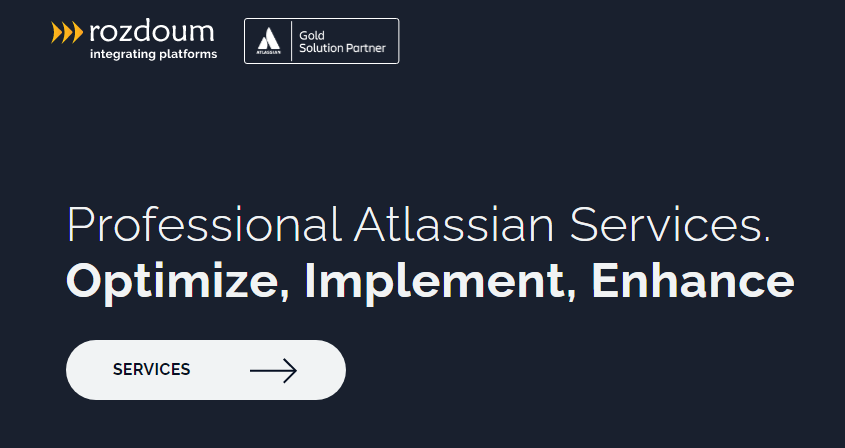 Rozdoum has been delivering outstanding IT services and consulting since 2004. The team is knowledgeable in SI consulting, business consulting, and custom software development. It is also an authorized Atlassian partner in Ukraine. The agency works with companies of all sizes in such industries as Business Services, IT, Finance, Manufacturing, Real Estate, and Supply Chain and Logistics.
15. DotCode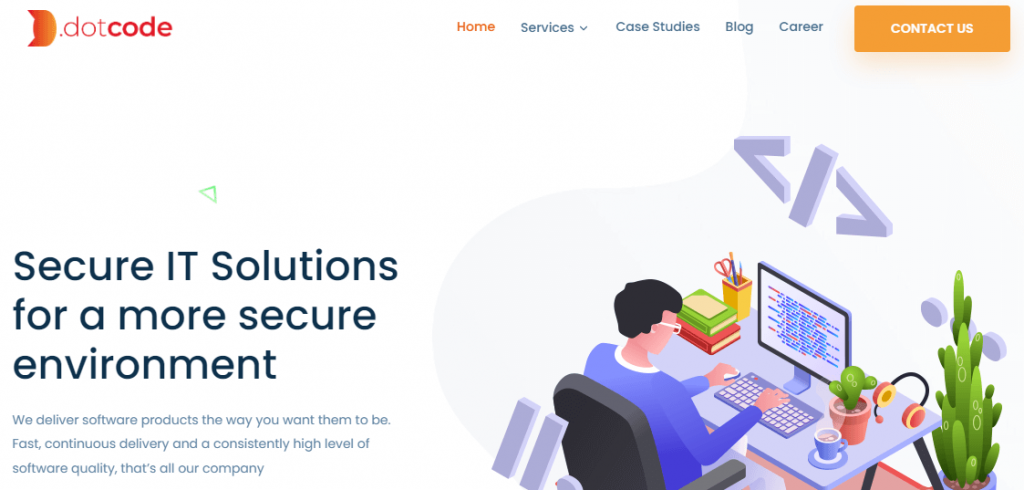 This is an outsourcing software design and development agency from Lviv. The team provides a wide range of services, including web and mobile app development, UI/UX design, QA and testing, project management, IT managed services, and IT strategy consulting. The majority of the clients are small and middle-sized businesses from Advertising and Marketing, Arts and Entertainment, Business Services, Education, Finance, Hospitality, IT, and Healthcare. Some of the clients are Bookretreats, MontrealDirectory, and DVL Express.
Choose one of the best CTO consulting companies in Ukraine to empower your business and achieve new heights!