Ruby on Rails companies are in high demand among Ukrainian IT businesses. According to the survey of local platform DOU, in 2021 Ruby is in 9th place among code languages developers work with. And the number of professionals using Ruby has grown by 25% in only one year. What are the reasons for such popularity?
The best IT companies in Ukraine are happily taking Ruby on Rails projects and work both for internal and international markets. There are several reasons as to why there is a growing demand for such service providers in Ukraine, including:
Ruby is a very dynamic open-source language that allows fast development of mobile apps and websites (back-end or server-side);
The open-source nature ensures that the usage of Ruby on Rails is almost free, which reduces project budget;
It is a multi-level language that is used for a simple and fast way to create an app or a website;
It is comparatively easy to learn and there is a huge community that helps new developers to dive in;
Ukrainian IT professionals answer the international demand for Ruby on Rails projects.
To illustrate the demand for Ruby on Rails development firms and respective projects, here are some of the well-known websites created with this language:
Netflix;
Airbnb;
Kickstarter;
GitHub;
Shopify;
Couchsurfing;
SoundCloud;
Bloomberg, etc.
Although there are various types of offers, in this article we'll focus on specialized Ruby companies in Ukraine.
Why Ukrainian Ruby on Rails Companies Are Trusted Worldwide
Ruby on Rails projects outsourcing exists because there are not enough specialists that can tackle all the projects locally. The demand is always higher than the number of professionals. So it is only reasonable to look for Rails development opportunities elsewhere.
But why is Ukraine such a popular outsourcing destination? After all, there are many different well-known outsourcing regions in the world. What makes Ukrainian developers stand out? Ukrainian Ruby on Rails consulting companies are in high demand because of the several significant benefits of this destination, such as:
Ukraine has a wide pool of developers and a well-developed IT infrastructure, 43 universities in the country offer degrees in Computer science to fulfill the demand. And Ruby is a popular technology here. Clutch lists about 340 companies in Eastern Europe working with Ruby and 140 of them are Ukraine-based.
Many industry giants have offices and R&D centers here. For example Microsoft, Boeing, and Samsung;
Ukraine was named among the 5 top outsourcing countries by Business Insider based on the quality of work and prices. The salary rates here are significantly lower than in the US, Canada, or EU countries. It makes Ruby projects more affordable even for small companies and startups.
Ukraine is a European country, which means similar culture and business ethics. The majority of local developers have a good command of English, which ensures easy and direct cooperation.
There is a little time difference for European clients working with Ruby on Rails agencies in Ukraine. It is also quite easy to travel to because of a multitude of direct flights.
Working with a Ruby on Rails software development company in Ukraine means affordability, quality, better workflow, and high security of data and investment. Professionals here are valued in almost any type of technology, whether it is Ruby on Rails or JavaScript. But the overall number of specialists and companies focusing on Ruby development is growing according to the overall demand.
15 Top Ruby on Rails Companies in Ukraine
After we've established reasons why international businesses look for a credible Ruby company in Ukraine, let's name 15 top companies offering such services here.
1. Railsware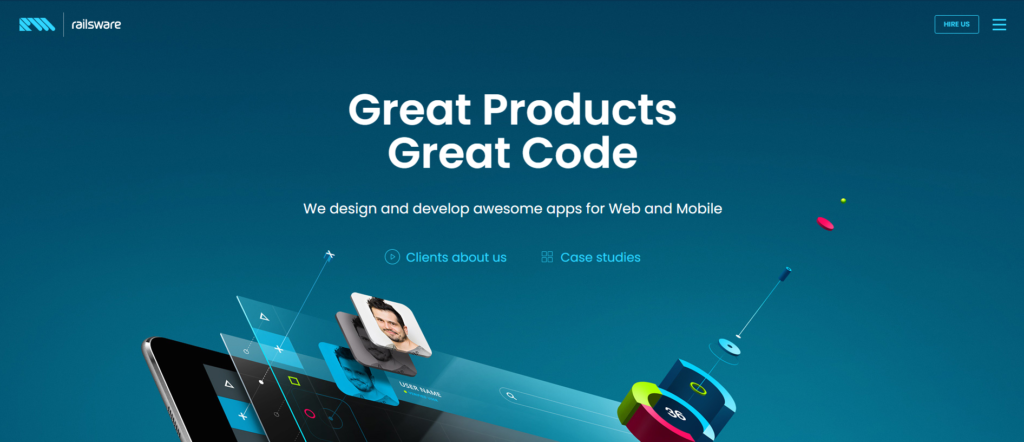 This is a well-established service provider that has been working on international projects since 2006. It has a 4.9 out of 5 rating on Clutch, which is a great representation of clients' satisfaction. The primary focus of Railsware is one web and mobile applications. They work on UI/UX design, custom software development, and eCommerce solutions.
2. MLSDEV
MLSDEV focuses specifically on mobile and web application development. The company was established in 2009. One of its principles is working in Agile methodology. They've worked with international partners from such industries as Medical services, eCommerce, Arts $ Entertainment, Media, Retail, Supply Chain, and Logistics.
3. RubyGarage
RubyGarage is significantly smaller than any other top ruby on rails development company, yet it has over 100 employees. It is located in Dnipro and works mostly with startups and small businesses from all over the globe. The company was founded in 2011 and has already got great reviews on Clutch (4.9). The industry expertise includes eCommerce, Education, Financial Services, Hospitality & Leisure, and Medical industry.
4. ZaraffaSoft
This is another relatively young service provider in Ruby on Rails Ukraine. They've been operating since 2013 and finished projects in web development and design, mobile app and CMS developments, as well as UI/UX solutions. They work with enterprise solutions and mobile apps, which gives the team more insights.
5. N-IX
N-IX was founded in 2002 in Lviv and has since opened offices in six different countries. It is a well-established development company with more than 1,500 employees specializing in various technologies. They've worked with many international partners including OpenText and Discovery Limited. Here are the main industries N-IX works with – Finance, Telecommunications, Business, Media, Medical services, Hospitality & Leisure.
6. Artelogic
Artelogic was founded in 2012 and it already has offices not only in Ukraine but also in Silicon Valley and Singapore. They primarily focus on delivering simple yet effective apps for international partners. They have a 5-star rating on Clutch and a dedicated team of developers and designers.
7. Syndicode
It is a rather small business with 30+ employees. Yet, it has already established its expertise in the outsourcing custom software development market. Syndicode was founded in 2014 and has partnered with multiple international brands including HotelCloud, Movinga, and Umico. The team has worked with representatives of several industries such as eCommerce, Education, and Medical services.
8. Sloboda Studio
It is a Kharkiv-based business that has already completed 92 projects with international partners. Sloboda Studio started working in 2010 and has a great team of professionals working on solutions mostly for small businesses. They have experience in such industries as Retail, Finance, IT, and Telecommunications.
9. Litslink
From the year 2014, Litslink has been working on various custom software development projects. They concentrate on web and mobile app development for partners from all over the world. They have two offices, in Kyiv and Kharkiv. The Clutch rating is 4.8 and some of the customers are Mush Limited and Toolook Inc. As for the industries, Litslink has worked with businesses in IT, Education, Business, Finance, and Utilities.
10.  Eastern Peak
Eastern Peak is a larger service provider with numerous offices in such destinations as Birmingham, Geneva, London, New York, and Herzliya. But their headquarters is located in Kharkiv, Ukraine. Starting from 2010, the company focuses on custom software development, web, and mobile apps, as well as IoT. Among their customers are Western Union, Gett, and DPD Group. The industry expertise includes IT, Supply Chain and Logistics, GPS/Navigation, and the Automotive industry.
11.  Agilie
Agilie has been established in 2010. It is a well-rounded service provider with an office in Dnipro, Ukraine. Their expertise covers mobile and web development as well as UI/UX design. Overall, they work with small businesses from other countries. Their clients are from such industries as Marketing, Arts, Entertainment, Advertising, Consumer Products, Supply Chain, Education, and Media.
12.  Uptech
Uptech is a Kyiv development company that started operating in 2016. Although they are relatively young, they have a team of 75 specialists working on various projects. They also focus on web and mobile application development and UI/UX design. They usually partner with small and mid-sized companies, including Aspiration and Unilever (DSC). As for the industries, the majority of their customers are in the Medical field, Marketing & Advertising, eCommerce, Arts & Entertainment, and Finance.
13.  Powercode
Powercode is a web development agency from Kyiv. They started working in 2015 and have acquired an outstanding reputation. They can work with a Ruby on Rails startup and a large enterprise as well. The company has partnered with brands across a multitude of industries, such as Business, Consumer products and services, GPS/Navigation, eCommerce, Real Estate, Retail, and Education.
14.  Bvblogic
Originally, the company was started in 2008 in Ivano-Frankivsk, Ukraine. The headquarters is still there, but they managed to open new offices in Warsaw, Kyiv, and Toronto. Mostly, they work on web and mobile application development projects. Among their customers are SOCAR Energy Ukraine, Libresse, and Netpeak. The agency worked in several industries, including Business, Advertising & Marketing, eCommerce, and Customer products and services.
15.  Leobit
This is another Lviv-based company with great quality of work. Leobit has been on the market since 2014. As with other titles in this list, they focus on web and mobile application development. But they cooperate mostly with mid-size businesses and enterprises. Among their clients are Antourage and StagesFlight. The industry expertise covers eCommerce, Finance, Medical services, and Real Estate.
It is important to mention that a list of 15 cannot possibly include all outstanding development companies that are located in Ukraine.
How to Partner with Ruby in Rails Company
The principles of finding a credible partner are software development is the same for any type of technology. Whether you are looking for AWS companies or Ruby on Rails development firms, you need to look into their track record and resources. Here is a checklist of things to consider before signing the contract:
Previous projects. Look into what types of solutions the provider in question has developed. Do they seem appealing to you? Do you like the portfolio? Are those projects close to something you are looking for? If possible, ask for recommendations from the people you trust. Also, it is quite common to reach out to former customers of a provider to ask about their experiences.
Industries. If a provider has worked in the same industry as you, it is a benefit. It means they know more insights and specifics of business models and best practices. Find someone who has some knowledge of your industry. Generally, it means a shorter learning curve and less time for introductory work.
Resources. What size of companies do they usually work with? Do they have enough developers to tackle your project? Think about the size of the team and how fast they can deliver a solution 
Qualifications. What are the major skills and experiences of the team? Who is going to be working on your solution? Check their qualifications.
Prices. It is never a good sign to partner with someone who charges significantly lower than the market average. Quality comes at a price. Consider the budget and what your business can afford.
Conclusion
It is safe to say that Ruby on Rails companies are going to only grow in Ukraine. They deliver a quality product to international businesses so the demand will only grow. Ruby remains a highly-effective technology for mobile and web development. And Ukraine is a superb outsourcing destination.
If you are looking for a credible Ruby on Rails development partner, consider Ukraine!