Customer relationship management software is currently gathering steam. More and more businesses invest in this technology, influencing the steady growth of its market value. As a result, from nearly $64 billion in 2022, the CRM market will likely grow to more than $145 billion in 2029.
It's not surprising that CRM consulting services are in great demand in such conditions. They can improve customer experience, increase sales, boost overall business performance, marketing efforts, and more. Yet, for all this to become a reality, you cannot do without experienced CRM experts.
But let's start with the basics. What is CRM consulting, and why are many companies turning to it? What are the advantages and disadvantages of customer relationship management consulting for businesses? What does a CRM consultant do?
You will find the answers to this and more questions in today's article. We've also prepared the top 15 Ukrainian companies for outsourcing CRM consulting services.
What Is CRM Consulting and Why Is It Popular?
Customer relationship management consulting involves cooperation with experienced specialists to use CRM software to the fullest extent possible. As a result, companies can develop the most effective sales, marketing, and customer care strategies.
The CRM software consultant carefully studies the specifics of the business and its clients and, based on this, helps to implement a custom solution. Consulting also involves analyzing the current company's limitations and finding ways to solve them.
According to Grand View Research, 91% of companies with more than ten employees use CRM systems. Why do they do it? The same report lists factors like enhancing customer interaction and feedback and building a loyal customer base. Real-time communication and a move toward push marketing are also the reasons.
Take a look at this chart from Fortune Business Insights to understand the most common CRM use cases better: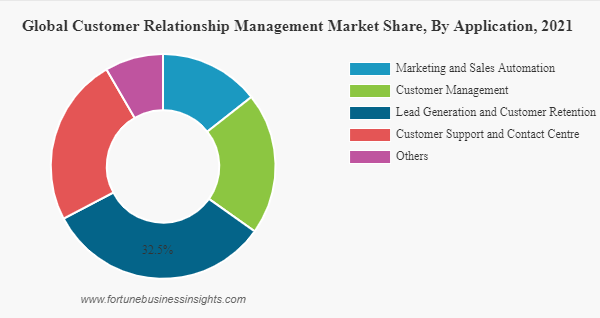 Furthermore, the CRM system's popularity is explained by the fact that leveraging this tech enables companies to understand their customer behavior better, identify their firm's strengths, and use this data to improve their business's productivity. About 82% of surveyed organizations claim this.
According to Zendesk, 70% of companies see a connection between their overall productivity and their customer support services quality. However, businesses still need to work hard on CRM adoption, as 54% of customers believe that support services do not yet fully meet their expectations.
Advantages and Disadvantages of CRM Consulting Services in Ukraine
Opting for a CRM consulting agency in Ukraine brings its pros and cons. Let's discuss them in greater detail.
CRM consulting companies' advantages are as follows:
Increasing Internal Staff Productivity
If you turn to CRM consulting firms to set up your customer support processes, you free up your internal staff members' time. You don't spend resources on training your workers and can assign them to other tasks while CRM professionals from Ukraine do their job.
Setting Up CRM Processes Properly
Using the services of CRM consulting agencies, you can implement CRM software properly from the beginning. As a result, you avoid issues related to the customer relationship management system's choice and its inappropriate settings.
Getting Top CRM Software and Practices
There are various CRM systems available on the market, and they require different approaches to set up. Thus, when you need Zoho or Salesforce consulting partners, offshore development teams from Ukraine will come in handy. You'll get the best possible expertise and software in place.
Improving Customer Retention and Loyalty
Implementation of CRM software in your processes under the supervision of an experienced consultant enables you to deliver high-quality customer support services. As a result, your clients will return to you again and again.
Boosting Sales and Marketing Efforts
By employing a CRM consultant, you can be sure that this expert will implement CRM software in the most practical way for your business. The CRM system will allow you to collect customer data, and, as a result, you will increase your sales and make marketing campaigns more effective.
Let's now look at some disadvantages of CRM consulting:
Not Suiting Your Business
There are rare cases when the CRM system implementation won't benefit the business. Such software offers a high level of personalization when interacting with customers, and where these relationships are standardized, CRM doesn't make sense. For example, a company like McDonald's will not gain much from CRM.
Experiencing Data Security Concerns
Customer relationship management systems offer centralized data storage. Because of this, businesses may face data security risks. However, you can avoid this shortcoming by finding a reliable CRM functional consultant.
What Services Do CRM Consulting Partners Provide?
CRM management consulting aims to provide businesses with services related to improving the customer experience, marketing, and sales. For this, the consultant undertakes the following duties:
Help with the implementation of CRM software.
CRM customization according to business needs.
Cooperation with the company's management to learn more about the business and its customers.
Cooperation with company employees to determine the most effective CRM system strategy.
Formation of an approach to customer relationship management.
Work on launching the most effective advertising campaigns.
Analyzing the results of marketing efforts and proposing methods of increasing their effectiveness.
Using data and analytics to personalize the customer experience.
Conducting data analysis to determine the possibilities of using new technologies.
Training other employees on working with the CRM system.
Management of the team working directly with CRM.
Development of data management policies and standards.
Implementation of customer acquisition and retention strategies to increase sales and ROI.
Reporting on key CRM metrics.
Top 15 CRM Consulting Services in Ukraine
Are you still thinking about hiring a customer relationship management company from Ukraine? Whether it will be a freelance CRM consultant or a dedicated CRM consulting vendor, we have prepared a comprehensive list for you. So let's look at the top 15 companies:
Synebo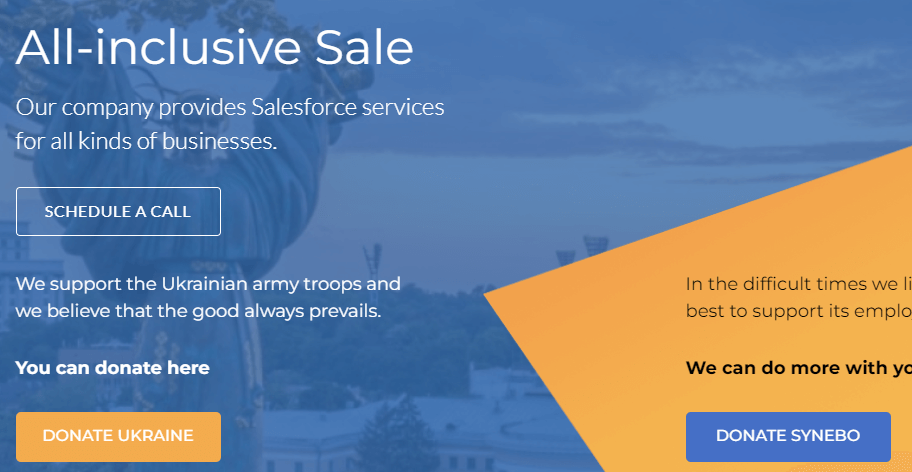 Synebo is a company that provides Salesforce CRM consulting services. Located in Odesa, Ukraine, they offer an expert team experienced in Salesforce development and integration. Synebo can also help with system testing and upgrades.
Peeklogic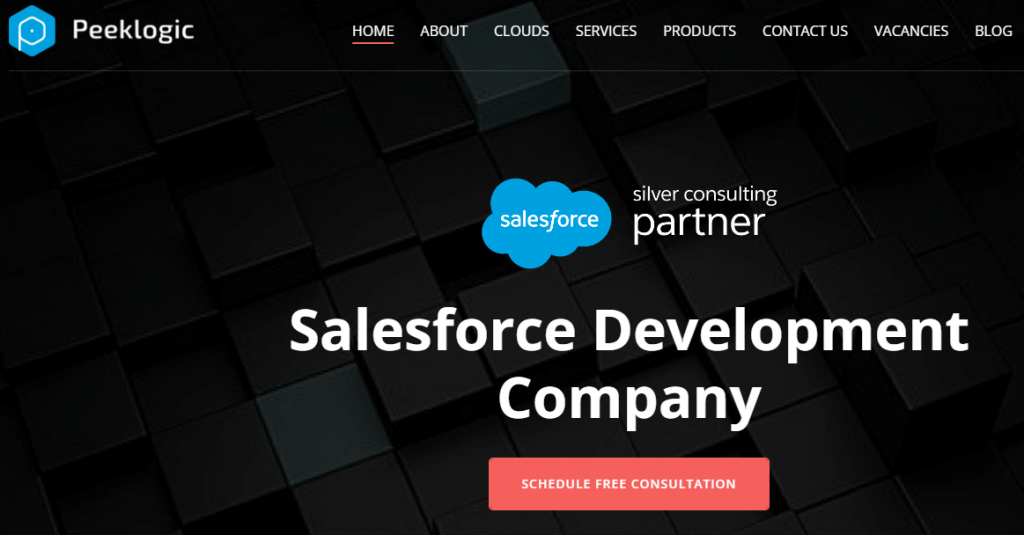 Peeklogic is another firm that works with Salesforce CRM. This company from Lviv, Ukraine, is an expert in the healthcare, finance, manufacturing, marketing, recreational, and automotive sectors. However, they are also ready to create a custom solution for any other business.
The company's core services include custom development, CRM implementation, third-party app integration, marketing, AppExchange application development, Salesforce migration, and project management.
Snotor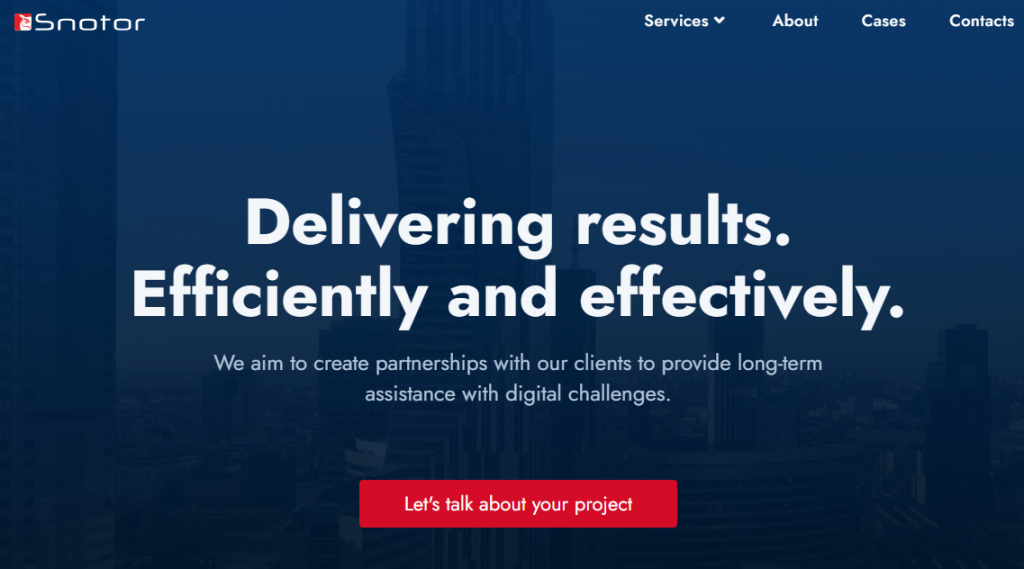 Snotor is a company from Khmelnytskyi, Ukraine, primarily dealing with full-cycle custom software development. However, among all this, this IT firm offers consulting services for the implementation of CRM systems. The company has significant experience in the tech market for more than 15 years and a portfolio of over 400 successful projects.
AdvantISS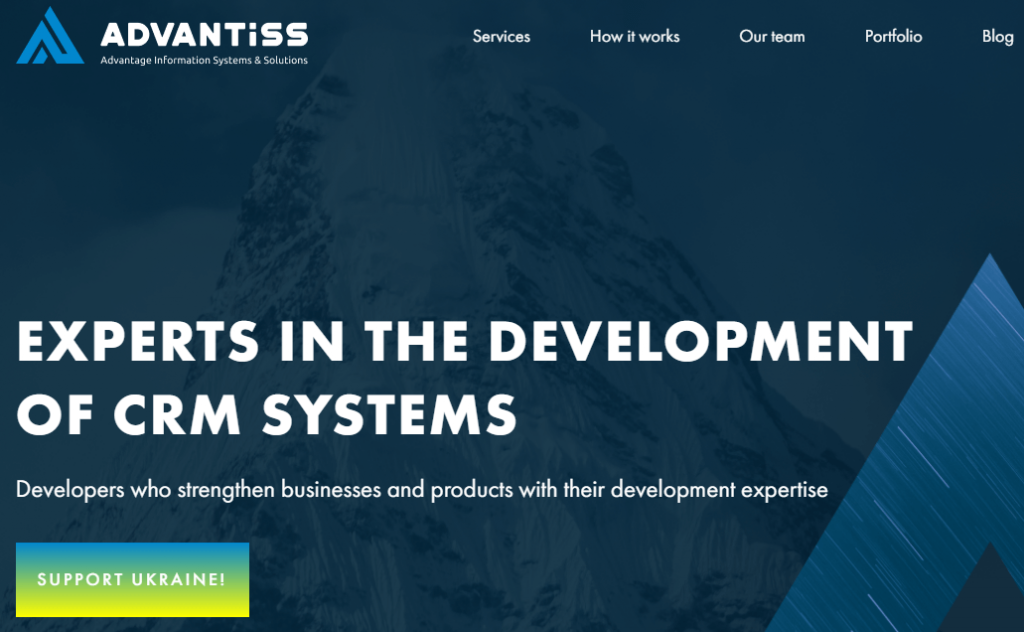 AdvantISS is a company from Sumy, Ukraine, with extensive experience in CRM systems development. They offer technology migration, API integration, custom software dev, web and mobile product creation, along with QA and DevOps services. The company's primary expert areas are the automotive and legal industries.
Redtag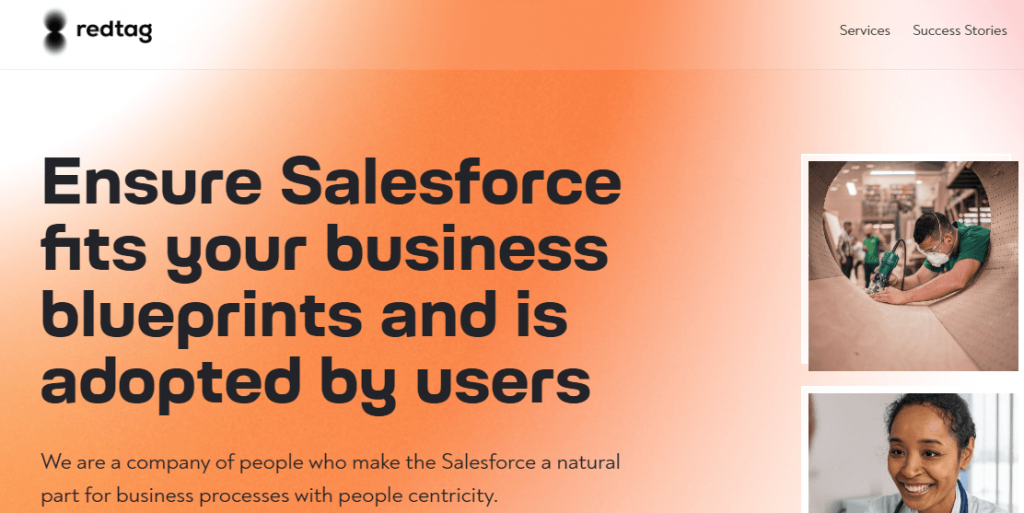 Redtag is a Salesforce CRM consulting company from Lviv, Ukraine. They implement customer relationship management software, using a tailored approach for any business. The company has advanced expertise in the healthcare, finance, manufacturing, retail, construction, education, and public sectors.
UAITLAB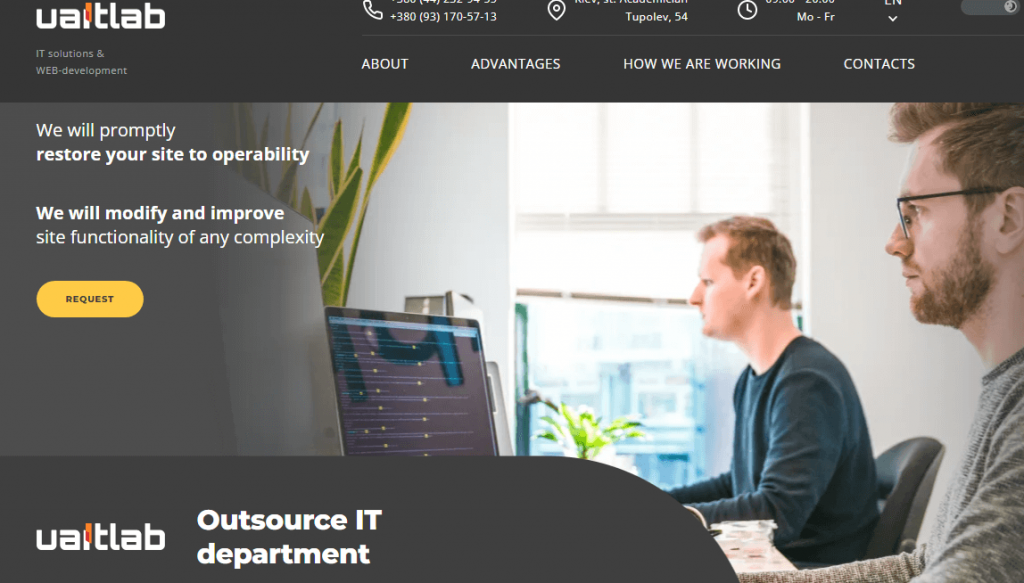 UAITLAB is a software development company from Kyiv, Ukraine. The firm, founded in 2013, has worked with small and medium business clients. Their services include CRM consulting as well. The company primarily works with entertainment, eCommerce, education, finance, healthcare, real estate, retail, and telecommunications industries.
Avenga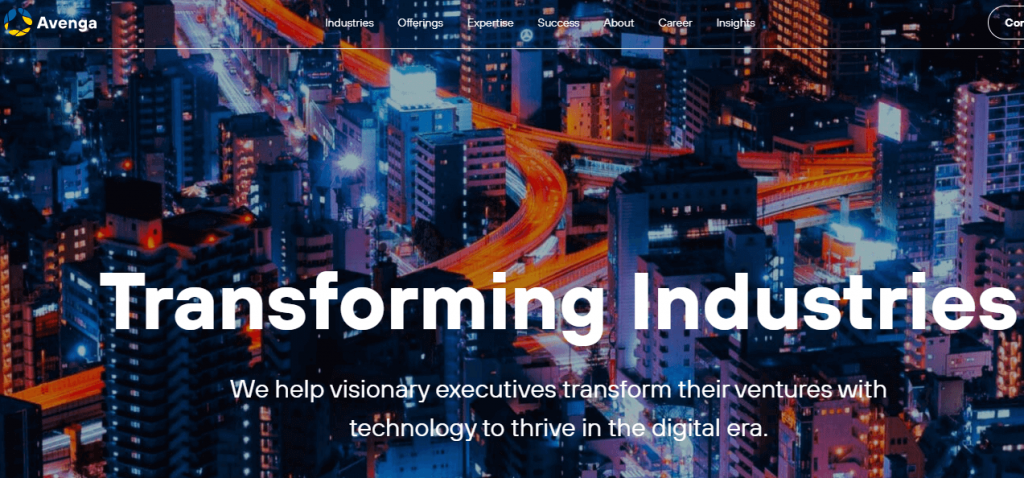 Avenga is a CRM consulting Ukraine service provider from Lviv. The company is competent in cloud service solutions, Salesforce customer relationship management system integration, custom CRM software development, and quality assurance. Their primary expertise areas include healthcare, finance, and automotive industries.
Covent IT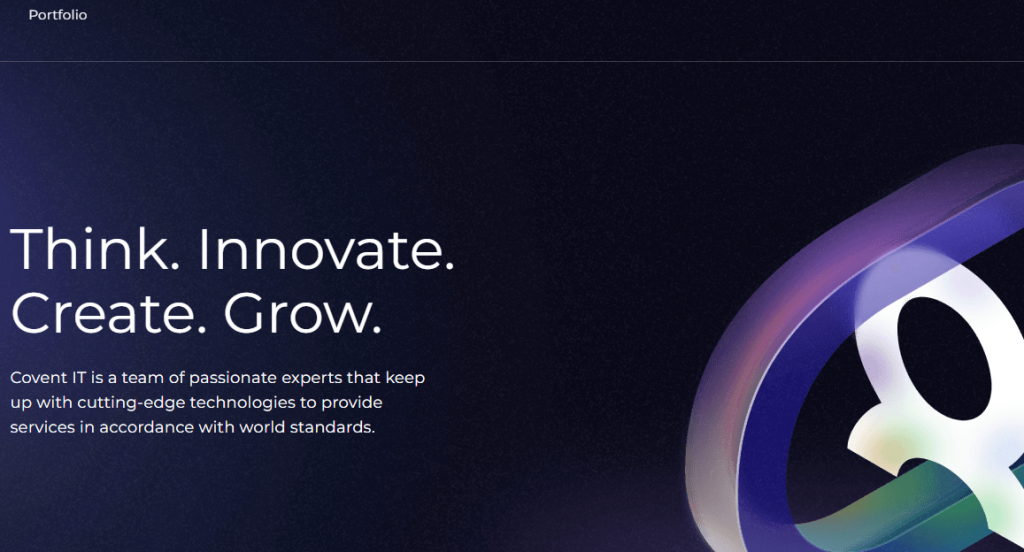 Covent IT is a technical solutions provider from Dnipro, Ukraine, founded in 2015. The company works with small and medium-sized businesses in the eCommerce, business services, education, finance, and media sectors. Their team can develop custom CRM software for you, update existing digital products, and provide quality assurance and ongoing support.
UpScale Ninjas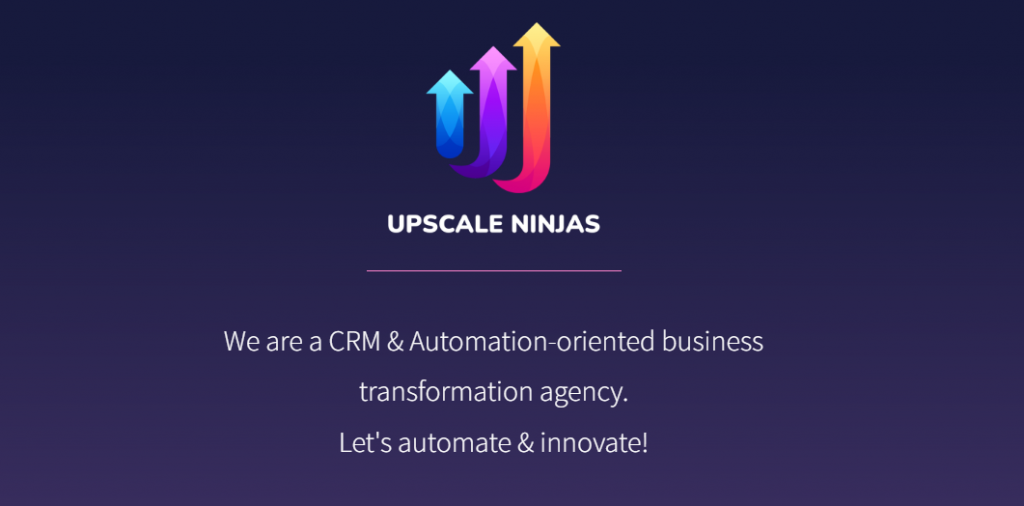 UpScale Ninjas is a company from Kyiv, Ukraine. This firm primarily focuses on CRM consulting. Their employees can help customize CRM according to your business needs and migrate data from one CRM system to another. They also provide customer relationship management software support services.
Web Deluxe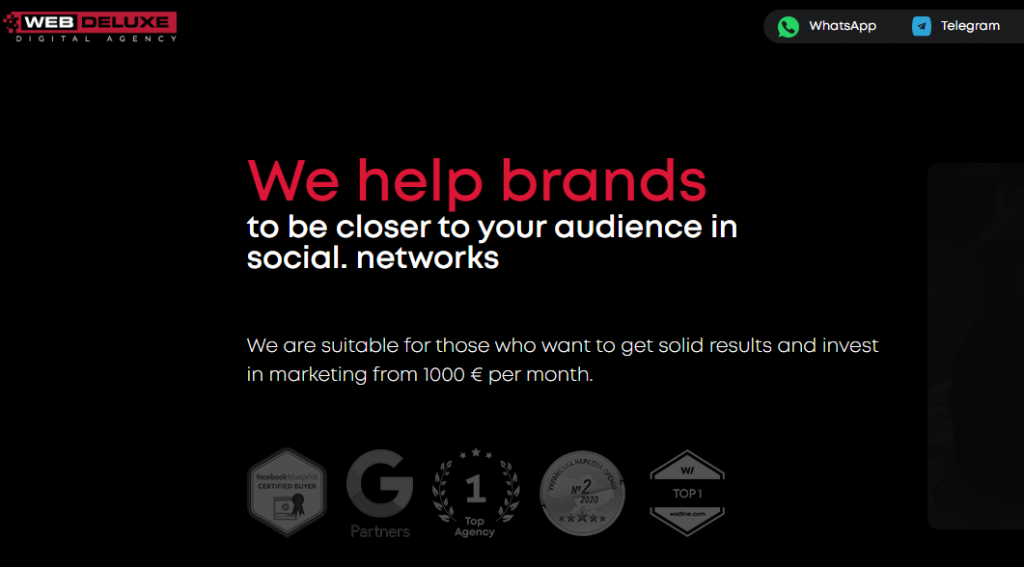 Web Deluxe is a digital agency from Ivano-Frankivsk, Ukraine. They have over 120 team members experienced in CRM consulting, marketing, and web development. They can help set up sales for businesses in eCommerce, finance, real estate, healthcare, and many other industries.
E‑Consulting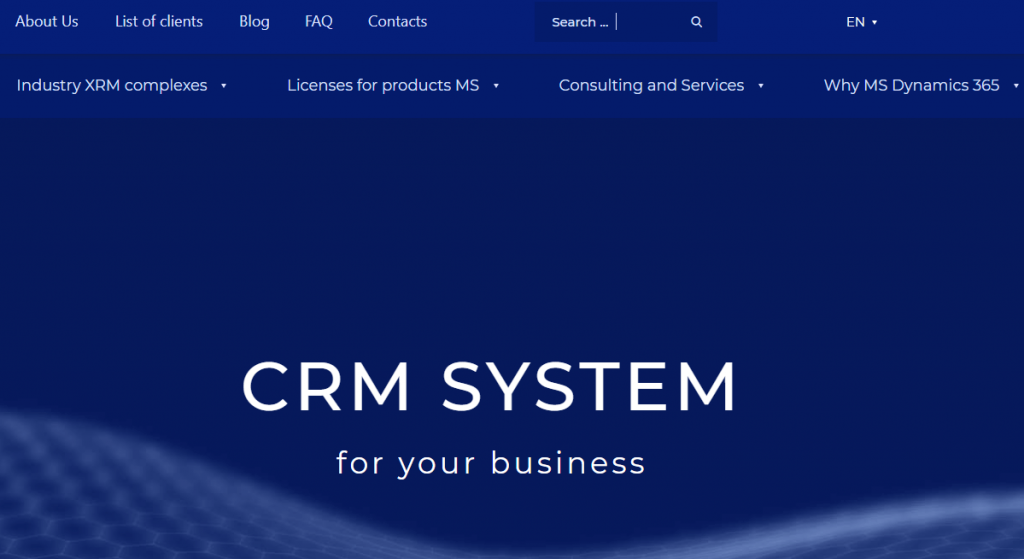 E‑Consulting is a CRM consulting company from Kyiv, Ukraine, founded in 2001. For more than 20 years, they have been providing top-notch services that increase business efficiency. Their core expert areas include CRM Dynamics 365 implementation and support, data storage solutions, and more.
Softwared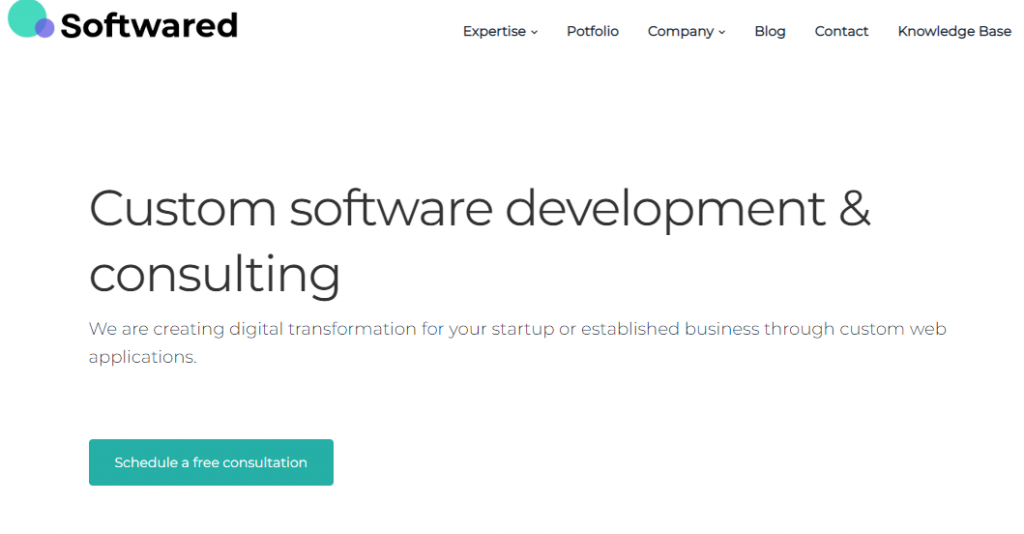 Softwared is a software development company headquartered in Odesa, Ukraine. They are experienced in the real estate and eCommerce industries and can build a custom solution for you. Softwared also provides CRM consulting and implementation services.
DOitWELL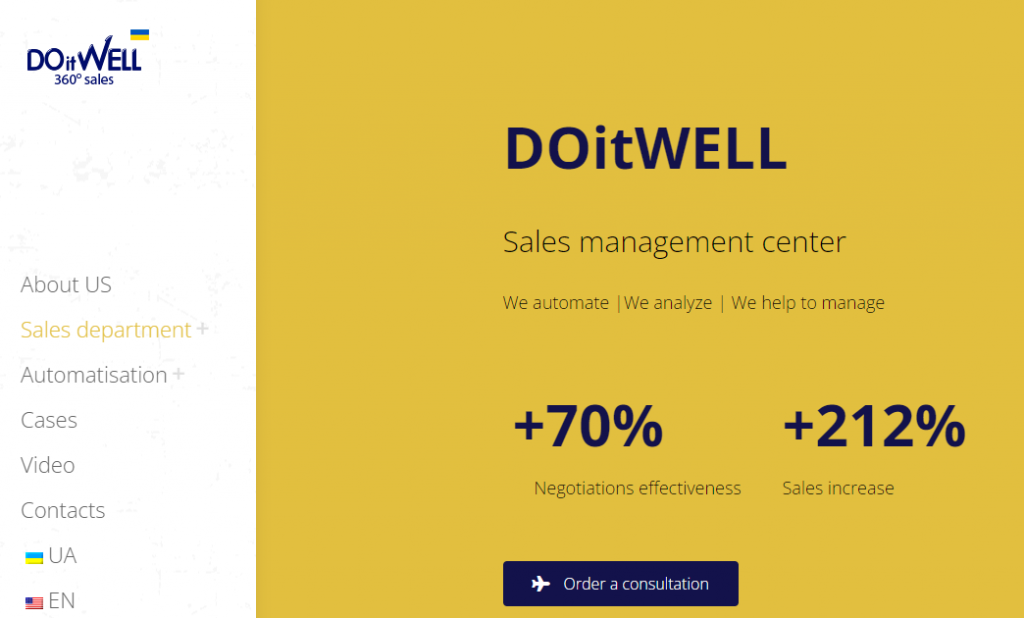 DOitWELL is a company located in Kyiv, Ukraine. They provide business process audit and CRM consulting services. Their experts can help you choose the most effective CRM for your company, adjust sales, and improve the customer experience.
Xpand Ukraine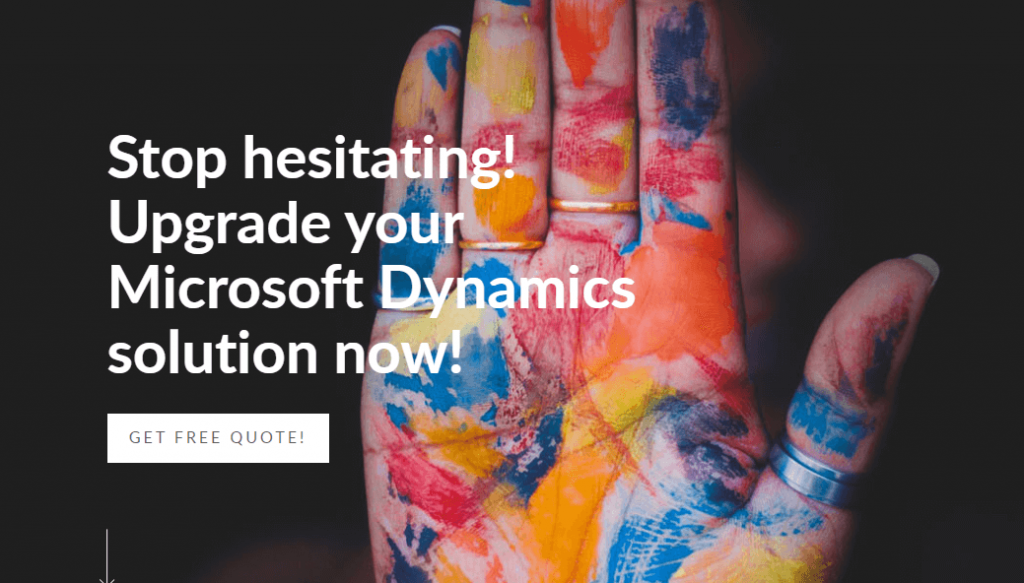 Xpand Ukraine is a CRM consulting company from Kyiv, Ukraine. They primarily work with Microsoft Dynamics products. They can provide you with a dedicated software development team, top-notch custom product dev services, and upgrades.
MagicFuse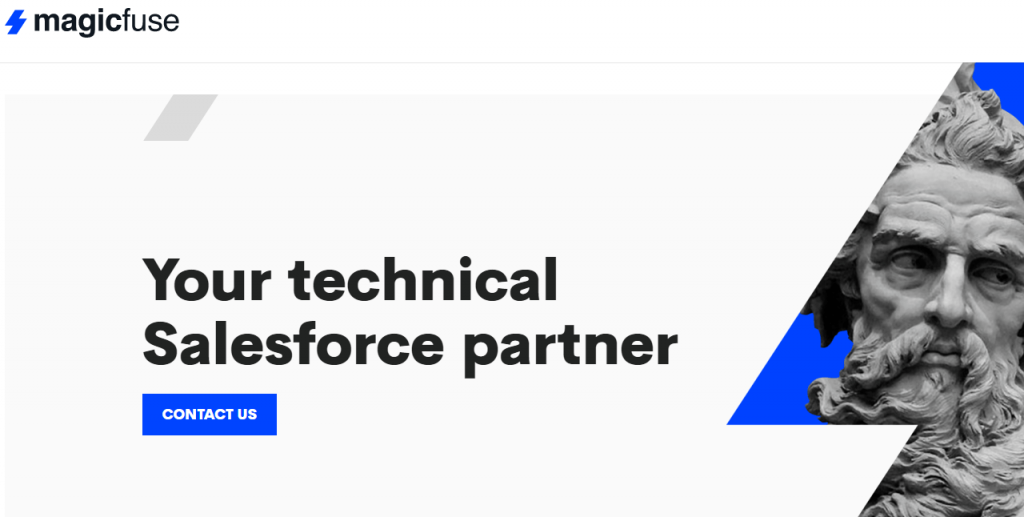 MagicFuse is a Salesforce CRM consulting company located in Lviv, Ukraine. They have already delivered more than 100 Salesforce projects within six years on the market. Their team consists of exceptionally experienced experts who have over 35 Salesforce certifications. They can help with CRM integration, custom development, and ongoing support.
Final Thoughts
Today, customer relationship management software is integral to any growing business. It enables you to gain customer loyalty, increase sales, and improve the effectiveness of your marketing efforts.
If your business needs the implementation of a CRM solution, then Squadrity can help.