Cloud computing managed services are becoming more and more popular nowadays. Almost 95% of enterprises use cloud services, and nearly 70% are cloud-based.
The main reasons for that are because it is safe and stable, it saves the company money, and it increases work efficiency. Among others is Covid-19, which had a significant impact on improving the interest in cloud services. Cloud adoption helped companies increase their safety and adapt to a new working style.
It is the possibility of rapid automated expansion or reduction of infrastructure that can be called one of the main advantages of cloud technologies. Use and pay only for what you really need (Pay-As-You-Go).
Large cloud data migration service providers are constantly looking for something to offer customers as an additional service or something that will help reduce the provider's own costs.
Data storage requires a lot of effort and resources, and hiring highly qualified experts is of those. That is why companies more often lean on cloud data management services rather than on-premise ones.
Cloud infrastructure is about technologies we use to create a cloud: hardware, storage, etc. On-premise is an inside company technology. Both have their own benefits. However, only one shows the tendency to grow in popularity.
The cloud will help reduce costs, especially in terms of attracting external resources in projects primarily related to replacing or upgrading existing infrastructure.
Annual spending on cloud IT infrastructure worldwide from 2013 to 2026
(in billion U.S. dollars)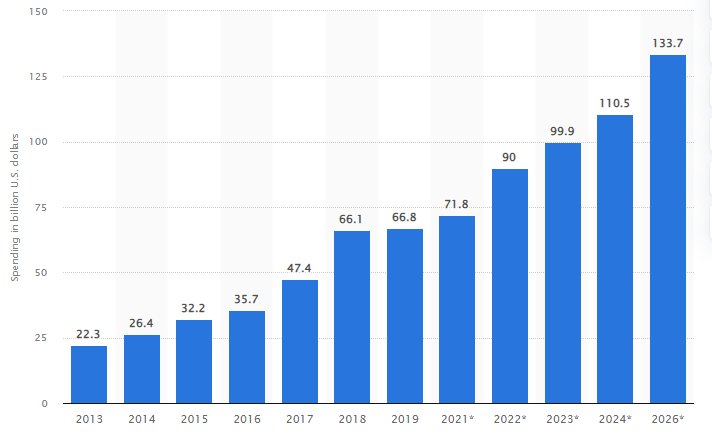 From 2022 the spending on cloud infrastructure is showing the tendency to grow rapidly.
What Damage Can Happen If The Data Is Not Transferred Correctly
Transferring data is a serious and complex process that requires effort and proficiency. Damaged or lost data influences the company's reputation and finances. Some of the issues can be solved, and data can be restored, but that should be done by experienced data migration companies.
Around 90% of the companies cannot recover after the data loss and the damages like:
Decreased productivity
Financial and legal problems
Lost authority
Damaged operations
At any time, the best decision will be to prevent the problems that may occur rather than cover the damage. It may be expensive, but you can always choose to outsource data management services and ask for help from data management consultants.
Why Is It Better To Find Some Data Migration Services In Ukraine
Ukraine is a country with various talents that have the same experience as people from the US or Western Europe. In 2020, $571 million was invested in Ukrainian startups, and the interest in those companies continues to grow.
Despite the war, Ukrainian specialists stayed accountable and flexible. One of the factors that helped was Covid-19, which enabled us to work under pressure and under different circumstances.
So why should you choose cloud data integration services from Ukraine? Here are a few reasons:
Enthusiastic Teams That Stay On The Same Page With Innovations
According to the IT Ukraine Association, the number of investments in the Ukrainian IT cluster will grow by 2025. The government of Ukraine is highly interested in developing this field, which is why it creates a comfortable environment for its growth.
Ukraine is also in the top 30 countries with a good startup ecosystem. Ukrainian IT and cloud data management companies are constantly taking part in various educational events and are enthusiastic about spreading the knowledge, among others.
Exceptional Service
Ukraine has been noticed in various world rankings in the last few years. For example, Ukraine has the best developers in the world, as per SkillValue. Also, 13 Ukrainian consulting companies got into the 100 list of Consulting companies worldwide (data management consulting is a big part of it).
Education
As we mentioned, the Ukrainian government is highly interested in IT cluster development, especially now, when it's the primary industry that can steadily bring money.
Wide Pool Of Specialists
Over half of Ukrainian engineers have a few years of experience and work on outsourcing projects. They all focus on maintaining long-term relationships with companies and exceptional customer experience.
Price – Quality Rates
An average salary of a Ukrainian cloud data management system consultant is approx. $2,2K, when for the US, it is $8K. Such differences exist because of the different costs of living in other countries. However, it doesn't affect the quality of work. A dedicated development team Ukraine can offer you will do everything you require and even more.
Clients also choose to work with data management services companies because they are located in a convenient time zone and have excellent English skills, which destroys the culture barrier between employer and employee.
15 Cloud Data Management Services in Ukraine
1. IT Svit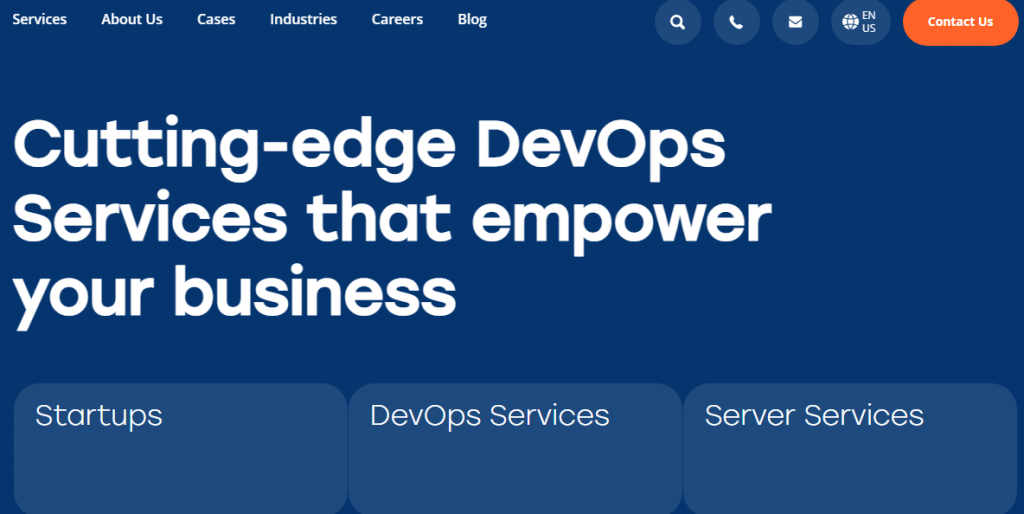 It is an experienced company from Kharkiv with an office in Estonia. The team focuses on DevOps and Cloud services. The company works with clients of all sizes, mainly in eCommerce, Informational Technology, and Financial industries. The company's expertise covers AWS, the Google cloud platform, and bare-metal.
2. Matoffo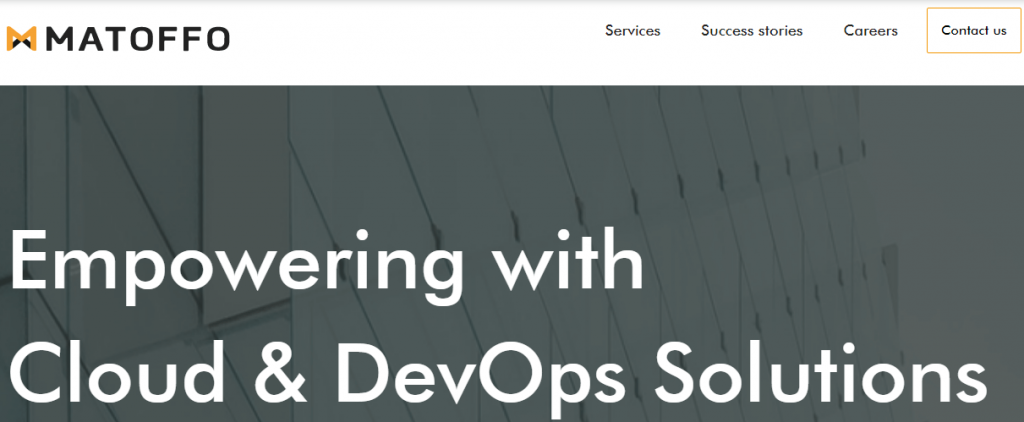 The company is based in Kyiv and provides cloud data management solutions as well as DevOps services. The team has experience in such industries as, Business and Financial Services, Informational Technology, etc. Matoffo is a certified AWS consulting partner. The company works with small and mid-sized businesses.
3. DataForest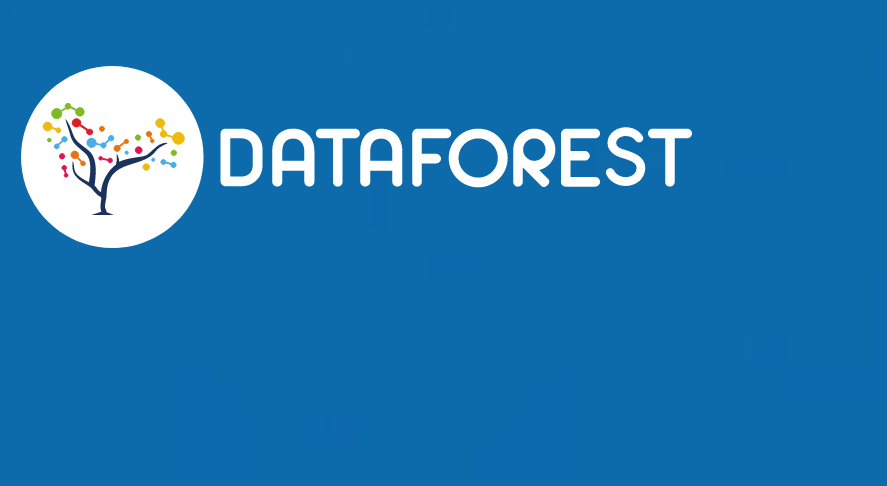 DataForest is a Data Science and Web Development agency from Kyiv. It has provided its clients with BI and Big Data Consulting, Artificial Intelligence, and Custom Software Development services. DataForest has partnered with small and mid-sized businesses. Among its most famous works are emotion tracker and employee tracker.
4. Sombra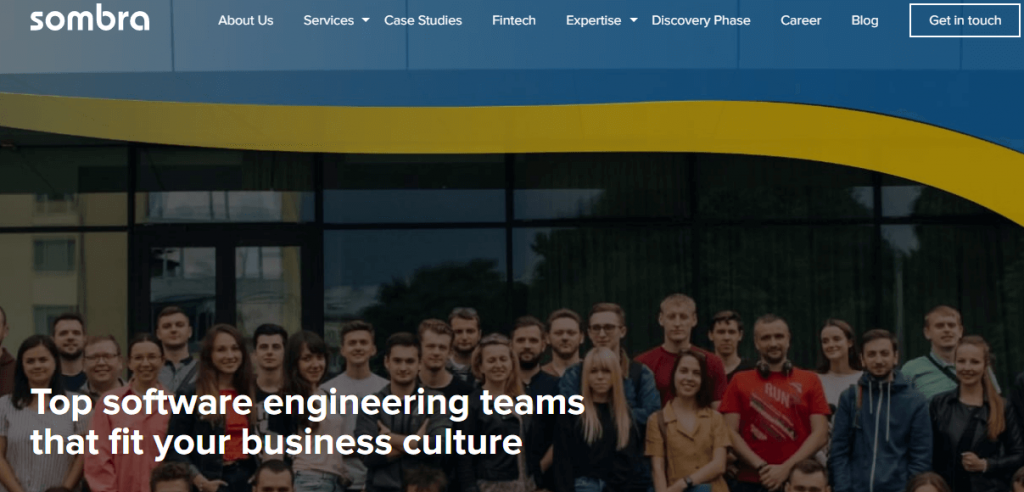 It is an experienced global company founded in 2013 and based in Lviv. The team ensures consulting, software modernization, and software development services. It is one of the best Azure service providers in Ukraine. The clients are primarily from mid-sized businesses. It focuses on the Financial, IT, and medical industries.
5. Brocoders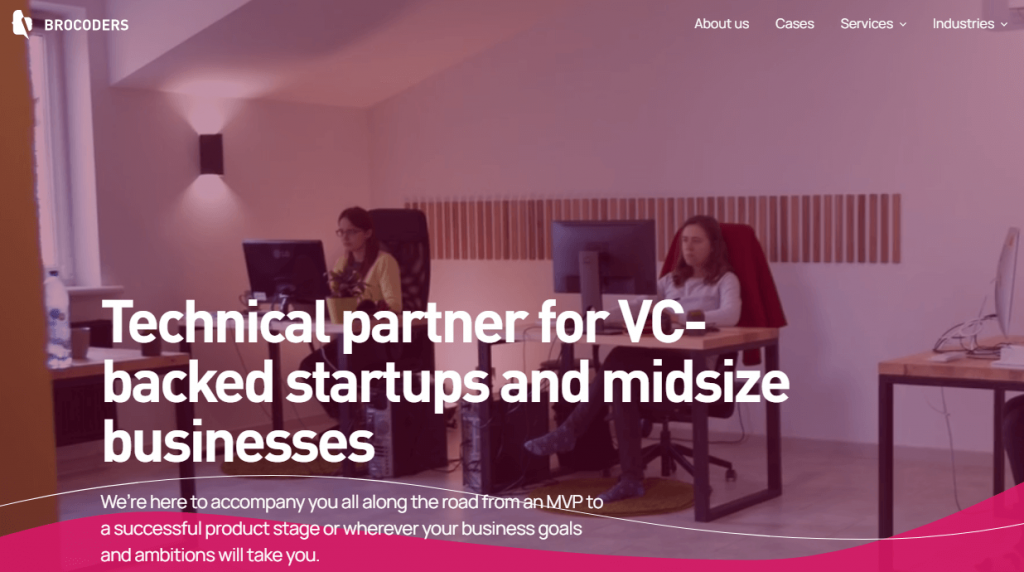 The company was established in 2014 with a great experience in Advertising and Marketing, Business, and Financial Services. It provides Custom Software Development, Application testing as well as Cloud consulting. Among the satisfied clients of Brocoders are Skilent, LadderOut, MyCurrency, and others.
6. Alpacked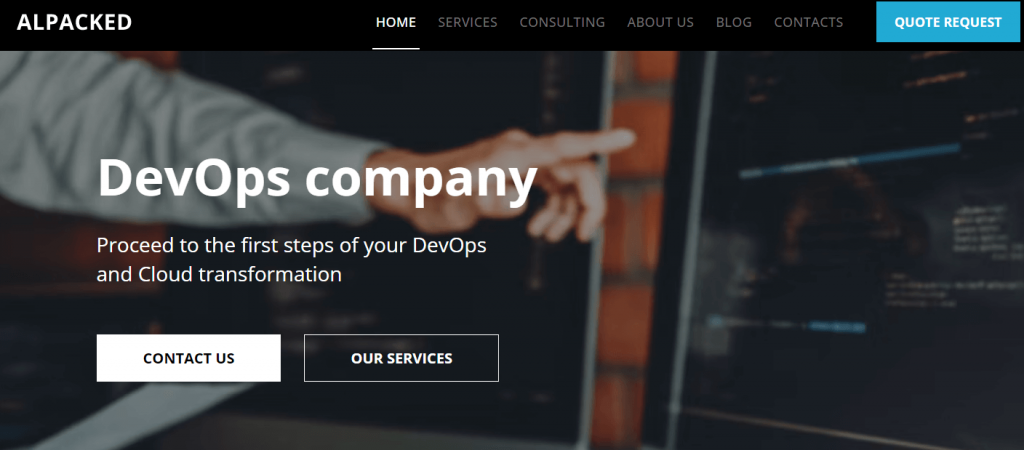 Alpacked is a Kyiv-based company that provides all kinds of DevOps and Cloud services. The company will assist you in installing cloud data management software, cloud migration, serverless architecture design, etc. The team works with companies of all sizes in the Business, eCommerce, and IT industries. .
7. DevCom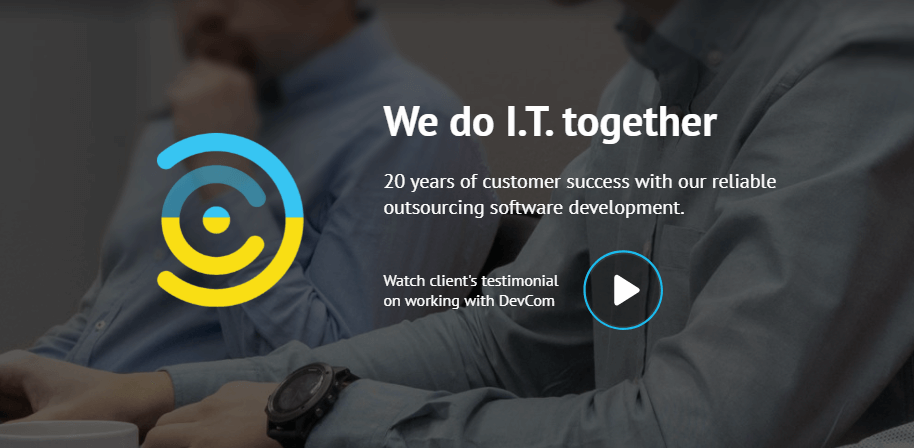 DevCom is a full-cycle custom outsourcing software development company with offices in Lviv and the US. Since 2000, it has provided exceptional Custom Software Development and Cloud Consulting Services. The team is experienced in IT, Retail, Supply Chain, Logistics, and Transport. The company is recognized by its clients and various services, such as Clutch, the Manifest, GoodFirms, etc.
8. DataRoot Labs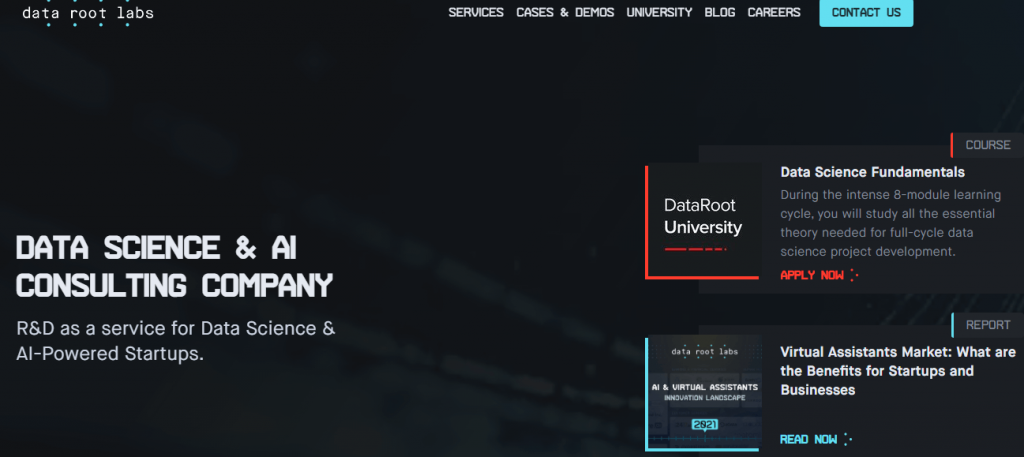 The company has over five years of experience with AI, Big Data, and Cloud Consulting services. The vast majority of the clients are from small and mid-sized businesses and enterprises. The team works with various industries, such as Energy and Natural Resources, Education, Automotive, Gaming, etc.
9. Euristiq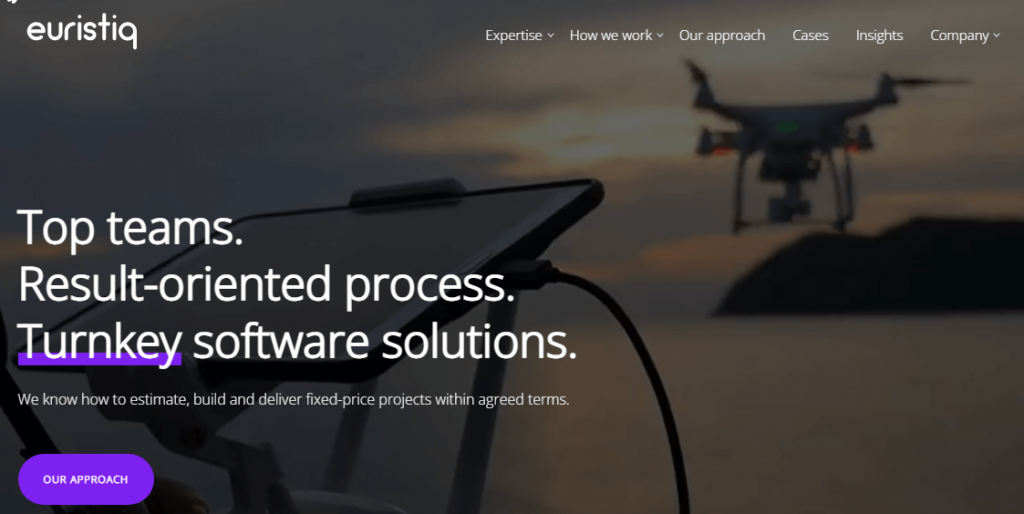 Euristiq is a custom software development company based in Lviv. It was founded in 2016 and has provided Custom Software development, IoT development, Cloud Consulting, and Enterprise App Modernization services. The industry expertise includes IT, Retail, Telecommunications, Supply Chain, Logistics, Transport, and others.
10. IT Outposts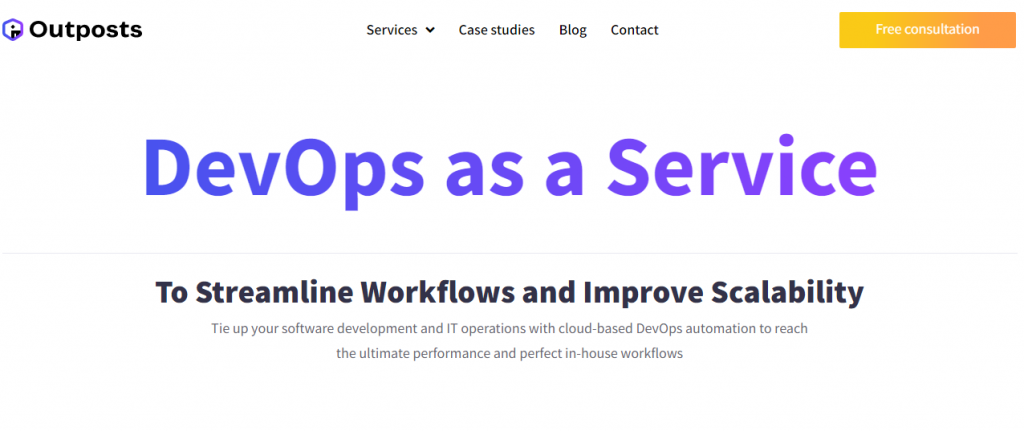 IT Outposts is headquartered in Dnipro. It has provided Cloud and DevOps services since 2020. It is a young but very ambitious and high-performing company. It focuses on Financial, IT, eCommerce, Business, and other services. It works with clients from various niches. Openware, Excelsior, Handy.ai, Kontakt.home are among its clients. It will also assist you with a cloud data management platform.
11. Dysnix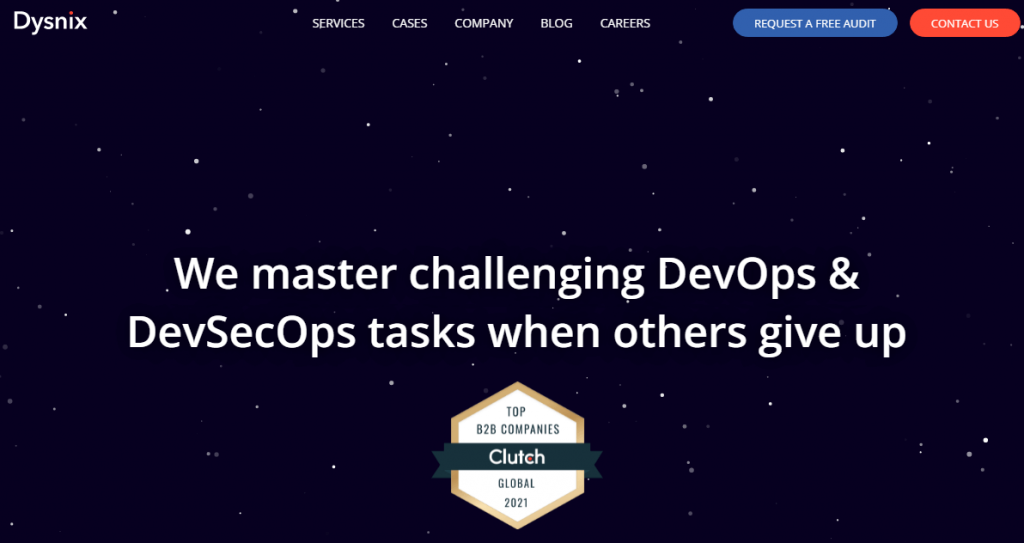 Dysnix focuses on DevOps and DevSecOps tasks. The company is famous for its competitive spirit. Dysnix team is not afraid of challenges, so it takes projects that were failed previously. The company's industry focus is Financial services, Gambling, IT, Advertising and Marketing, Medical, and eCommerce. Blockchain ETL, Remme, Scalors are among its clients.
12. Ramexsoft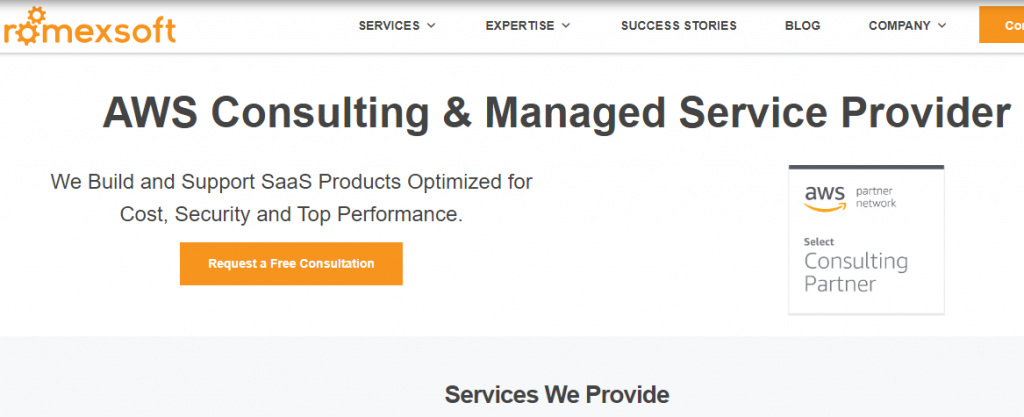 Romexsoft is a company located in Lviv. It works with AWS-based businesses and has been considered an official AWS consulting partner. Advertising and Marketing, Financial Services, eCommerce, Business services, Education, Media, and Medical are the leading industry focuses for the company.
13. ITMagic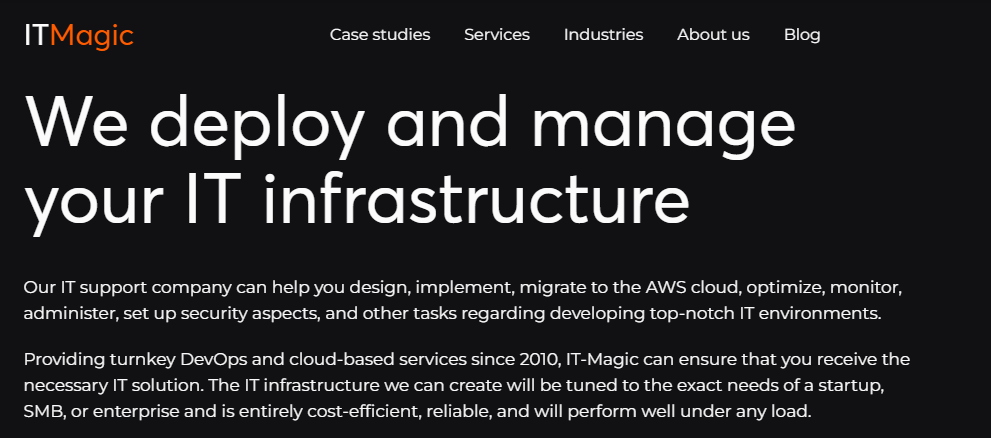 ITMagic offers IT Managed services, Cloud Consulting, and IT Strategy Consulting. The company's main tech stack is AWS, Google Cloud Platform, Kubernetes, Docker, Terraform, Ansible, ELK, etc. It works with all types of businesses.
14. TechMagic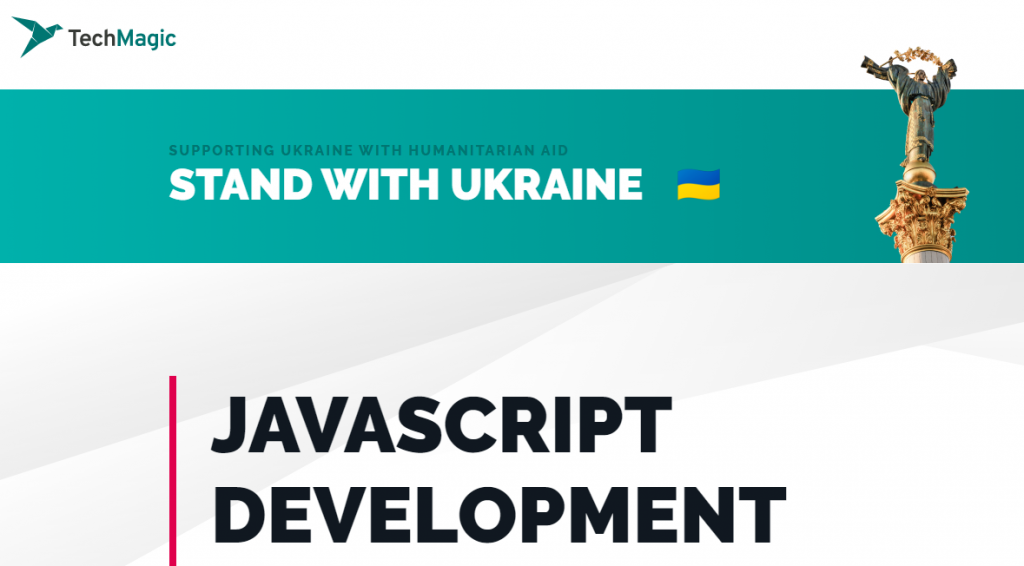 It is a tech consulting company located in Lviv. The team's tech stack includes JavaScript, Node.js, Angular, React, Typescript, Native iOS and Android, AWS, Serverless, and Salesforce. The team partners with small and medium-sized businesses. The principal value of the company is integrity. You can find all the cases in detail on their website.
15. Triangu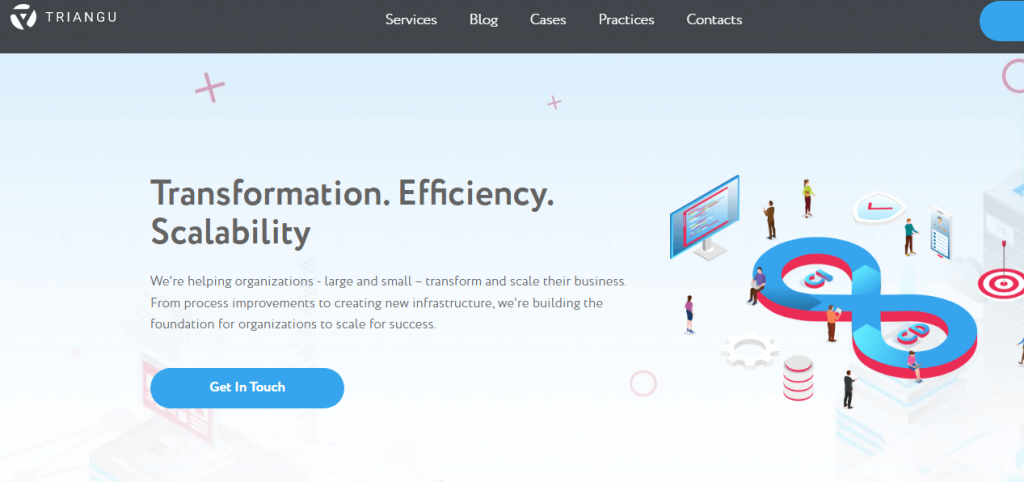 The agency offers DevOps and Cloud Consultancy services. Its experience is proven by the official statuses of AWS Consulting partner, Atlassian Solution partner, and Red Hat partner. The company works mainly with large and small companies. 50% of its industry focus is Business services, as well as IT, financial, telecommunications, and Media.
Looking for exceptional data management services? Check our website for more information!