Can APIs (Application Programming Interfaces) cut your costs and improve operational efficiency? Yes, and to introduce the API-first development approach, you need to equip your team with an API developer or a team of API development consultants. We've researched 15 top IT outsourcing companies in Ukraine, which will help you hire API experts quickly and cost-effectively.
Value of API
An API is software that helps two programs interconnect by exchanging queries and responses created by developers. For example, the e-commerce industry uses APIs for setting up online stores for multiple brands. Payment services incorporate APIs to integrate with banks to ensure that buyers can make transactions.
That's why many companies adopt the API-driven or API-first development approach. It assumes that you design one or several Application Programming Interfaces and then build the rest of the application around them. A traditional software development project also has an API creation stage, which just doesn't go first. So, such interfaces integrate the two already developed endpoints.
The emergence of APIs happened almost in parallel with the introduction of cloud computing technologies. And nowadays, hundreds of data migration companies use APIs to transfer clients' information to the cloud platforms.
Benefits of API-Driven Development
The API-first design keeps gaining popularity due to its several advantages. It allows to:
Eliminate dependencies between the frontend and backend stacks.
Full-stack development assumes that you hire programmers who work on the whole web app. They link the server and client sides with embedded code pieces. So, if you need to make changes, developers will have to rewrite every relevant part of the code.
The API-driven approach allows separating the backend and frontend programming. This methodology is known as split stack development. And to interconnect the two stacks, it's only necessary to create APIs.
Decrease the cost and time for software development.
The split stack methodology assumes that each stack is developed separately using different technologies (programming languages, frameworks, libraries, servers, etc.). This means that programmers streamline the app development by doing both stacks in parallel.
For project owners, this means increasing the dev teams' productivity and releasing the product faster. Also, managers hire backend and frontend specialists, whose hourly rate is usually lower than that of a full stack developer. In addition, hiring full-stack programmers is quite a challenging task to accomplish.
Ensure the continuous delivery process.
One of the DevOps approaches to software development projects is the CI/CD one. The abbreviation stands for Continuous Integration/ Continuous Delivery, and it really helps make the process non-stop. That's because APIs allow splitting the whole app code into separate modules and developing them independently.
This way, each module has its place in the application delivery pipeline. And once a bug arises in any module, it won't affect other pieces. Moreover, you don't have to delay the whole project.
Do APIs have Security Risks?
The main component of web app security is the security of its APIs, and developers are responsible for making APIs secure. Data encryption, SSL certificate validation, and layered security approaches can protect your web or mobile app from cyber attacks. Still, plenty of API security threats exist, and below are some of the key ones:
Insecure user authorization. A weak password policy, storing passwords on local devices and creating login forms after finishing the app results in authentication security gaps. But distributed software architecture uses many interim layers to make authentication. And proper input validation makes the authorization processes more complex and less accessible to attackers.
Non-resistance to DDoS attacks. A Distributed Denial-of-Service attack is when hackers generate and send too many requests to your website server that it gets blocked when answering them. DDoS attacks are a popular type of cybercrime. Professional hacktivists can, for example, do it for fun, to demonstrate their disapproval, or to harm someone's business operations to lure away customers.
Vulnerability to SQL injections. The Structured Query Language attack is when hackers access your web app server's databases through malicious code. The consequences of such injections can be very severe as they help frauds steal identities, compromise confidential documentation, initiate bank transactions, and change balances.
Why Hire Ukrainian API Programmers
When you probably think of launching API development projects, it's time to consider where to get the API development service. And you can try one of the most popular and cost-effective ways to hire API developers –- outsource them. And Ukraine is one of the most attractive countries for this, as it boasts thousands of web engineers successfully employed by international companies.
And below are the benefits of outsourcing API coders from Ukraine.
You get access to the talent pool. Ukraine has become a world-famous IT hub, boasting thousands of IT professionals hired by top US and EU countries. And by cooperating with a reliable outsourcing provider from Ukraine, you can leverage your access to the pool of talented API developers and consultants. These coders boast years of experience and high expertise in what they do.
You spend less on payrolls. Cost-effectiveness is one of the critical factors for opting into outsourcing. That's because Ukrainian developers offer more competitive prices than their colleagues from Western Europe and the USA. And the main reason for such a benefit is the lower cost of living in Ukraine. This way, companies can save up to 15% of their salary costs for API developers.
Your team works in the same time zone. Though many companies offer time-flexible schedules to their programmers, having your development team synchronized in time is always beneficial. American or European developers can reach out to their Ukrainian colleagues during business hours. That's because these regions have minimal or reasonable time gaps.
You have no communication issues. Any API consultant or coder you outsource from Ukraine has at least an intermediate level of English. This is critical for smooth and effective communication inside dev teams. Moreover, Ukraine-based specialists won't need assistance from team leads or managers when discussing existing and new product features with shareholders or business owners.
You get business-focused team players. Ukrainian technicians possess plenty of competencies that are beneficial to employers. They're hard-working, task-oriented, and business-focused. API consultants are also initiative, stress-resistant, and ready for new challenges. So, by hiring an IT specialist from this country, you get a loyal, responsive, attentive to details, creative, and always ready-to-work team member.
Top 15 API Development Companies in Ukraine
After you have learned the advantages of ordering the API consulting services from Ukraine, it would be good to know which API consulting groups you can rely on. And below is the list of 15 best API consulting companies for your business.
1. SolidBrain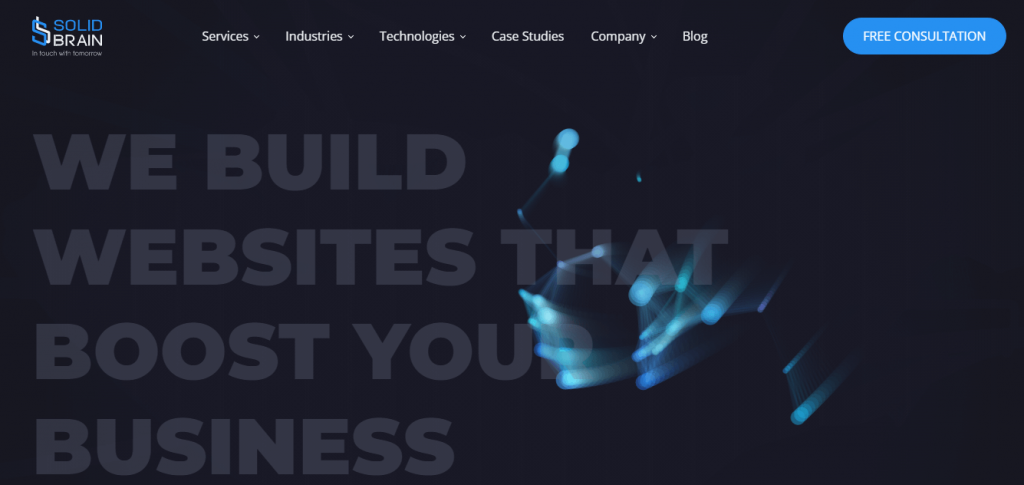 This Lviv-based software development impact has been on the market since 2014. The company boasts 100+ projects ordered by customers from Norway, Denmark, Poland, and Croatia. Its portfolio includes the development of online stores, websites for B2B companies, and web platforms for various industries: education, security, medicine, shopping, and others.
2. Artkai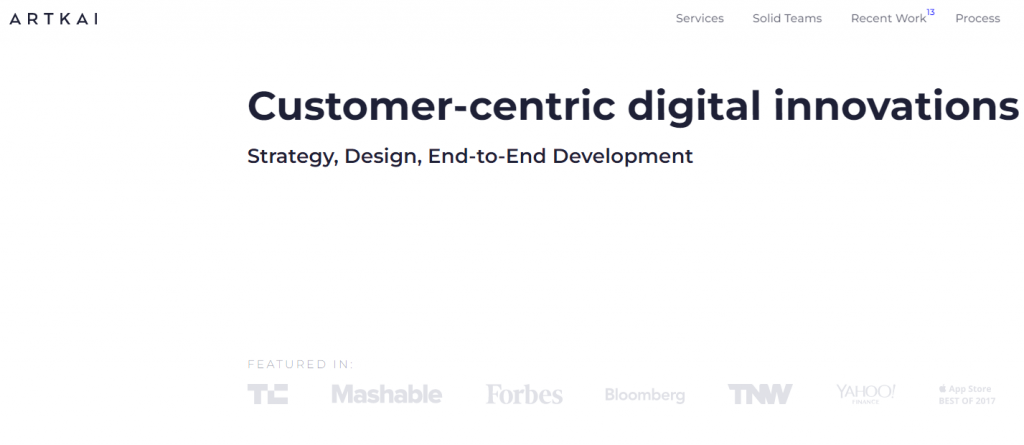 Artkai is based in Kyiv, and its team has done product development and design since 2014. Now it employs 80+ experts who offer web and mobile development services, quality assurance, and solution architecture. This company manages interfaces by creating API development platforms in secure environments and delivering supporting API documentation.
3. Devico Solutions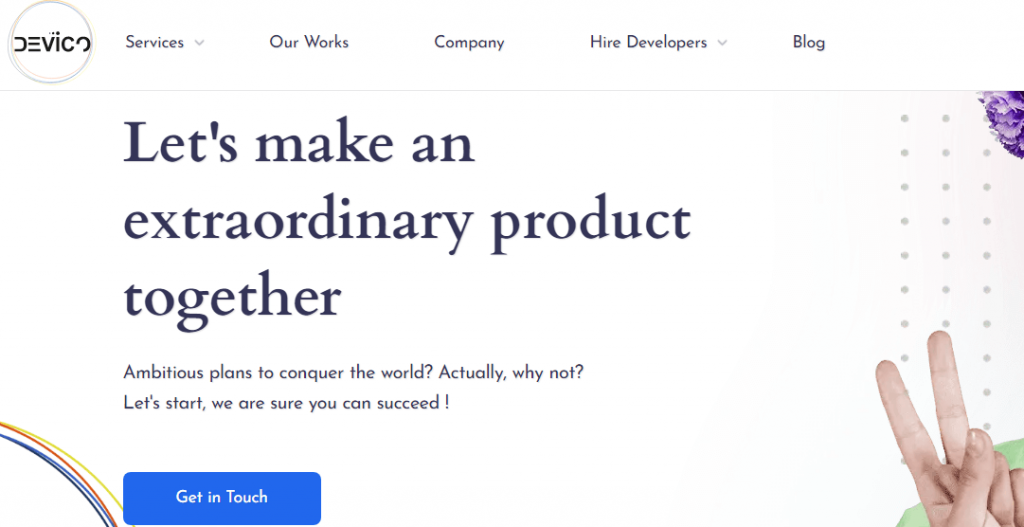 Devico Solutions boasts a team of experts in web development. This company has over ten years of experience and many individually developed websites. Healthcare, online education, media, entertainment, and fintech are the industries in which this tech company feels most confident. Their developers are organized and fast, and they deliver quality code.
4. Lazy Ants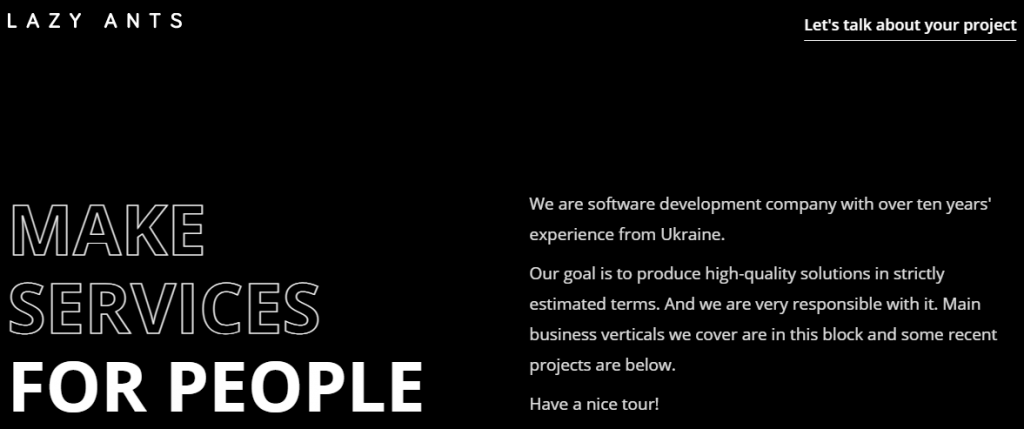 Lazy Ants is a Kharkiv-based API development agency that was founded in 2008. And since then, it has created well-built and secure APIs for clients worldwide. The company also specializes in complex web services, creating e-commerce solutions, chatbots, and mobile applications. Moreover, it offers integration services, mixing various features into an innovative solution.
5. Artelogic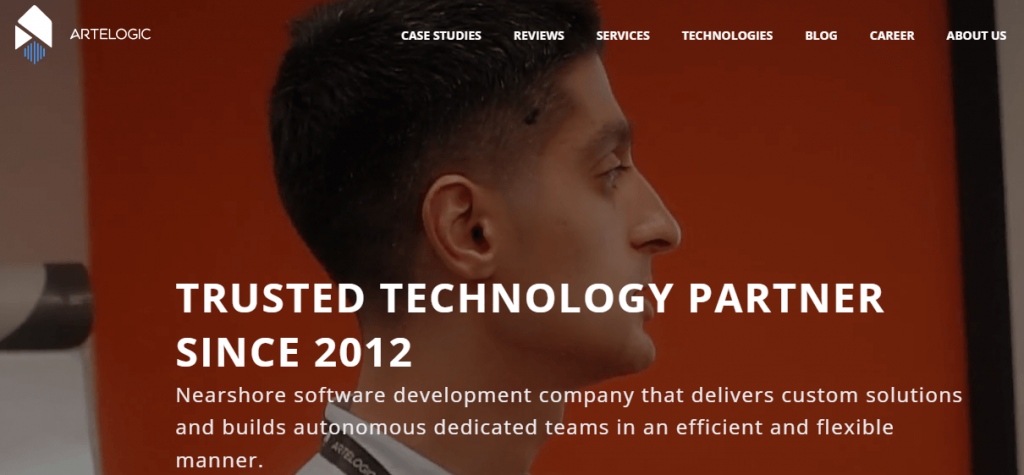 Artelogic started its way in 2012 in Lviv, and by now, it has offices in three countries: Ukraine, the USA, and Germany. It has a team of 70+ software developers who have completed 120+ projects for companies from 12 countries. Artelogic offers full-cycle development, including API consulting, IP and data protection, and automation of business processes. In addition, it builds dedicated teams in various tech stacks.
6. Attract Group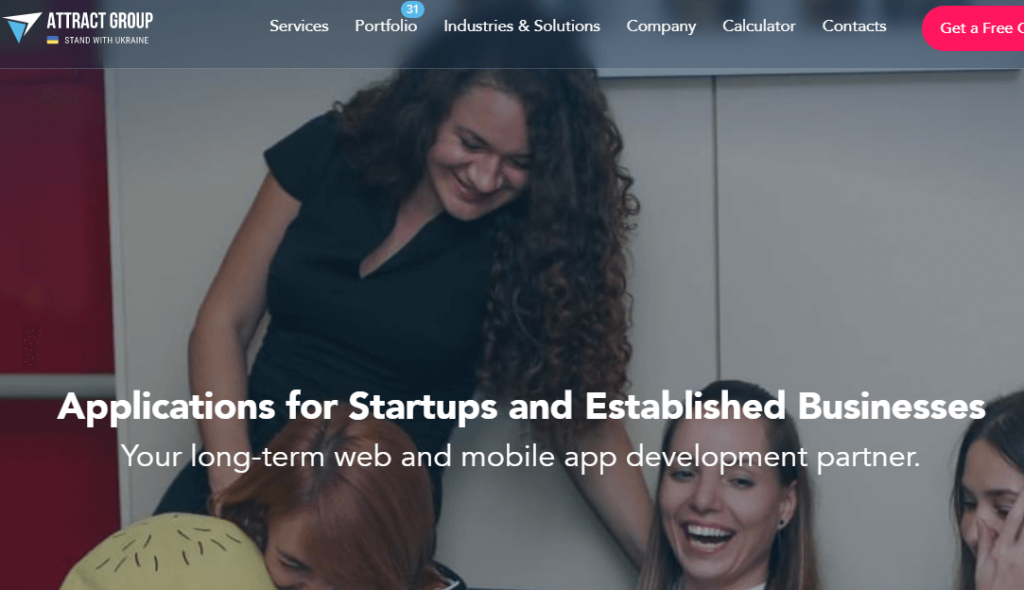 Attract Group claims to be your long-term web and mobile app development partner as its solutions work equally well for large companies and startups. Currently based in Odesa, this company was founded in Donetsk in 2011 with only five employees on board. And since then, the number of developers and the scope of services and technologies used has only grown.
7. CyberCraft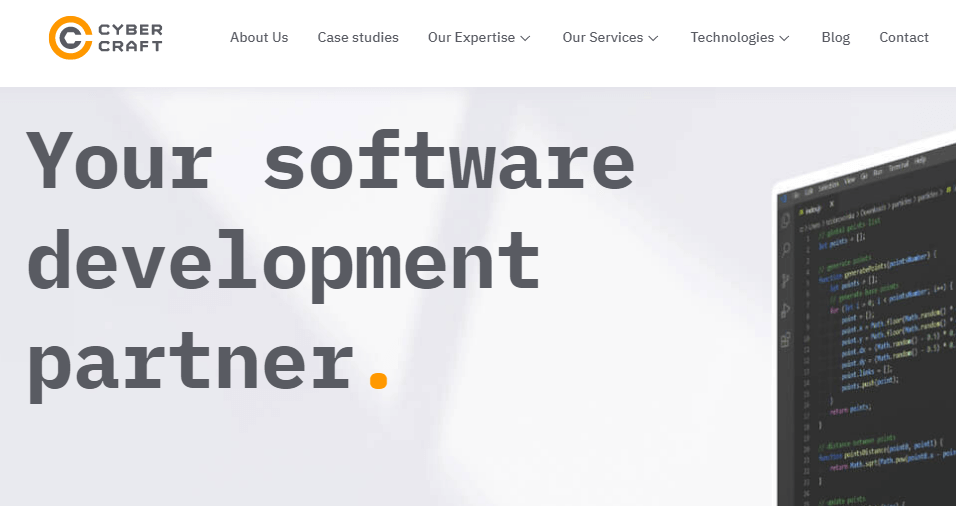 This company is one of the API consulting firms which offers web development services and helps outsource dedicated tech teams. CyberCraft is headquartered in Lviv and boasts ten years of staying in the IT market. Its teams deliver large-scale digital solutions and complete complex projects.
8. AnvilEight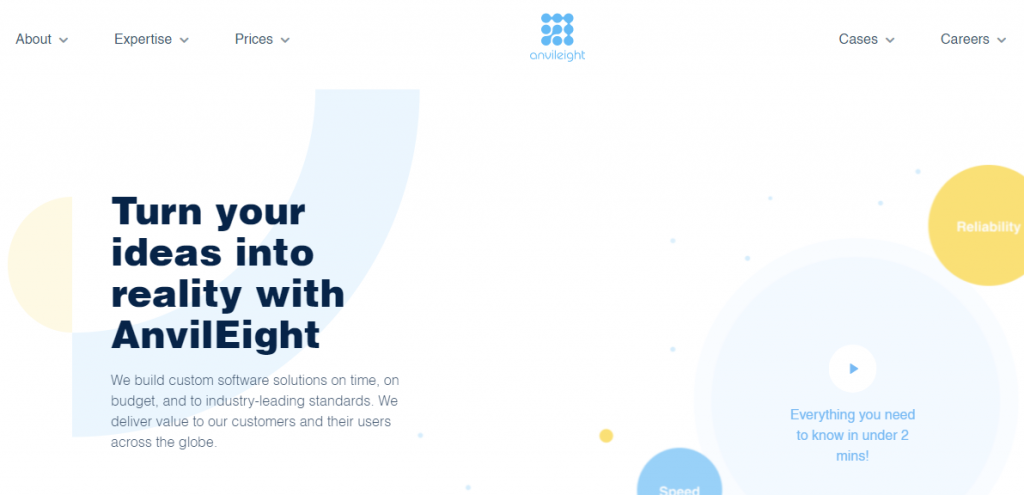 AnvilEight promises to turn ideas into reality with customized software solutions built on time and budgets. The company was founded in 2010 in Kharkiv, and today it has 200+ completed projects and 38 employees on board. These experts deliver products to clients from 24 countries, offering multi-functional and reliable products.
9. Uptech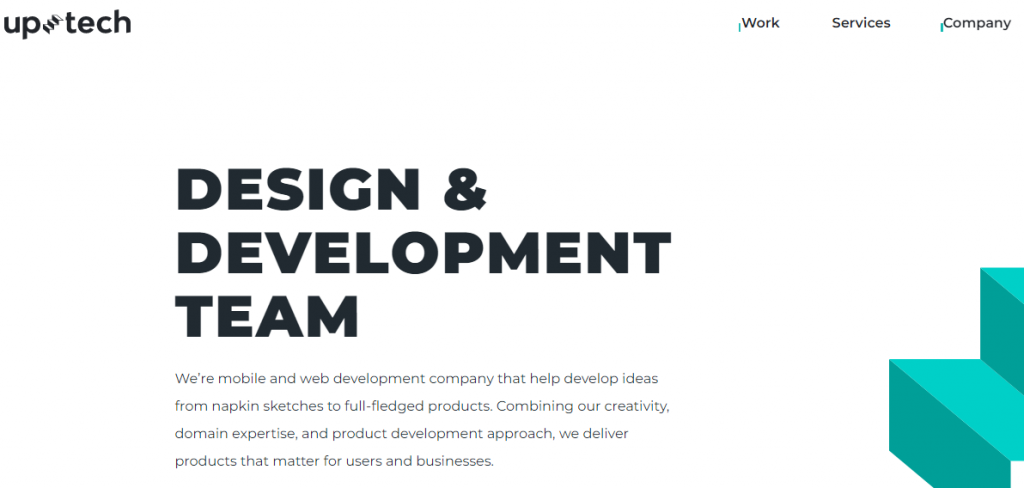 Kyiv-based Uptech helps clients design web and mobile apps. Customers appreciate the company's quality work, transparent relationship, and treating all projects like its own. And the team cherishes the inspiring work environment and motivation for continuous improvement. Probably that's one of the reasons why Uptech boasts multiple awards won since its foundation in 2016.
10. Springs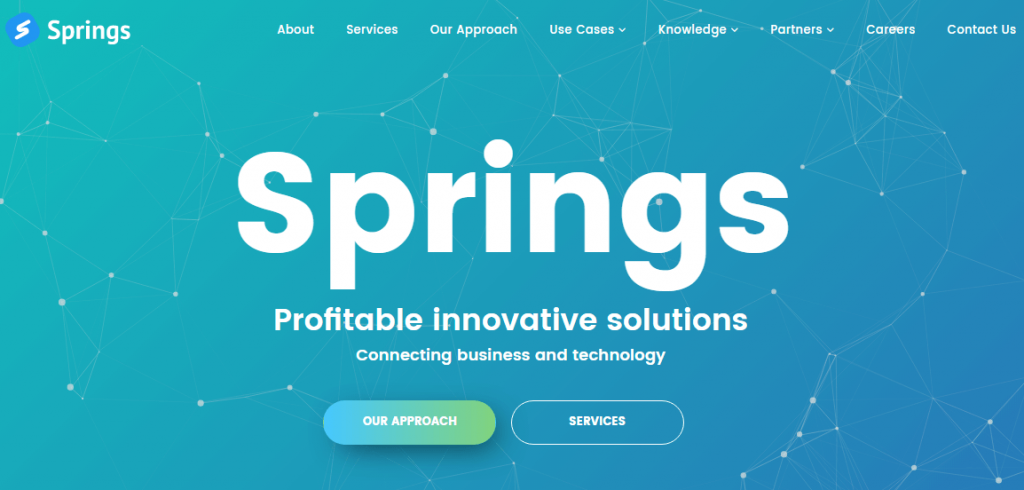 Springs has domain expertise in PWA (Progressive Web Applications), the internet of things, and transportation solutions. It also creates software solutions for real estate and hospitality services, marketing and sales automation tools, and human resources and recruitment. Springs was founded in 2016 in Kyiv. Today it has 40+ team members, 100+ delivered projects, and 15 ongoing ones.
11. Empat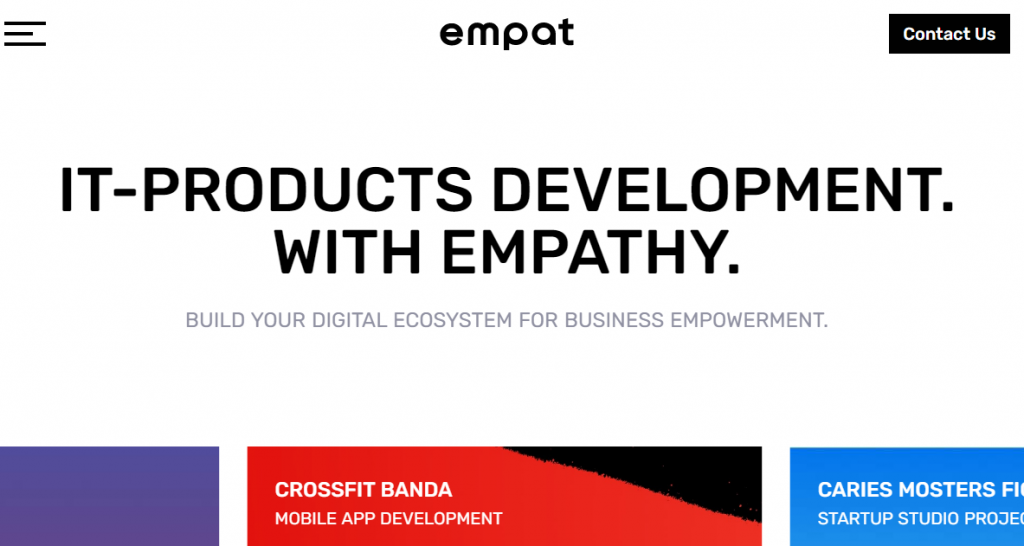 Kyiv-based Empat delivers IT solutions with empathy, building the digital environment to support your business. And it uses development, innovation, marketing, R&D, and design to realize the digital transformation. Since 2000, 300+ projects from various industries have gone live with Empat. These include FinTech, social media, real estate, e-commerce, healthcare, and others.
12. 2muchcoffee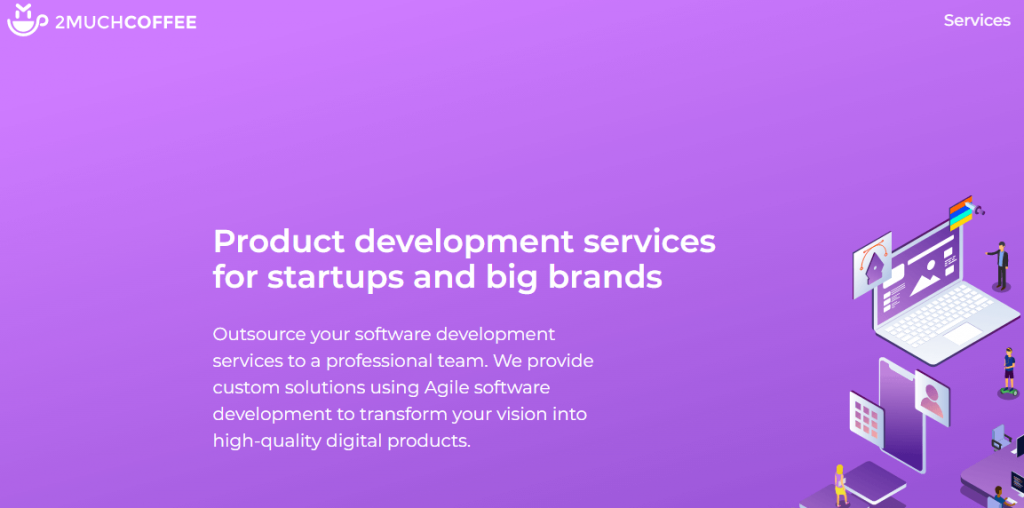 2muchcoffee was incorporated in 2015 in Kyiv. And by now, this company boasts 250+ completed web and mobile development projects and clients from 20 countries, including the UK, Germany, the USA, and Sweden. 2muchcoffee is about perfection-focused work, a people-over-processes team atmosphere, and trustful relationships with clients.
13. WEB4PRO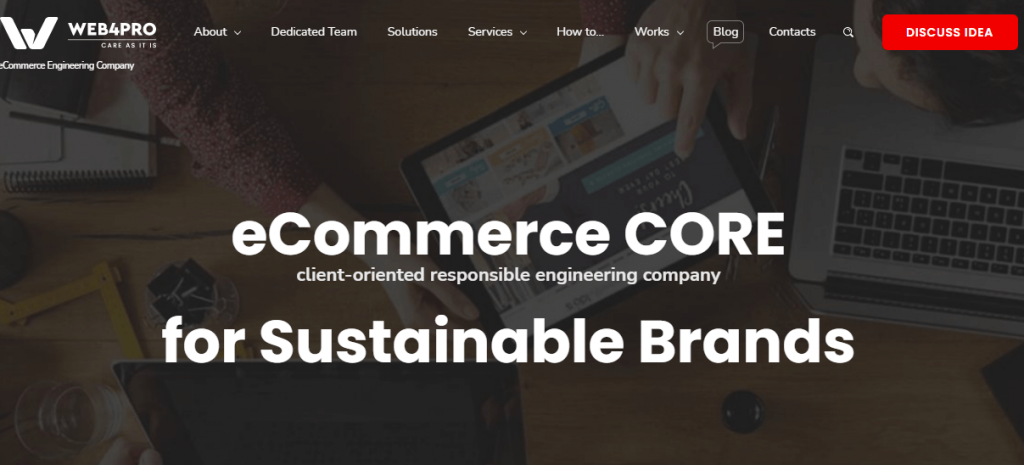 This company applies a sustainable approach to website engineering and values customers' good moods and trust. WEB4PRO delivers its solutions to IT companies, small businesses, digital agencies, and fashion brands using the fixed price model. WEB4PRO was incorporated in 2003 in Vinnytsia. Currently, the team has 50 professionals.
14. Otakoyi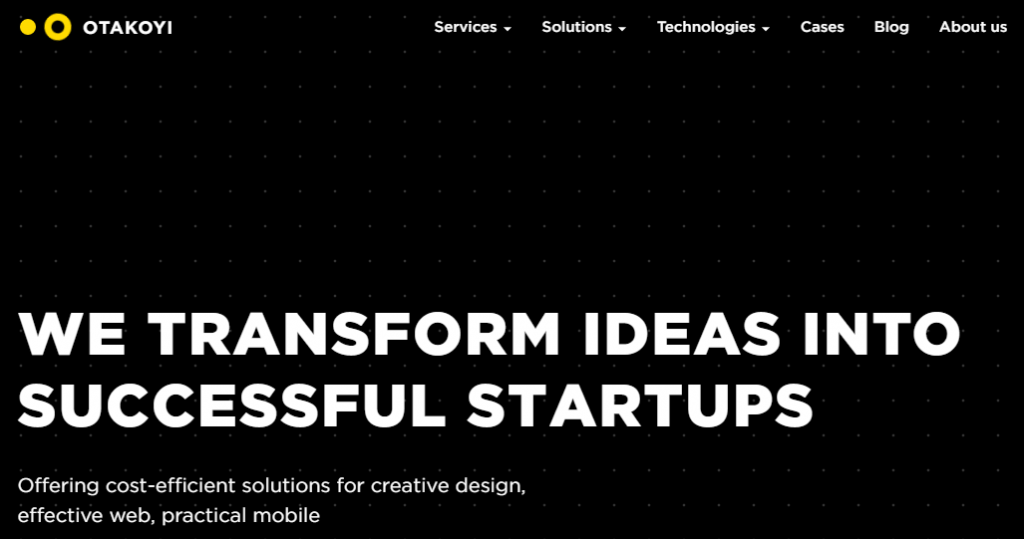 Otakoyi is about effective web and practical mobile with creative design. The company's experienced developers keep customers up with web trends and make their websites revenue-generating tools. Lviv-based Otakoyi has also been developing more complex web apps and integrating them with other business tools, like linking CRMs and databases, since 2011.
15. Enkonix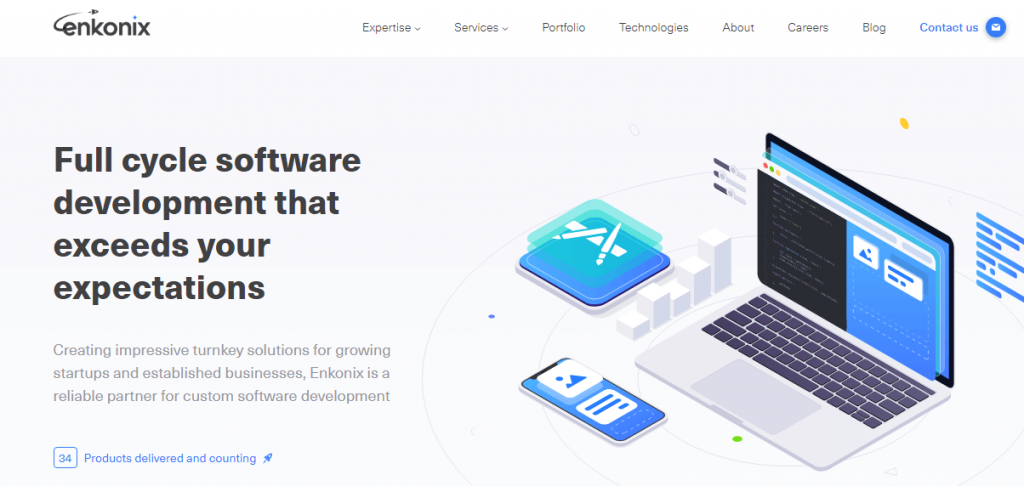 This company customs software development services which are highly scalable and interoperable. Enkonix boasts experienced architects, developers, and designers who can improve customer experience and boost productivity. This company was founded in Kyiv in 2016, but it already boasts 30+ projects and three new offices in Los Angeles, Sydney, and Amsterdam.
Need to equip your team with top-notch API developers? Contact us to start recruiting them today!