It can be tricky to select the right Python services provider that will meet and address your needs with so many Python development companies out there. This article will look through the specifics of Python, the tips on choosing a reliable Python development agency, and provide you with a shortlist of credible Python development companies in Ukraine.
Selecting a Great Python Development Company
No matter how many new coding languages emerge these days, a vast number of services are built and remain working on Python, thanks to its simple code syntax, easy compilation, and a great number of specialists raised by this language.
The Python language is the basis for the most promising technologies of upcoming years, including AI and NLP. As reported by Statista, Python holds on to third place among programming languages in popularity. That is why it's smart to stick to Python for your project development or custom business software.
Python is convenient, stable, powerful enough, and therefore widely used. This programming language is quite popular among such leaders of the IT world as Alphabet, Facebook, and Dropbox, a highlighted by BrainStation. It can be used both as the primary programming language and simply as a tool for developing extensions. In general, Python can be used to create web applications, games, and application software.
Here are three reasons why Python is one of the best choices for custom software development:
Creation and support of large scalable systems.
Python is used in its backend, for example, by Facebook and Google. Python is a convenient means for processing and sending data.
Automation of critical aspects of the business.
Python can be used to automate tasks that otherwise require vast amounts of human manual labor. Implementing such functionality with Python can be beneficial and help the business eliminate critical human errors.
User safety and security of their information.
Backend developers also handle security implementation, so these aspects are also under their responsibility. It can sometimes become a sore subject, especially when security is not given due attention.
It's worth noting that many businesses nowadays tend to work with software development agencies to get the maximum value for the money. The cost of hiring programmers through an external development company may seem on the pricey side from first sight, but the final product and its quality will pay back in the long run.
Although hiring separate remote specialists or freelancers can help you save some sum, it comes with larger management issues and potential security risks. On the other hand, a Python software development company can provide you with a consistent and organized workflow with minimal customer input to product creation. They can be expected to have higher quality control, strict standards, and reliability regarding communication challenges and delivering results. Besides, a Python development agency knows how-tos for accelerating development speed and is equipped with the latest tech tools to offer cutting-edge solutions for your project.
So, how to select the Python development firm to work with?
Make a clear list of requirements
In order to find the most suitable partner for your project, you need to have a clear idea of ​​the end goal. Make an estimated analysis of your project considering the preferable budget, team size, the scope of work, and expected deadline. It will help you understand what kind of company you need to look for in terms of scope and services.
Scope down to the country if you opt for outsourcing
If the previous analysis showed that the level of requests does not correspond to the actual budget, since there is a risk that the project's development will be delayed or the volume of work will increase, you might consider outsourcing. It is quite a popular solution for many startups and corporations looking for the path to cost-saving solutions.
Look through the top companies
Once you've decided on the talent market and have a clear picture of your project, search for top service providers in recent years on the web. There is a handful of credible resources that provide a brief overview of the companies and their previous experience.
Check their work record and testimonials
It's important not to rely fully on top searches. Make an additional deep-dive, looking for the customers' testimonials and the company's portfolio usually posted on the official website. Check if the company's style and culture match your vision.
Clarify the company's capacities and scale
Check if the company has the specialists you require for the project, how many people are in the permanent staff they can provide from the get-go, and if they're capable of scaling up if needed.
Red Flags the Python Development Agency Is Just Not It
With such an overheated market of IT providers, it's easy to make a wrong choice and partner with a Python agency that doesn't match your needs. Here are some signs that you need to stay away from the provider:
It usually means that the company is very fresh and probably doesn't have enough experience with creating software solutions. Partnering with such a company is equal to buying a pig in a poke, and if you have a limited budget, it is not the decision you would like to make.
Small or nonexistent portfolio.
It can also mean that the company is young and inexperienced. In the worst case, it means that there is no successful case to brag about or showcase at all.
No expertise in your industry
The company may be excellent and profound, but it may not have experience in your specific field. Even if they promise to provide you with top-level services, it's worth thinking twice and looking for a firm that has worked on similar projects or within the same industry before.
Why Foreign Companies Select Python Development Providers Based in Ukraine?
There are several reasons why in 2022, many companies choose to work with Python companies located in Ukraine. Among them are:
Ukraine is already a well-known and discovered zone. According to the Startup Blink report, Ukraine is in the top 50 best startup ecosystems globally and ranks 6th in Europe. At the same time, Ukraine already has a successful record of achievements in IT and the provision of programming services all over the world.
Large and qualified talent pool. Ukraine is responding to the demand for IT workers and is constantly nurturing new specialists, showing positive growth in the quality and number of workers in the market. As mentioned by TechUkraine, there are currently 250,000+ IT experts in Ukraine.
Profitability. From workers' hourly wages to rental prices, Ukraine is a more affordable option than the European Union. Also, the legal and tax systems in Ukraine are pretty friendly to those who do business.
Convenient location and timezone difference. Ukraine is located in the heart of Europe, with a developed air travel network, and it takes about 2 hours on average to get to a Ukrainian city from a European country.
15 Best Python Development Companies in Ukraine
If you decide to work with Ukrainian Python or PHP companies, there is a vast range of reputable providers to choose from. Many of them specialize in web and mobile development and use innovative technologies in their methods. Here are the top 15 Python companies worth taking into consideration:
1. Django Stars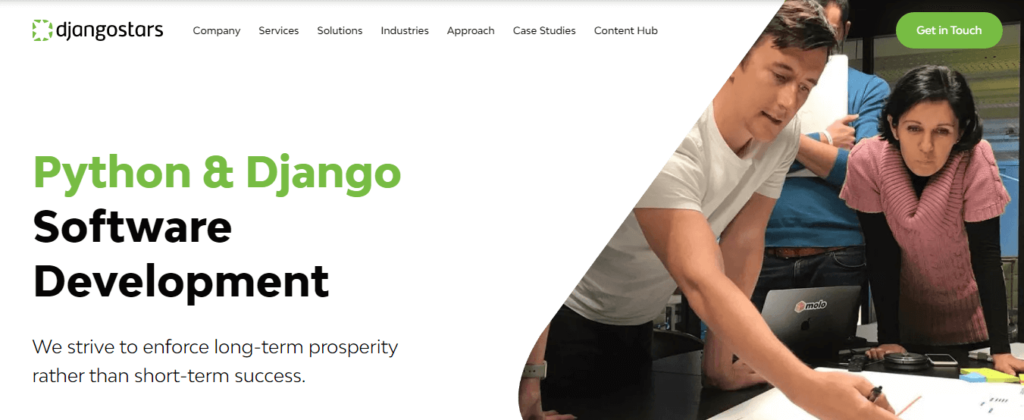 One of the top Python consulting companies with more than 13 years of experience, this firm provides startups and businesses with technical solutions from scratch and for transformation, scaling, and adaptation to the latest technologies. They provide technical advice, a full range of development services, and Cloud&DevOps on demand. Django Stars projects included working with Fintech, Edtech, and Transportation industries, among others.
2. The App Solutions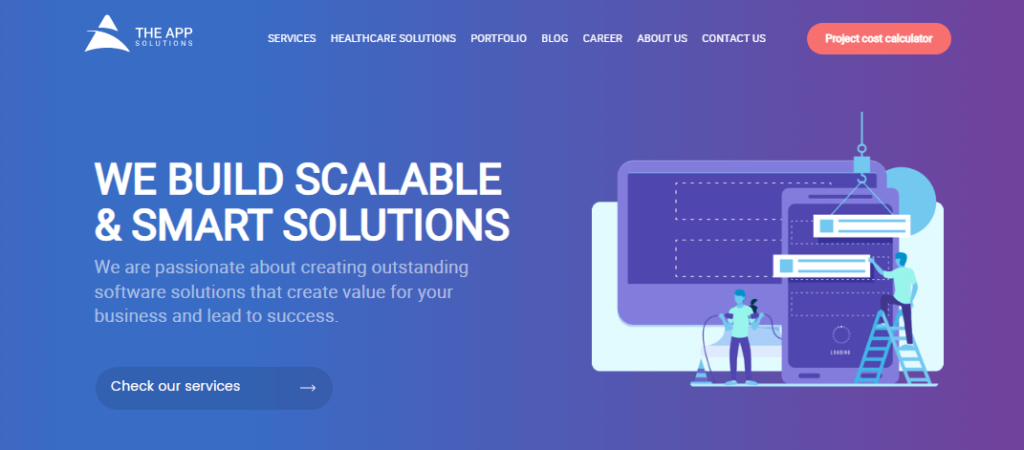 It can be a good choice to partner with this company if you need a web application for your project. The App Solutions provide teams to help design, test and program an application. The company has a large team of in-house specialists in development, testing, post-production support, machine learning development, data, and cloud solutions.
3. AnvilEight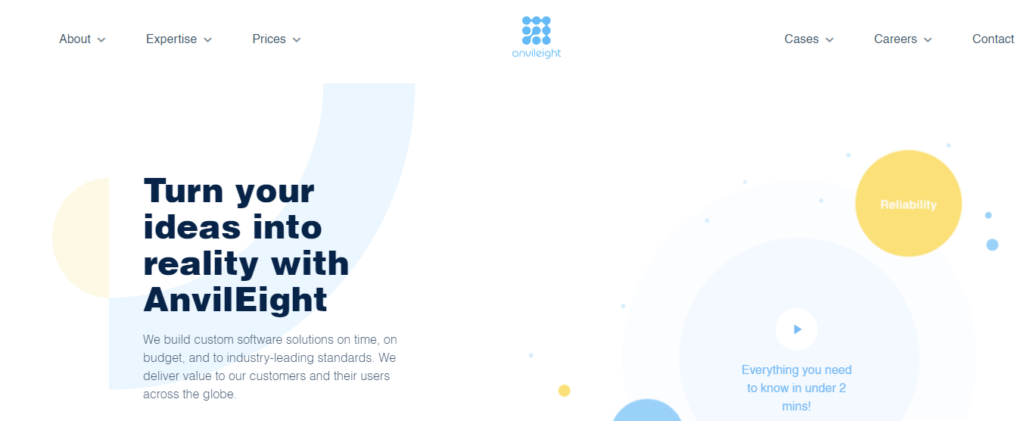 It is a reliable small outsourcing company based in Kharkiv, which provides web and mobile development services in such areas as online services, social networking, manufacturing, education, and financial services. Successful cases include Humanitarian Booking Hub, Inked Voices, and Lead Generation Tool.
4. bvblogic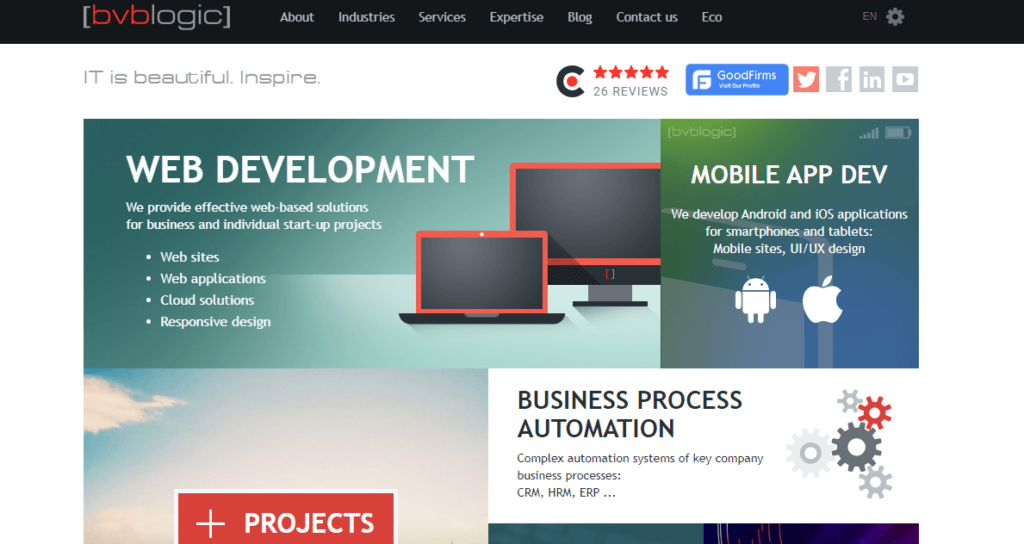 Bvblogic is a tech B2B company that offers a wide range of IT services, including web development, mobile app dev, IT consulting, and more. The company adheres to an automated and standardized approach to development processes and has a record of handling both small Python startups projects and large enterprises' tasks. Their clients are SOCAR, 247exchange, Navizor, and lots more.
5. Perfectial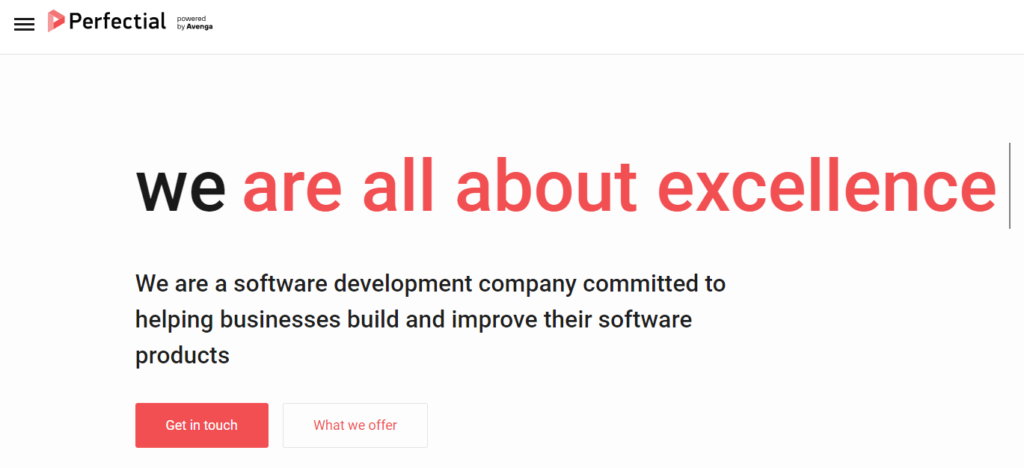 If you search for a Python Ukraine based company with extensive experience in providing profound software solutions such as Blockchain development, R&D services, IoT services, robotic process automation, and e-learning software development, it may be worth reaching out to Perfectial. The company provides full-cycle services both for enterprise-level projects and small startups.
6. INOXOFT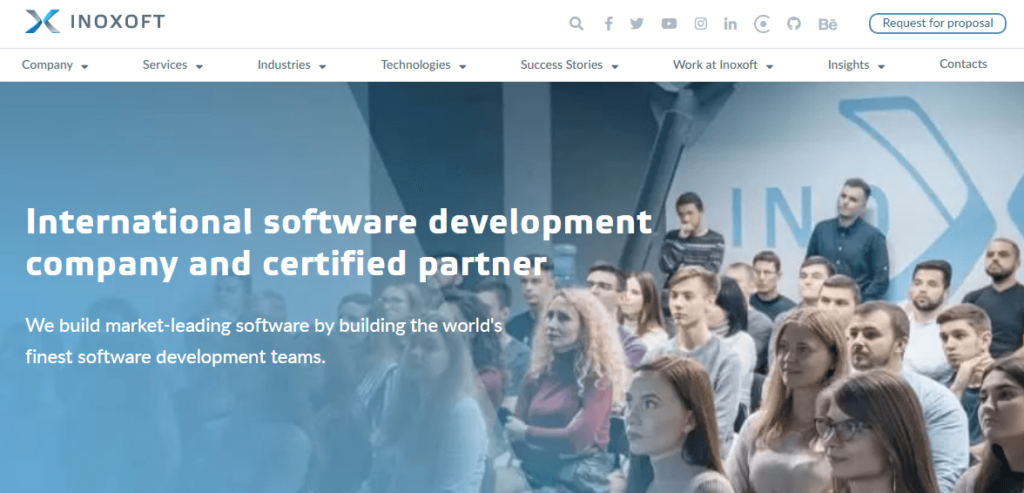 This B2B agency offers quick software solutions both for small and midsize companies worldwide. By working with this company, you can expect a timely performance of web development, AI, ML development, IT software integration within the planned budget, and more for healthcare, education, logistics, fintech, and real estate.
7. Redwerk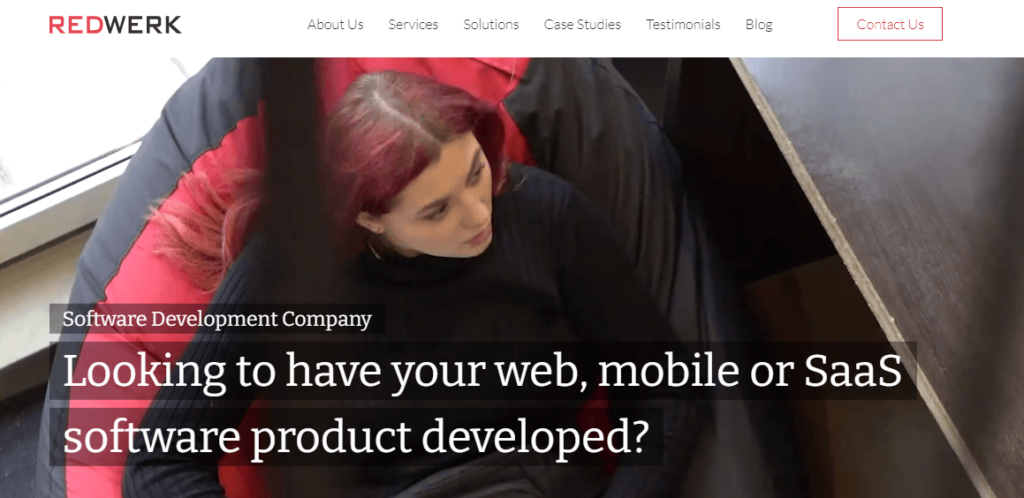 Redwerk provides a vast number of services using various technologies and languages, one of which is Python. Among the services, Redware is engaged in Python PaaS Development, Web Application Development, Machine Learning, Server-Side Software Development, Python Backend Development, and Data Science projects.
8. RockLab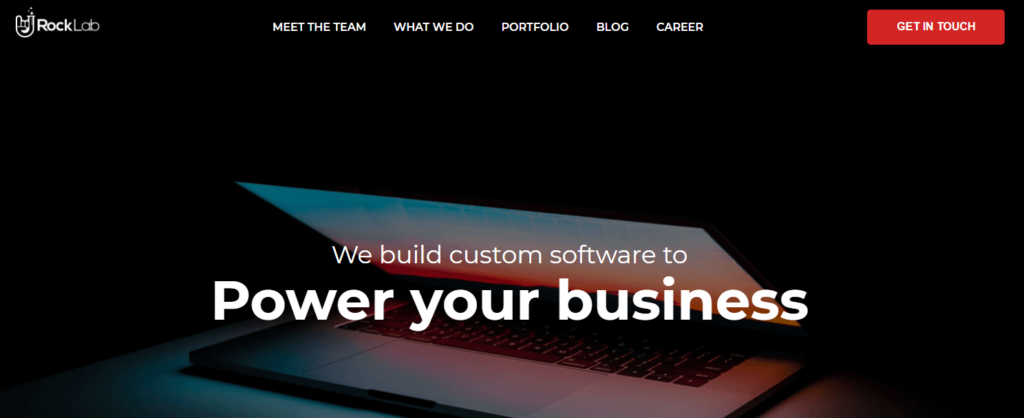 RockLab provides a range of design, data and development services for web and mobile applications, systems, and platforms. The company has experience developing CPM systems based on AI technologies, systems management, and e-commerce platforms.
9. Quintagroup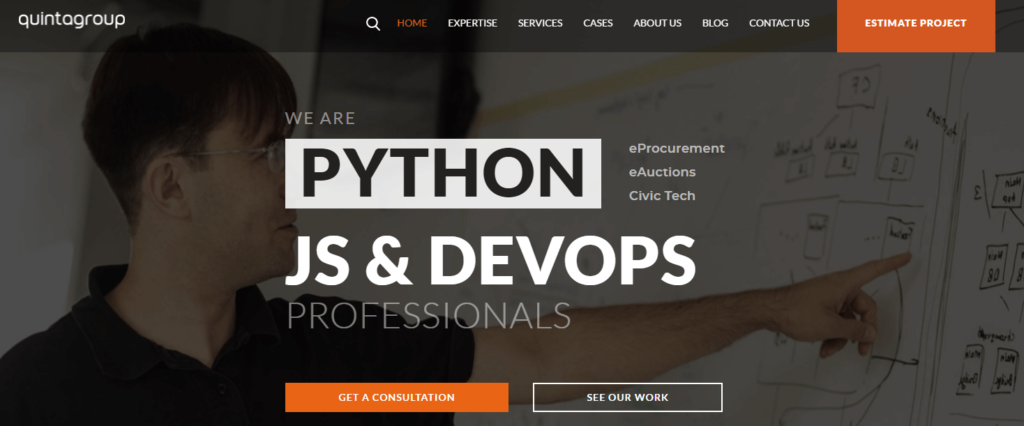 Quintagroup is a Lviv company with almost 20 years of history, which has significant experience in the custom development of systems, platforms, and applications in various industries. Among the successful cases worth mentioning are the Prozorro.sale, Open Procurement, and Rialto projects. The company provides Odoo development, AI and ML custom development, and Python development services, among others.
10. Enkonix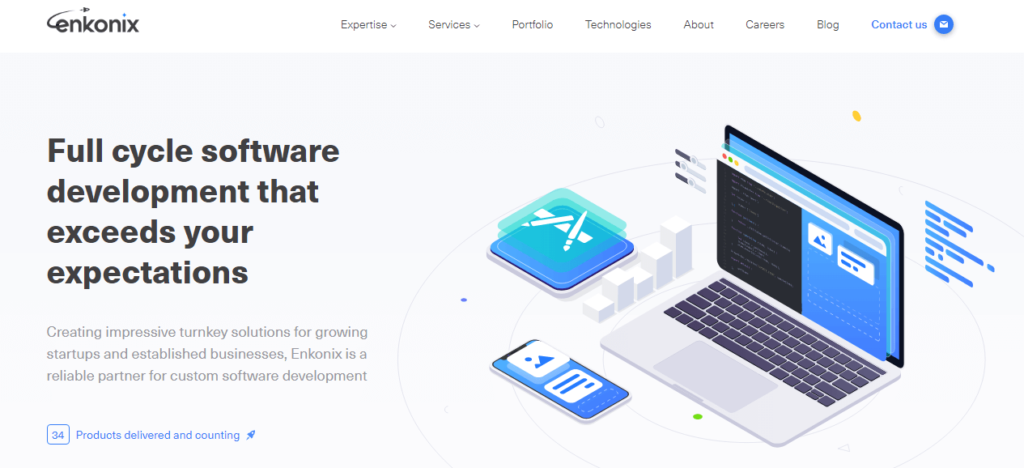 This company was founded in Kyiv in 2016. Although it is pretty young compared to other companies, it has already taken place in its niche as a reliable provider of Python development services. Among the expertise provided by the specialists of this company, one can list education software and real estate solutions.
11. SoftFormance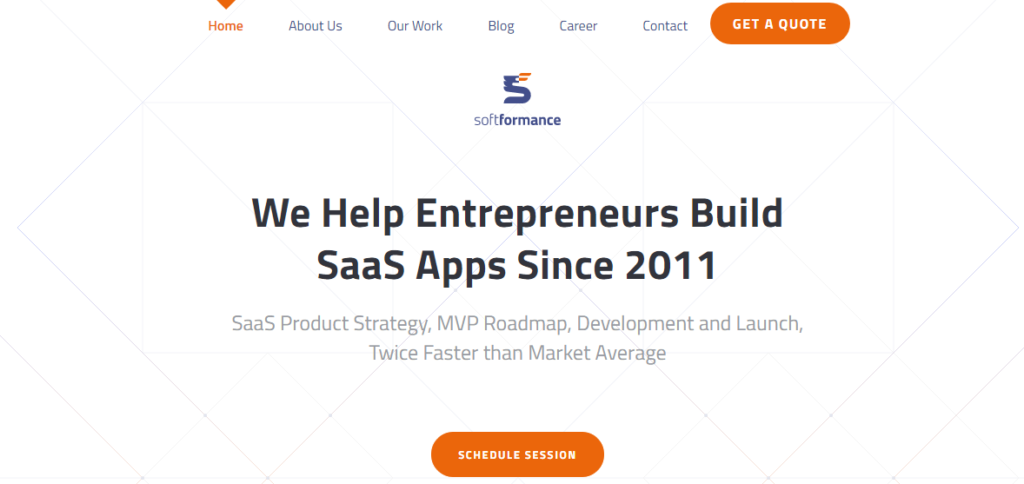 It is a small Lviv company with ten years of experience specializing in web development, CMS integration, and Plone CMS development. If you are a startup in need of SaaS solutions, this company has experience creating platforms and applications for such projects.
12. PLANEKS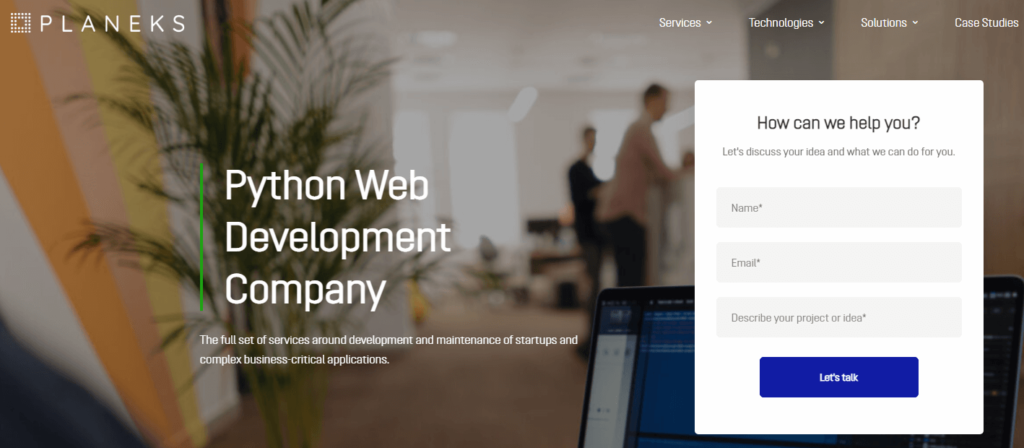 This company provides a complete application development cycle for MVPs, PoS, large companies, and small startups. If you need a SaaS application for your eCommerce company, you can trust it to Planeks, which already has experience in this.
13. Sigma Software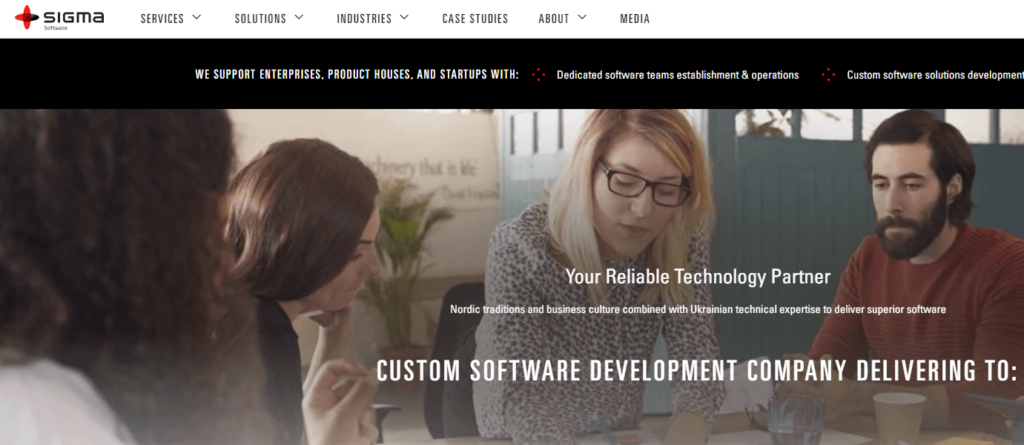 Sigma Software is one of the largest Ukrainian software development companies with more than 1,300 employees and offices worldwide. This Python company offers full-cycle development, tech modernization, Big Data, AI/ML, AR/VR, and IoT custom solutions.
14. Light IT

Light IT provides combined solutions for software development and data science consulting in various industries from advertising to healthcare and education. With a headquarters in Zaporizhzhya, Ukraine, the company has 100+ workers at their office. They provide frontend and backend support mainly in Python.
15. The7bits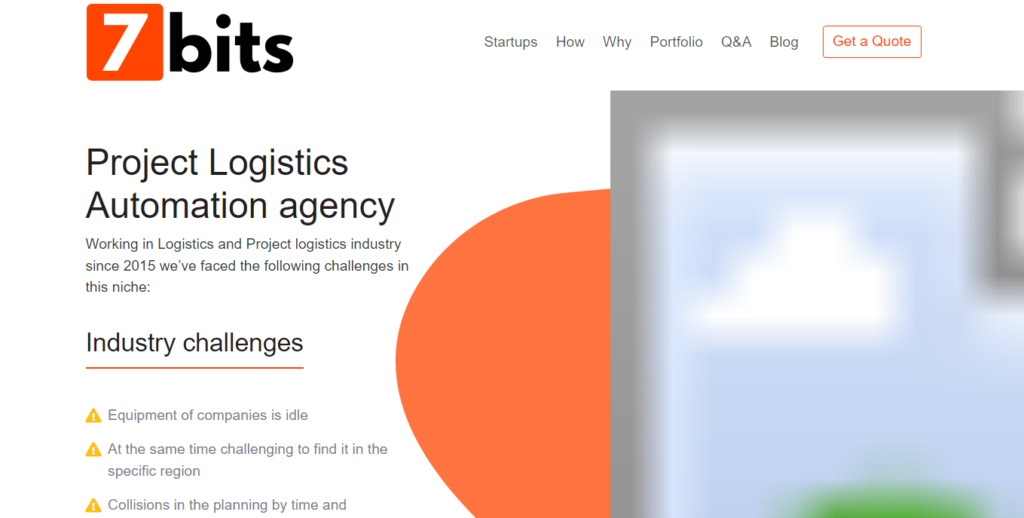 The7bits is an application development company headquartered in Poltava, founded in 2011. The company specializes exclusively in providing assistance to startups and small projects that need support and software development services, including Python.
The Future of Python Development Services in Ukraine
Considering the fact that Ukraine is home to many successful tech startups recognized in the world, such as Grammarly, Petcube, Preply, Jooble, and TemplateMonsters, there is no doubt that Ukraine stands firmly on the platform and is developing rapidly. That is why there is little chance that the IT industry in Ukraine will subside in terms of development in the coming years, and the popularity of Python will keep the Ukrainian IT market thriving.
Thus, you can confidently rely on the Ukrainian Python programmers as those who are ready to constantly adapt and improve to keep abreast of global trends and be in the front row of providing them. Check out Ukraine new tech startups!
Interested in reliable Python and PhP companies and want to learn more about Ukrainian IT potential?