At this time, AR VR tech companies are in great demand. Why is that so? And how can those technologies be used in different industries? Let's dive in.
VR stands for virtual reality and AR stands for augmented reality. The difference between them is quite simple. AR enhances reality with additional objects, adds them to it. A great case in point is the game Pokemon Go – where fictional objects are added to reality. They can be seen via a smartphone screen usually.
VR creates an entirely virtual (computer-generated) new simulation of another reality. For example, with a VR headset, games can be inside the game while playing it
How AR VR Development Services Are Used in Different Industries?
Despite the examples, AR VR developers work not only on entertainment projects. These technologies can do much more than that.
AR VR consulting and development are used in various industries for different purposes. For instance:
The automotive industry uses it for design departments and engineering. It saves a lot of time and money on creating physical prototypes. Ford uses this technology to simulate human actions and prevent workplace hazards and risks.
Transportation also benefits hugely from AR VR developers. It uses VR training apps for the education of employees. Pilots and drivers can learn in a safe environment.
The Oil & Gas industry uses AR VR development for training but also digital modeling of mining sites.
Aircraft manufacturing also uses it for training and productivity added with AR glasses.
Education generally benefits from simulations for all types of professions, from surgeons to astronauts.
Healthcare for learning and patient support;
Construction and real estate for modeling and design;
eCommerce uses it to showcase products to customers remotely.
And, of course, AR VR development companies also assist the military in their training and advancement.
State of AR/VR Market and Its Perspectives
When it comes to AR VR Ukraine, the local tech community follows global trends. The market size for AR/VR technology is expected to reach $58.7 billion in 2022 and grow to $296.9 billion by 2024, which is an immense number.
An AR/VR software engineer is a highly-demanded professional all over the globe. This job requires a high level of skills and experience, as well as staying on top of the industry. As it develops and grows extremely fast, new tech stacks and practices appear every day.
A lot of international businesses are looking for an AR VR development company in Ukraine because of several reasons. It is much more affordable, the country has developed IT infrastructure, and local engineers are known for their expertise. Ukraine is one of the most popular outsourcing destinations now, so searching for the top IT outsourcing companies in Ukraine is not a new thing. There are no signs of slowing down for the AR market in Ukraine and globally.
As for other trends in AR VR development, companies can expect:
Focus on mobile AR and its growth;
Indoor and outdoor navigation solutions;
Usage of AR in Healthcare will grow;
Adoption of AR-powered shopping experiences;
Development of remote assistance solutions with AR;
Metaverse and Live Event;
Work on making AR and VR devices more autonomic and efficient.
Although the entertainment industry is now on top of the usage of these technologies, they are beneficial for almost any business sphere.
Why Ukrainian Startups Can Be an Example of Business Renovation?
The Ukrainian IT market is not only about outsourcing. There is a quickly growing infrastructure with lots of R&D centers, independent development firms, and powerful startups.
Local AR VR tech companies and startups signify the trend of business renovation and focus on making operations faster, cheaper, and more efficient. The Ukrainian startup scene already has a lot to offer. Just some of the successful examples here:
Grammarly;
GitLab;
PetCube;
Augmented Pixels;
3D Look;
Hologryph;
Reface;
DressX.
It is easy to find a suitable AR VR development company in Ukraine because there is a huge talent pool driven by innovation and creativity.
Is it Profitable to Hire an AR VR engineer in Ukraine?
The Ukrainian IT sector has a lot to offer, from custom software development of all complexities to UI companies and AR VR development companies. But is it profitable to hire local experts for the craziest ideas one might have regarding AR/VR? The short answer is yes, it is extremely profitable.
The development cost for AR/VR projects depends on the scale, complexity, tech stack, and, of course, salary rates. Outsourcing is dramatically cheaper than hiring an in-house team. And Ukraine has significantly lower salary rates than the USA, the UK, and the EU. This simple fact can save a huge amount of money.
For example, the average annual salary of an AR/VR developer in the US is $80,760. In Germany, such a professional earns about $60,204 per year. In the UK, the average salary for an AR VR engineer is about $119,425. In Ukraine, the average salary for this level of expertise is $21,600. This is a huge profit.
15 Best AR VR Development Companies in Ukraine
1. Lookinar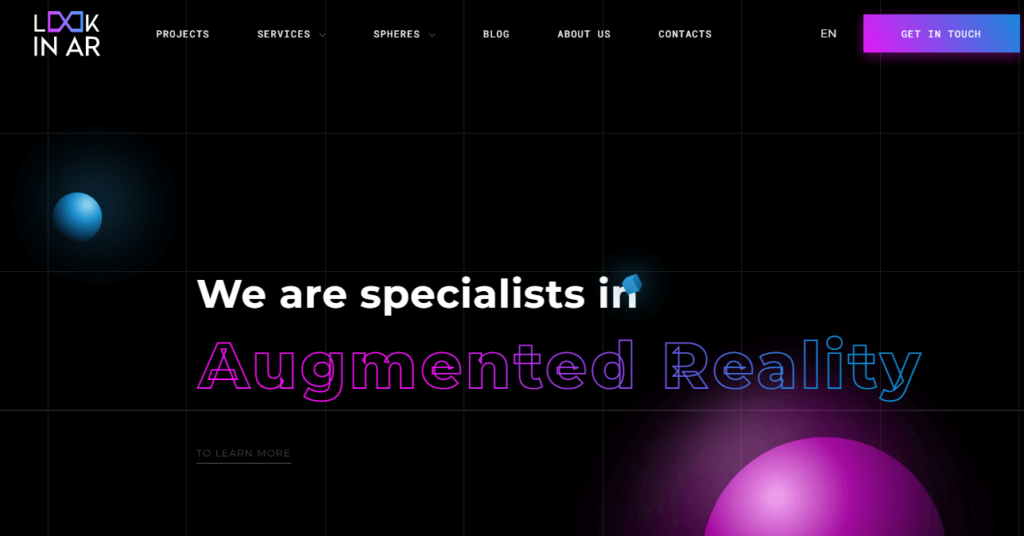 Lookinar is a Kyiv-based Augmented and Virtual reality studio with an expert team of designers, developers, artists, and engineers. They are knowledgeable with all relevant and innovative tech stacks and best practices. The studio was established in 2017 and has completed a multitude of projects of different complexity. The agency offers custom AR development and VR development for international and local partners. Its portfolio features such projects as iStories AR, VR quest for NABU, and Jacobs AR masks.
2. Riseapps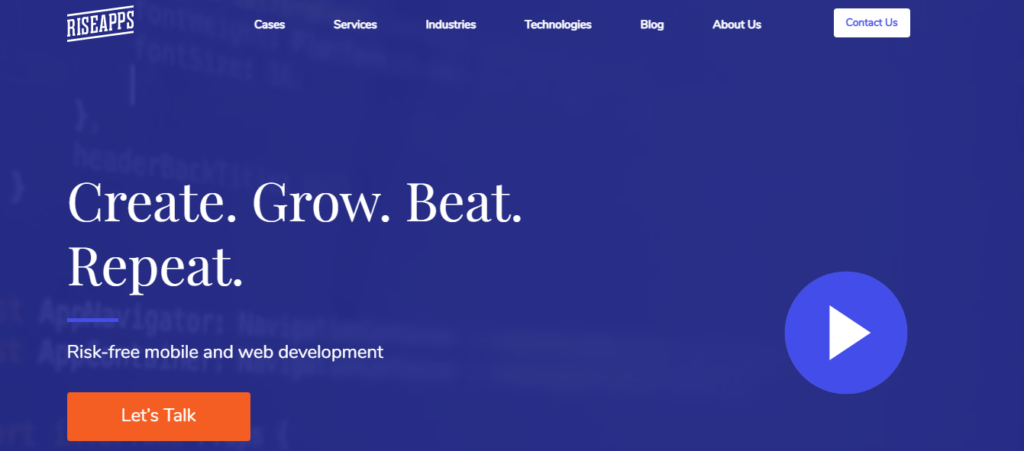 Riseapps has a powerful R&D center in Kharkiv with expertise in mobile and web application development of all sorts. It is experienced not only in custom development and UI/UX but also AR/VR development as well. The firm was founded in 2016 and has a 5-star rating on GoodFirms. As for industry expertise, Riseapps worked in Navigation, Business Services, Healthcare & Fitness, Education, and Event Management. One of their clients is Bolt.
3. HUSPI IT Consulting & Development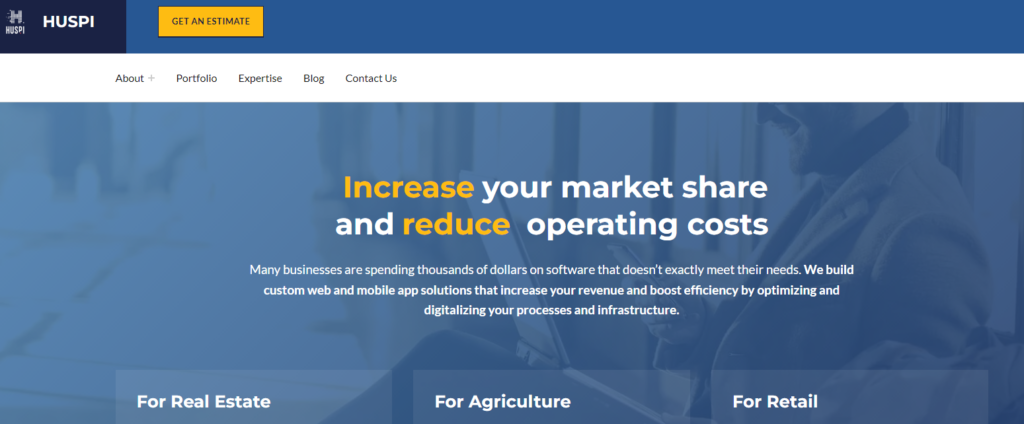 Huspi is an IT consulting and development company founded in 2015. It is based in Kyiv and offers a great variety of services, including AR/VR development. It works primarily with small businesses to deliver cutting-edge solutions. Among the industries Huspi works with are AgroTech, Real Estate, eCommerce, MedTech, and FinTech. The team is also knowledgeable in Machine Learning and AI. It has a great portfolio as well with such solutions as the Parliament Go Mobile AR application and Chernobyl Mobile AR app.
4. Evernetica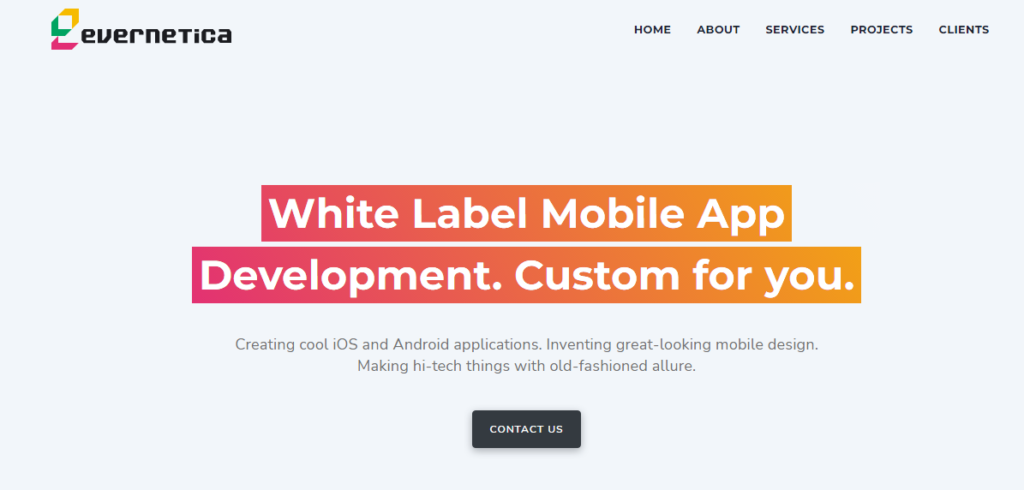 It is an amazing mobile and web application development agency based in Zaporizhia. It has lots of experience working with local and international companies as it was founded in 2011. The team is excellent with delivering custom solutions for both iOS and Android as well as the implementation of relevant AR/VR stacks. It has a 5-star rating on GoodFirms. As for the completed projects, there are such examples as Driviator, Tagillion, and Kreyonic.
5. DOIT Software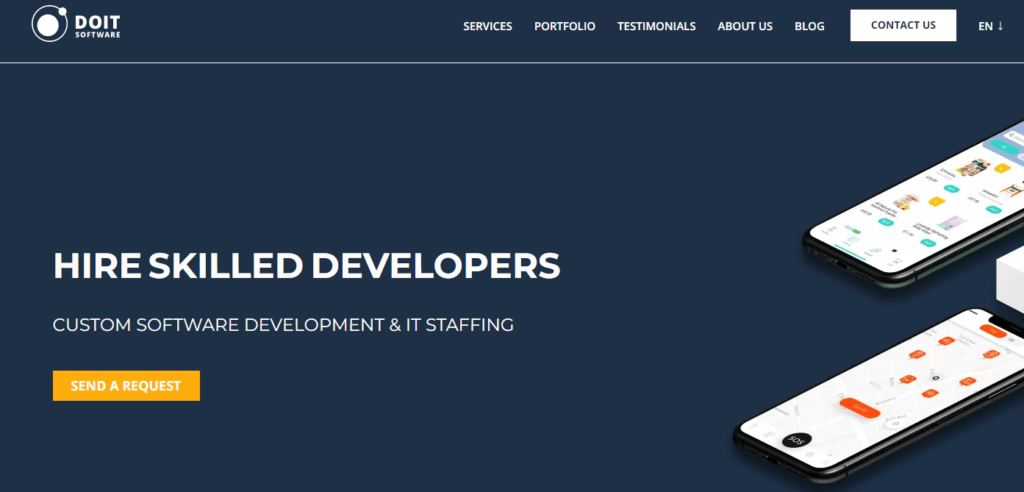 This is a mobile application development firm that also delivers such services as custom software development and staffing. It was established in 2014 in Kyiv and has acquired a great reputation in the industry. It has 5 stars on GoodFirms and works in such industries as eCommerce, Healthcare, Management, and Social application. Among their clients, there are Vigo, Vonn, and Yrgent.
6. Lucid Reality Labs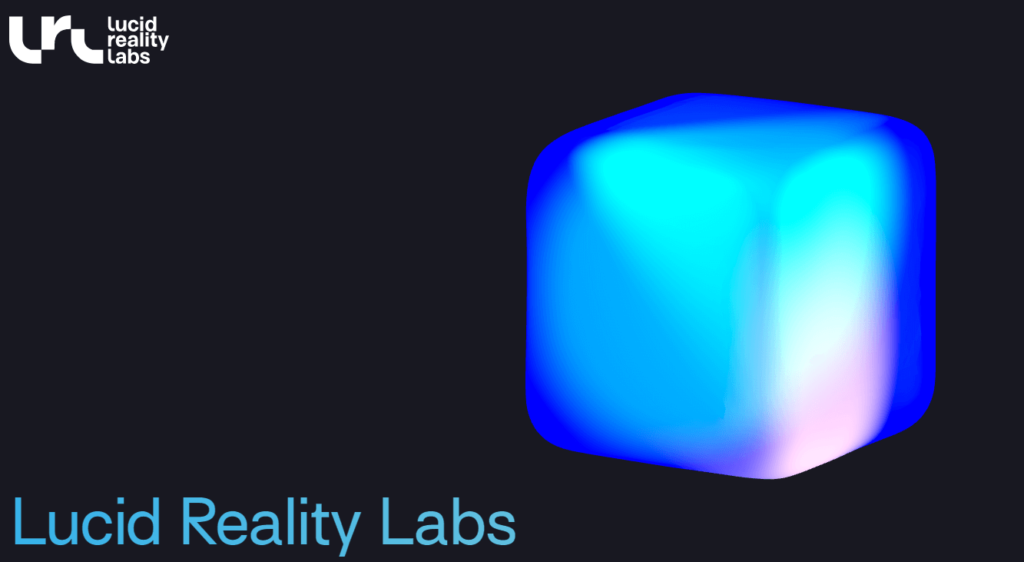 It is a relatively small yet extremely efficient company based in Kyiv. It was founded in 2016 and has expertise in such technologies as AI, Machine Learning, Robotics, Mixed Reality, Computer Visions, and AR/VR. The team delivers innovative custom solutions to businesses of all sizes in VR, AR, MR, Intelligent Technology solutions, and R&D software. The list of their clients includes Harvard Business School, SHL Medical, L'Oreal, and Medtronic.
7. BidOn Games Studio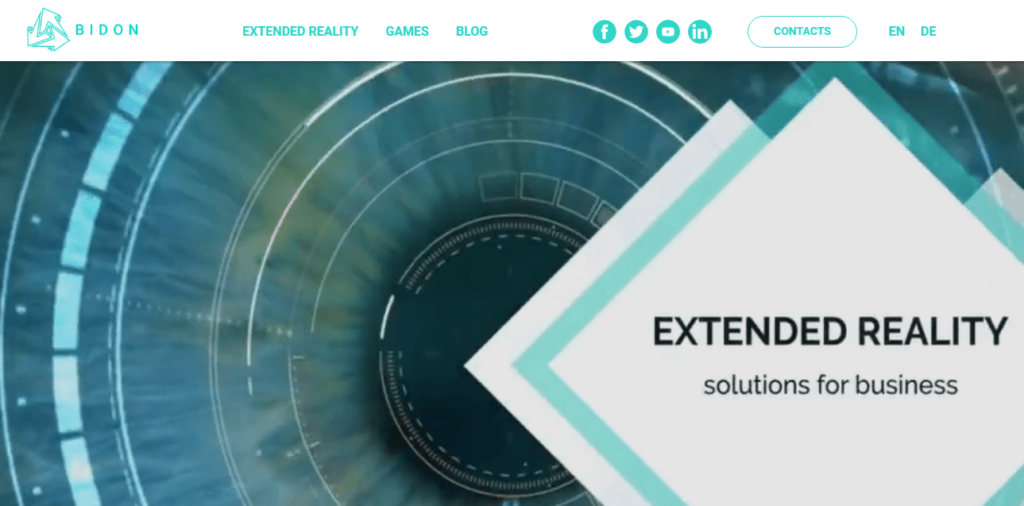 This is an experienced AR/VR game development company established in 2012. The team combines developers and artists with such competencies as game prototyping and development, mobile gaming, 2D/3D content, sound, and video production. The studio works with businesses of all sizes to ensure high-quality custom software development with AR/VR technologies. Some of its key clients are Ghost Robot, AppReal-VR, Engage, BLK Sport, and Augmently Incorporated.
8. Mova.io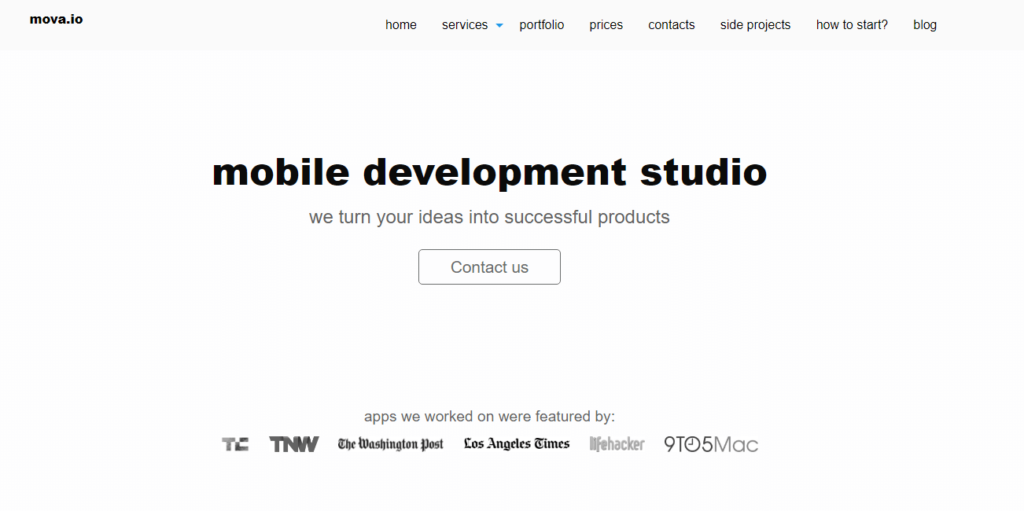 This agency has two offices – one in Dnipro and another one in Ljubljana. Its primary focus is delivering custom and efficient web and mobile applications to businesses of all sizes. It was founded in 2012 and has a versatile team of professionals. Besides mobile and web development, the firm also provides project planning and management, QA, API development, continuous product enhancement, and AR/VR solutions. The portfolio includes such projects as MenuPoint, LyvFit, OrgCreator, and PackPoint.
9. SDD Technology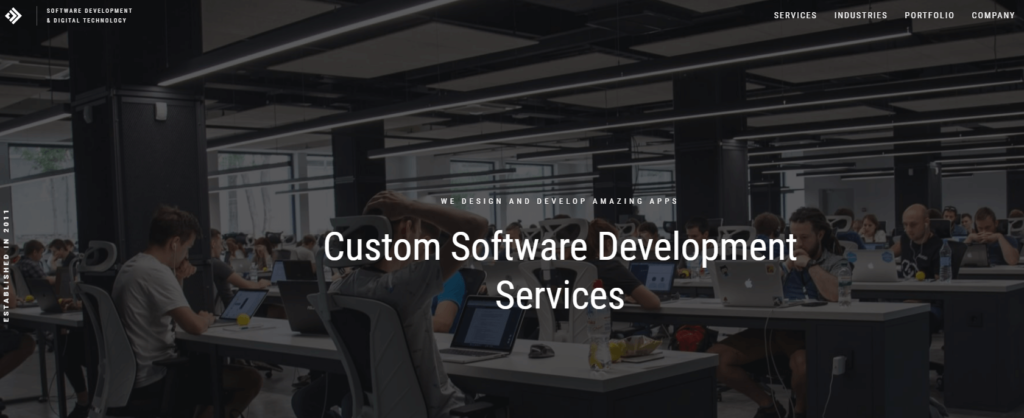 This is an experienced agency (founded in 2011) that focuses on the digital transformation of businesses. The team delivers such services as web and mobile custom app development, DevOps, CRM/ERP, automation, UI/UX, AR/VR, QA, and B2B solutions. As for the industries the company has worked in, there are Logistics and Transportation, Sport & Fitness, Real Estate & Construction, eCommerce, Retail, as well as Banking & Finance.
10. Marevo
Marevo is an excellent company that focuses exclusively on Augmented Reality services. It was founded in 2018 in Kyiv and has become a powerful competitor in the industry. Mostly, the team works on AR/VR projects for iOS and Android in such spheres as Education and Marketing. Its portfolio showcases such projects as Croc Coatings LiDAR AR application, AI Dossary Stores, and Enita AR.
11. WE/AR Studio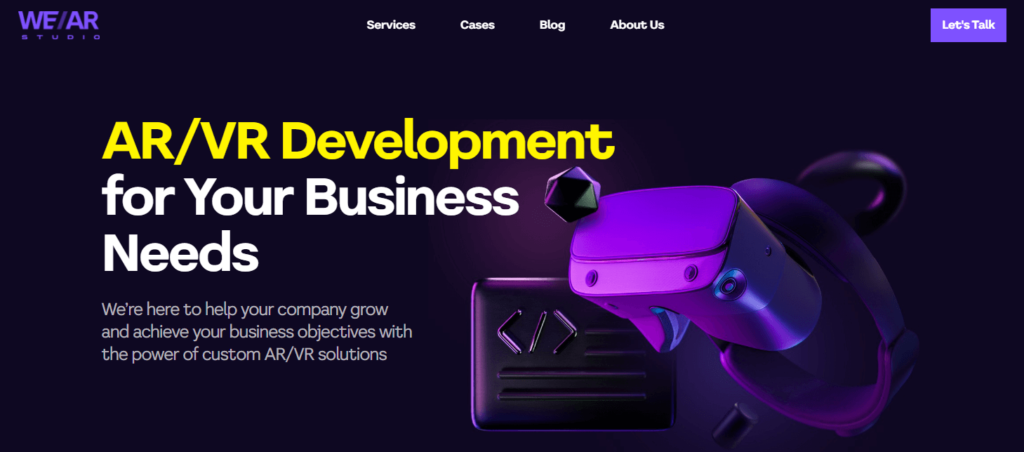 This is another Kyiv-based agency that delivers only AR/VR solutions to local and international partners. It was established in 2016 and has an outstanding team of experts. The key expertise of the team includes AR, VR, MR, 3D modeling, 3D animation, and XR. The agency offers cutting-edge technology and full-cycle development. It has 5 stars on GoodFirms and such clients as Pepsi, Danone, Skoda, and UNICEF.
12. Sensorama Lab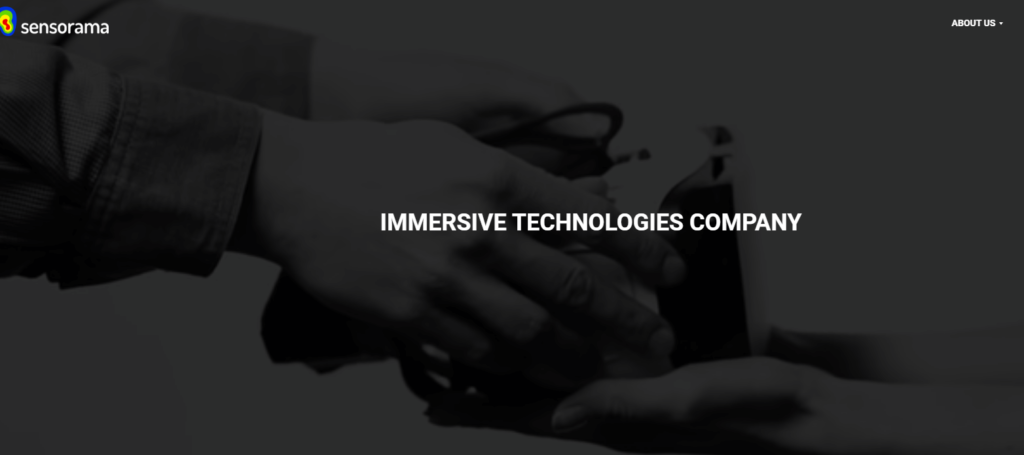 Sensorama Lab was founded in 2010 in Kyiv. The agency offers high-quality services in the terrain of AR/VR, 3D modeling & animation, as well as 360 video productions. The team offers full-cycle help and works on projects of various sizes and stages – from idea to post-release support. It is also involved in the game development industry. The agency worked on such projects as VR performance show Vartovi Mriy, Jack House app, and VR Car configurator.
13. Crysberry Studio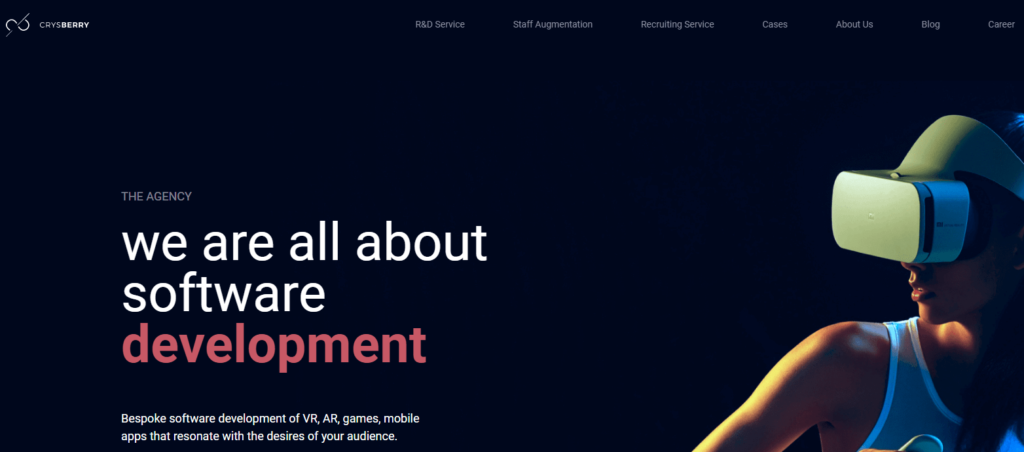 This is a custom software development company with a focus on AR/VR technologies. Its R&D center is located in Kharkiv and offers excellent full-cycle services. Starting from 2013, the agency has acquired a great reputation. The key expertise lied within native iOS solutions, game development, AR/VR, Unity3D solutions, and native Android apps. No wonder it has 5 stars on GoodFirms and an impressive portfolio with such projects as Happiness Project, Fannex, and Therapy Box.
14. OmiSoft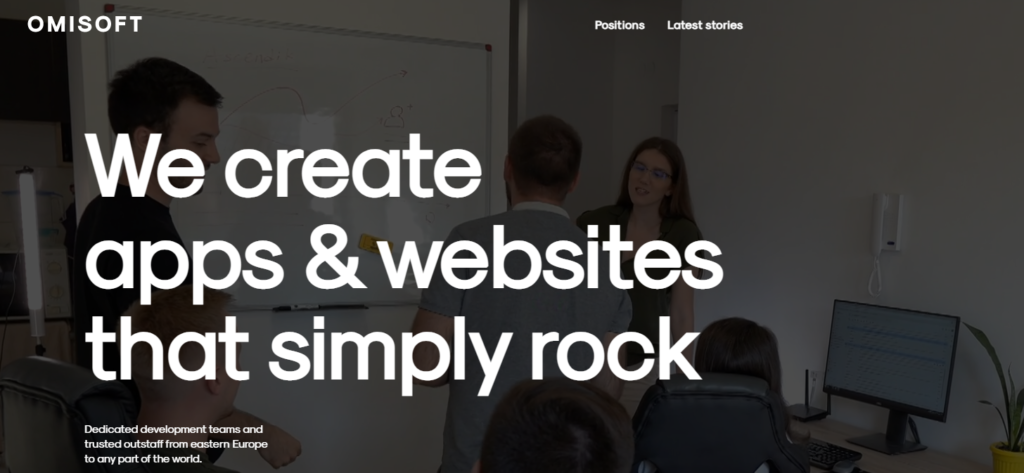 OmiSoft is another experienced web and mobile application development company based in Kyiv. It specializes in iOS and Android custom application development, UI/UX, AR/VR, and the provision of dedicated teams. The team offers full-cycle development and has experience in such industries as Education, Healthcare, Social apps, and Enterprise network solutions. It has a 4.8-star rating on GoodFirms.
15.  TSUKAT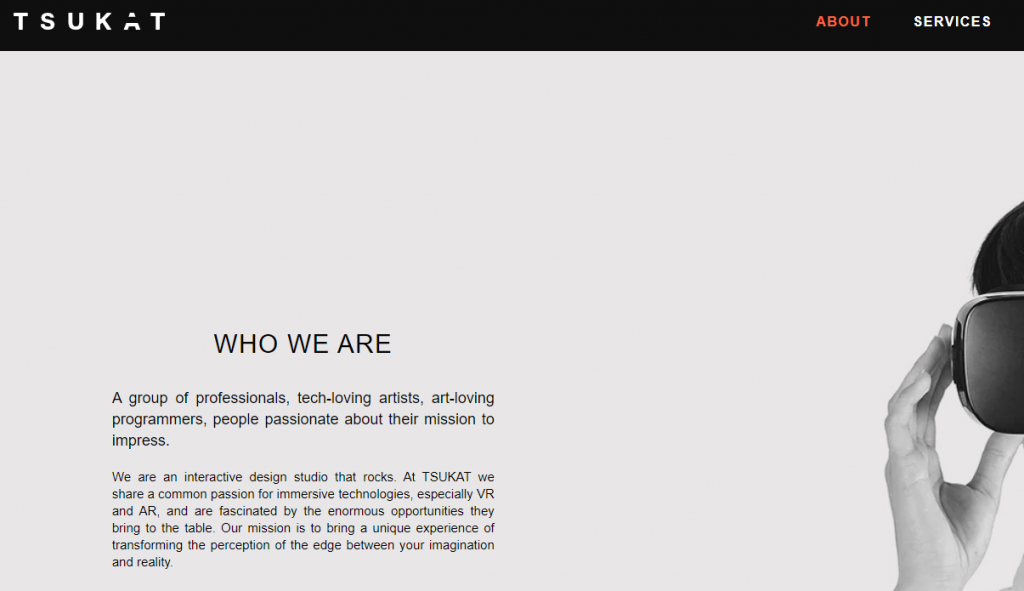 This is a Lviv-based XR design studio with a focus on VR/AR technologies. The team develops custom software applications and interactive visual solutions since 2017. As for the tech stack, the agency relies mostly on Unreal Engine 4 and Unity3D. Among other services, TSUKAT delivers web, mobile, and custom software programming, real-time architecture visualization, VR training, and education. The agency partners with businesses of all sizes in such industries as Advertising & Marketing, Consumer Products, Education, Energy & Natural Resources, Hospitality, Medical, and Real Estate. The key clients are Hauni, Youmawo, Koerber, and Wiener Linien. 
Interested in AR/VR development? The best choice for it may become Ukraine – join us!